Ruth Langsford: 'Apparently I'm earning more than Phillip and Holly'
Ruth Langsford opens up about her work life, motherhood, and the secret to her happy marriage with fellow TV star Eamonn Holmes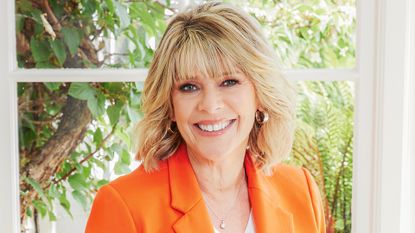 (Image credit: Nicky Johnston/woman&home)
woman&home newsletter
Sign up to our free daily email for the latest royal and entertainment news, interesting opinion, expert advice on styling and beauty trends, and no-nonsense guides to the health and wellness questions you want answered.
Thank you for signing up to Woman & Home. You will receive a verification email shortly.
There was a problem. Please refresh the page and try again.
It's a glorious end-of-June morning when Ruth Langsford sweeps into our gorgeous West London location house clutching a tray of coffees for the team. Always punctual and easy-going, sharing company with the Loose Women host is akin to time spent with a close pal.
For Ruth, relatability rules. Whenever she speaks on telly or to her million-strong Insta army, it's from the heart. She's opened up about marital niggles with her TV host hubby Eamonn Holmes, 62, and the trials and tribulations of mothering their son Jack, 20. She even bravely spoke out about her experience of sexual harassment and the challenges faced by women in professional and personal realms.
Now, she's sitting on a grey Chesterfield-style sofa wearing a pair of jeans, a pink t-shirt, and white laceless trainers. All from her QVC fashion range, no less. Explaining the impetus behind this new career move she says, "It's easy to become less adventurous with fashion when you get older. That's not because we're not adventurous but because when you're 60, flattering clothes are hard to find." The presenter bemoans the horrid lighting and unflattering mirrors often found in high street changing rooms and the fact that the 50+ age group of women gets forgotten about. "So it's great that I'm now injecting color and flattering styles into clothing that women want to wear," she says, celebrating her successful foray into fashion.
Despite this exciting professional development being like a dream come true for Ruth, she admits it wasn't her dream. "I didn't see the opportunity coming, but when it presented itself, I'm so glad I took it."
For some, a union like Ruth and Eamonn's could be considered a dream come true, and many may wonder how they make the merging of personal and professional life, while in the public eye, work.
"My dad once said, 'You have to work at a marriage, Ruth' and I remember thinking, 'God, how dull', but it's true. You have to make time for it." The couple has been together for 25 years and recently celebrated their 12th wedding anniversary. "Every extra year together is always an achievement," she says, "whether it's with a partner or friend. You have to put work in for any long-term relationship."
A recent challenge the couple faced was empty nest syndrome, which hit them both hard and Ruth says she and her husband were both in tears after dropping their youngest off at university. "It sounds dramatic but for the next three days, I felt like I'd had my womb ripped out. It was physical pain. I was distraught." However, as time has passed, Ruth says she doesn't get quite so upset when he visits home and leaves again, adding that she hopes she's done a good job as a mum. "There's no manual and it's never over," she says of motherhood.
Her other baby is, of course, her incredible TV career. "Apparently, I'm earning more than Phil and Holly, which is a surprise to me!" she says. "All I would say is don't believe everything you read but everything I have, whether it's money, my home or my job, is because I've worked hard to achieve it."
A recent sadness in her professional life was when her 18-year-long stint on This Morning finally came to an end. "But, I still have lots of other work and I'm going back for a week hosting with Rylan, who we call our TV son because we're very close."
Although she and Eamonn aren't ruling out another long-term hosting gig, Ruth says working with your other half does present its own challenges. "When you're a couple and working together, you fall out. Just because I'm married to Eamonn, doesn't mean I agree with everything he says and vice versa." She adds that their disagreements aren't ever over big issues, that it's more the mundane things like housework that they might bicker over.
In recent years, the maxim that marriage is in sickness and health has really come to the fore as Eamonn has tackled ongoing chronic pain owing to two bulging discs in his back. In terms of her own health, Ruth credits it all with maintaining a finely tuned balance. "I try to eat healthily and take my breakfast, a green juice, and my lunch to work, otherwise I end up eating rubbish all day. I also walk my dog, Maggie, a lot, which is joyous."
Appearance is only one of the many cogs in the wheel of life for this superstar, who says there's so much more to true joy. "Feeling fabulous is partly about how you look but also about feeling fabulous in your relationship, friendships, your clothes, your career and social life. At this age, it's about enjoying life. We can all compare ourselves to others but what's the point?"
---
---
The full interview with Ruth is featured in the October issue of woman&home, on sale September 1, 2022
Sign up to our free daily email for the latest royal and entertainment news, interesting opinion, expert advice on styling and beauty trends, and no-nonsense guides to the health and wellness questions you want answered.
Gemma is a freelance celebrity interviewer, journalist, and showbiz expert. She's sat down with everyone from Kim Kardashian and Nicki Minaj to Ed Sheeran and Ant and Dec plus thousands of famous faces in between.
Since launching her freelance journalism business in January 2015, she's written for publications including The Sunday Times Magazine, Fabulous, Event (Mail on Sunday), HELLO!, OK!, Grazia, NOW, Closer, LOOK, New, Reveal, Essentials, Cosmopolitan, The Sun, Daily Mirror, and Daily Mail.