Ricky Martin revealed his one-of-a-kind skincare routine
The King of Latin Pop swears by meditation and ice cubes for youthful skin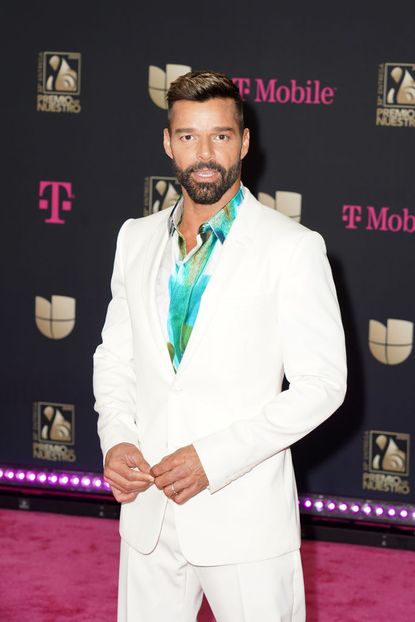 (Image credit: Getty)
Ricky Martin shared his morning skincare routine with Vogue, highlighting some traditional serums as well as some more unique tactics. The 49-year-old pop star glows, thanks to matcha powder and meditation.
Ricky starts each day early with 15-30 minutes of meditation using the Headspace app. He got into meditation in India, but now he has four kids so doesn't visit as much as he would like. The morning routine helps. "I wish I could be in lotus position for three hours a day," he says in the video. "But 15, 20 minutes, half an hour…it really makes a difference."
Next, he takes an immune-boosting shot of lemon, honey, red onion, garlic, and salt. "Ready for the day, let's go," he says, before launching into an ode to alkaline water. "This is my first beauty secret," he says. He credits it with helping his singing voice, and praises the electrolytes.
On to skincare, he starts with a spritz of rose water all over his face. "It sets the atmosphere," he says.
Then he takes a Kumiko Matcha Soap, a dry soap, and rubs it into his face.
"I grew up on an island, it is very important to feel nature as it is," he says. "But I've also been working since I was 12-years-old."
He talks about how he wore makeup in front of cameras throughout puberty, which wreaked havoc on his skin, so eventually he became conscious of what skincare items to not blend..
After a few minutes, Ricky washes the Kumiko Matcha Soap off his face, before taking an ice cube and running it over his skin. "Ice is my best friend," he says. "It stimulates circulation, circulation is oxygen."
Next up is the Kumiko Matcha Perfectly Radiant Boost toner all over his face, followed by Aesop body lotion across his shoulders and chest. "Wrinkly arms and chest, that's not what you want," he says.
He also spoke about how he's vegetarian, another thing he credits for his glowing skin and overall health. Then he pops open a Kumiko Matcha Intense Recovery ampule, which he calls "magic in a bottle," and dabs it on his face and neck. "I'm telling you, your wrinkles disappear," he says.
Ricky swears by the Repechage Eye Rescue Pads, which he pats below his eyes. He says this is also a lifesaver step on long flights. Next, he uses the Kiehl's Midnight Recovery Concentrate serum, no matter if it's morning, followed by a Kumiko moisturizer. "My mom would always tell me, it doesn't matter what you do, please use moisturizer!" he says, before telling us his mom has perfect skin.
Finally, Ricky slathers on a Kiehl's sunscreen. "It's time to grow up," he says to anyone who doesn't wear sunscreen daily. He finishes up with a M-61 Hydraboost Face Mist. "It just makes you feel better!"
And there you have it. An 14-step skincare routine to give you the Ricky Martin glow. "It's sexy to take care of yourself," Ricky says. And we agree.
Rebecca Holland is a travel and food writer based in Chicago. She has written for the Guardian, New York Times, Architectural Digest, Food & Wine, Wine Enthusiast and more. She is currently a graduate student at Northwestern's Medill School of Journalism. When not working, you can find her eating her way through Chicago's neighborhoods, or in non-pandemic times, traveling around the world.