Procrastinate By Looking At These Lovely Hats From The Cheltenham Races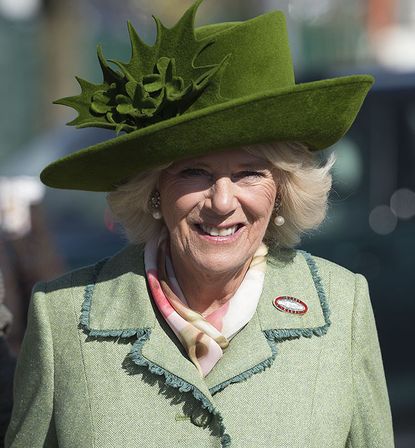 (Image credit: Rex)
Yesterday was Ladies Day at the Cheltenham Festival and you know what that means: fascinators, feathers and wide brims. What's more, the sunny weather ensured that every hat looked its best.
Each year, fashionable women from across the land flock to Cheltenham Racecourse in a bit to out-do each other in the most extravagant hats. This year was no exception, as the best-dressed vied for a much-coveted award yesterday.
Both the Duchess of Cornwall and Zara Tindall joined in the fun: the former making a statement in a green felt wide-brimmed hat, and the latter opting for a striking purple headpiece by Juliette Millinery. The day before, Zara showcased a similar classic fascinator, but this time in peacock turquoise.
As for the rest? We've rounded up the best looks from the racecourse for you to enjoy, not only from Ladies Day but from the entired week-long festival. It's nearly the weekend after all - and who doesn't love a good hat?
Camilla Duchess of Cornwall
Camilla opted for green, coupling her wide-brimmed hat with herringbone coat. Inspired by St Patrick's Day, perhaps?
Zara Tindall
Zara is known for her love of fascinators, so it's no surprise she opted for two classic looks this week: in purple and turquoise. Which one is your favourite? We can't decide...
Aaaaand the best of the rest...
Now this is how you make a statement on Ladies Day. We're in awe of this construction...
We love this purple statement with contrasting electric green.
This festival-goer really pushed the boat out with her flower adorned outfit.
A fluffy shrug on a warm spring day? This is unquestionably worth an award for courage if nothing else...
We're a big fan of the feather creations at the Cheltenham Races and this one goes for it with aplomb.
Victoria Pendleton opted for a less flamboyant look at the races and yet still managed to stand out.
This is a cheeky, modern take on....dare we say Minnie Mouse? We mean that as a compliment - she's a style icon.
Fashionable yet also practical - these hats, at an angle, really help to block out the pesky sunlight when you're trying to watch the race.
We're liking this Snow Queen look - and on a very warm March day, too. Bonus points to this courageous woman.
Best dressed lady winner Ina O'Farrell, looking classically stunning in this flapper-inspired beaded number.