Prince William, Kate Middleton and Prince George Tour Australia and New Zealand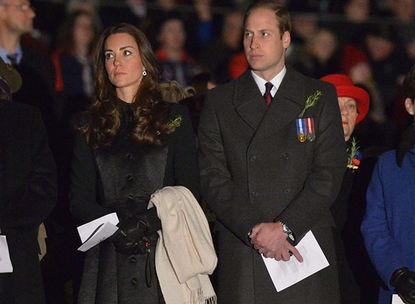 (Image credit: Getty Images)
See all the pictures from the royal tour of Australia, 2014
25 April 2014
Catherine and William have marked their last few hours Down Under with a surprise visit to a dawn service in Canberra on ANZAC Day.
Serving and former military personnel from New Zealand and Australia were amongst the crowd of thousands who looked on as the unannounced guests arrived at 4:30am to take their places next to the Governor General and his wife at the capital's war memorial.
Prayers were said and tributes paid to those who have made the ultimate sacrifice on the 99th anniversary of the Gallipolli landings.
The Duke and Duchess wrapped up warm for their early start. Catherine added tights, leather gloves and a cream scarf to her black coat dress to stave off the dawn chill, while William proudly displayed his service medals on his overcoat.
Paying their respects
A quick change - and a warming breakfast, no doubt - and it was time to attend the ANZAC Day march. William and Catherine observed the two minute silence before laying a poppy wreath at the tomb of the unknown soldier. The Duchess had swapped her black coat dress for blue tweed and added a statement pillbox hat to pay her respects. The palace has refused to release details of the designers behind her look due to the seriousness of the event, but her red poppy pin brooch was a tour gift from the wife of a serving soldier.
A lasting memory
The royal tour has been a real success, mainly due to Catherine and William's hands on approach. Before leaving for the long flight back to the UK, the Duchess rolled up her sleeves once more to plant a tree in honour of those who fought at the Battle of Lone Pine during the First World War. Touring the National War Memorial on ANZAC Day was a poignant way to say goodbye to two countries who have truly embraced the couple.
Until next time...
Prince George joined the Duke and Duchess to bid a fond farewell at the airport. He stole the show in a red and white outfit, wriggling around on his mother's hip as they posed for the final tour pictures on the steps of their private aircraft. The eight-month-old did seem rather taken with the Australian Prime Minister Tony Abbott - as Catherine thanked him for his hospitality during their stay, he let out a little yelp! And so, after 19-days, 51 engagements, 12 cities, countless outfit changes and many fabulous moments, the Cambridges are heading home. Let's hope they bring the sunshine with them!
A wonder in white
Catherine and William have rounded off their three week tour of New Zealand and Australia at an evening reception at Canberra's Government House, hosted by the Governor General. The Duchess chose an elegant white cocktail dress by American label, Lela Rose for her last night Down Under - and it's our favourite look so far! The £869 white circle lace trim dress features a peplum waist and pretty lace detail cap sleeves. She completed her outfit with a chic updo and black accessories. Catch up on the Cambridge's final day in Oz now...
Doing her bit for the environment
Green was an apt colour for an environmental afternoon in the Australian capital, although the Duchess later admitted she was 'very hot' in the Catherine Walker coat dress. First stop for the couple? The Australian National Arboretum where William was happy to stand back and let Catherine do the hard work, helping local children plant a tree. Maybe he's admitted defeat after she outshone him on the decks and the high seas! Many of the children had brought along presents for Prince George, including cuddly toys and bears. Catherine told them his cot would be full of little teddy bears when they returned to the UK.
An ode to Oz
A quick walk around and then it was on to the Australian Parliament building for William's farewell speech. He thanked the Australian people for their warmth and generosity during Catherine and George's first tour of the Southern Hemisphere, and spoke of their reluctance to be leaving. 'We go away with wonderful memories', he told Parliament. 'And George goes away with his cuddly wombat, which he has taken to chewing so lovingly. We greatly look forward to coming back. And when we do return, it will be to marvel again at all that Australia is, and will yet become.'
Saying farewell
Catherine and William have clearly felt at home in Australia and New Zealand. At an informal afternoon reception hosted by the Australian Prime Minister, Tony Abbott, the Duke joked that he had wanted to rip off his trousers on Manly Beach to reveal a pair of speedos! Luckily, the Duchess was out of ear shot as she mingled with Australian film stars, Olympic atheletes, fashion designers, decorated war heroes and politicians. We're sure she would have had something to say about that!
Catherine's cultural fix
It was Catherine's turn to indulge her passions as the couple stopped off at the National Portrait Gallery en route to Royal Admiralty House for a quick change before the evening reception. Back in the UK, the Duchess is a patron of the British National Portrait Gallery and no doubt enjoyed comparing and contrasting the works showing in Canberra.
Arriving in Adelaide
In the final stages of their tour, the Cambridges touched down in Adelaide today and were greeted by Air Commodore Dewort and his partner, Pauline Koitka. The royal pair will spend a night in the city before jetting east to the capital, Canberra. Their first port of call? A youth-focused community music centre where Catherine and Wills took to the DJ decks - with some rather amusing consequences?!
Pretty in pink
After their night under the stars at Ayers Rock, Kate was back in formal attire for her arrival in Adelaide, dressed in a pale pink Alexander McQueen two-piece ensemble and her ever-faithful nude LK Bennett court heels.
The perfect accessory to a pink ensemble
Kate's hairdresser, Amanda Cook has been a core member of the royal entourage and styled the Duchess's locks in an elegant half updo, revealing a favourite pair of drop pearl earrings.
DJs in the house
The first stop took Prince William and Kate to an Adelaide suburb to try their hand at djing at community-run youth music centre, Northern Sound System. After a demo from the hip hop DJ coaches, first up was Kate who took to the decks like a duck to water, learning to scratch records in minutes and laughing along as the audience cheered.
Spinning around
It was a slightly different story for poor Wills who didn't handle the decks quite as smoothly as his wife - another point to Team Kate? Perhaps not as resident DJ Shane Peterer pointed out: 'She was fantastic but he can fly a helicopter. So horses for courses!'
A spot of sightseeing
What a busy weekend it's been for the Cambridges in Australia! The couple have been enjoying a whistlestop tour of the country, today stopping off at Ayer's Rock before spending a romantic evening under the stars on a 'glamping' trip in the national park. Catherine touched down in Uluru wearing a sleeveless Roksanda Ilincic dress. She then changed in to a more relaxed Hobbs print dress to enjoy the day's activities. Catch up on the highlights so far, including a very exciting royal engagement for Prince George...
Easter Sunday Sydney-style!
A dove-grey Alexander McQueen coat and matching Jane Taylor hat for elegant Catherine on Easter Sunday. The Duke and Duchess perched on the front pew amongst an 800-strong congregation at St Andrew's Cathedral in Sydney for the hour long private service. Outside, well-wishers queued for hours to catch a glimpse of the couple.
A family day out
Once the formalities were out of the way, Catherine and William were joined by Prince George for his second official engagement. The Cambridges spent the afternoon in the sunshine at Taronga Zoo, meeting a koala named Maggie, a barking owl named Ripley and a host of other residents, including Prince George's new namesake - a bilby whose ears narrowly escaped the 8-month-old's iron-like grip!
A family day out
We're not sure who enjoyed the zoo more! Catherine beamed as she was introduced to the animals including Leuca the koala. Prince George, who was dressed in a striped T-shirt and blue shorts, squealed with delight and kicked his legs as his parents carried him around Taronga. Catherine also opted for a laidback look. Her yellow sundress is a royal tour favourite apparently created by the Queen's tailors for the couple's visit to south east Asia in 2012. The perfect piece for a warm afternoon Down Under.
Making friends
The real star of the tour! Prince George enjoyed meeting VIPs and their families as the Cambridges rolled in to Canberra on Sunday evening, including MP Andrew Leigh's son, Theodore.
Fabulous in florals
A chance for the Duke to indulge in one of his passions on Saturday - flying. Catherine and William left George with his nanny for an 'away day' at a military base in Brisbane. Jetting in on a royal Australian air force plane, the pair were welcomed by the Minister for Defence, the Chief of Defence and other top flight officials. William inspected the guard and took the salute for a fly-past before joining Catherine for a delicious lunch sourced from the best local suppliers. The dress? LK Bennett.
Bank holiday on the beach
We may have been relaxing on Friday, but the Duke and Duchess had their busiest day yet. They spent the morning at the Sydney Royal Easter Show where Catherine joked that William could do with some alpaca hair to cover his bald spot as they enjoyed a display of traditional sheep shearing. Then, it was on to Bear's Cottage - a children's hospice in the city. The couple met Max, a baby who is the same age as Prince George. He was struck down with bacterial meningitis and, sadly, has just weeks to live. They sat with him for a while in what was clearly a very emotional moment for them both - the Prince later admitting he 'welled up'. Catherine made her first speech of the tour, thanking everyone for the warm welcome she and Prince George had received, before unveiling a picture made with the children's hand and footprints, including Max's. On to Manly Beach, where many of Sydney's residents were spending Good Friday. The Duchess's white dress by Australian label, Zimmerman and tan cork Stuart Weitzman wedges proved a hit on the sand - the sun beating down as they watched young lifeguards being put through their paces.
Bringing hope to the Blue Mountains
A sobering day for Catherine and William. The couple boarded a military helicopter and headed to the Blue Mountains in New South Wales to see the devastation caused by last year's bush fires first hand. Members of the emergency services had gathered to greet the royal couple, including local fire fighters who worked tirelessly to save homes and lives in the most dangerous of circumstances. The Duke and Duchess chatted with the crews, visibly moved by their stories, before being introduced to the families affected. Many had watched their whole lives go up in flames overnight.
Taking in the view
Local people were clearly humbled by the Cambridges' visit. The crowds held banners to thank them, while the Girl Guides were out in force to watch the couple plant a tree. They made Catherine and William giggle by shouting 'princess' rather than 'cheese' while posing for a photo! Next stop was the beautiful Echo Point where the couple were able to enjoy panoramic views from a ledge with a 100ft sheer drop. Wills gave his guides a fright by stepping right out to the edge to get a better look, while Catherine said she'd love to return for a spot of abseiling - without the heels! As temperatures rose, the Duchess kept cool in the sweltering heat in a pretty navy and white Balinese ikat batik print wrap dress by Diane Von Furstenberg with matching blue courts. Considering stealing her style for that spring wedding? Sadly the $325 frock sold out an hour after she stepped out. Fingers crossed for a high street copycat.
Sunny in Sydney
Touching down in Sydney for a 10-day tour of Australia, Kate opted for a sunny yellow dress by British-based designer Roksanda Ilincic. The dress is thought to be customised, but a similar design will set you back around £943. We think the Duchess looked stunning, but Prince William is reported to have said she looked like a banana! Men don't know anything about fashion...
The real star of the show
Prince George touched down in a windy Sydney yesterday and his latest outfit is already causing quite a stir on various social media sites. The cute romper was believed to be by annafie.com (opens in new tab) and featured little sailing boats across the chest. Prince William speculated that George's first work would most likely be 'Billy' in a speech at the Royal Opera House.
Goodbye, New Zealand!
As our favourite royal family waved goodbye, a crowd gathered to see them off to Australia. It marked the end of a 10-day tour of New Zealand and the start of another 10 days in Oz. Kate and Prince William didn't change for the journey, sticking to their sharp suits to board the plane Down Under.
Suit Up
Kate looked sleek and elegant as she arrived in Wellington yesterday in a dark blue Rebecca Taylor two piece. The New Zealand designer was a smart choice by Kate, as she spent the day braving the rain to visit the Royal New Zealand Police College.
Puppy love
Possibly the cutest part of the tour - after Prince George, of course. Wills and Kate cuddled 12 week old puppies from the Dog Training Centre as they arrived at the Royal New Zealand Police College. The German Shepherd nuzzled into Kate's jacket as the couple asked questions about the life of a police dog in New Zealand.
Action-packed Down Under
The Duchess dropped her formal attire for a dressed down look when her and Prince William took to the water in New Zealand for an adrenaline-fuelled river ride in a high-speed jet boat. Catherine swapped her signature dress coat for an all-weather jacket and looked delighted to be enjoying the great outdoors.
Rocking the boat
Dubbed 'the world's most exciting jet boat ride', the Duke and Duchess seemed to enjoy every minute of their adventure-packed trip. The pair donned their Ray Bans and life jackets in preparation and Kate pulled her hair up in to a perfect ponytail to avoid her tresses being drenched.
Speed demons
The Duke and Duchess joined fellow tourists in a 15-seater boat to rip through the water on the 20-minute river boat ride.
Form an orderly queue!
The competitive spirit returned this weekend when Catherine and William hit the Forsyth Barr Stadium in Dunedin to coach two teams of 'Rippa Rugby'. This time around though it was Prince William's team of five to seven-year-olds who took the tournament crown - and to prove how delighted he was with his victory, William punched the air on the touchline - just to really rub it in!
Bowing with a bouquet
The cameras caught a touching moment between the Duke and Duchess's whirlwind trip when Catherine stopped to meet five-year-old Maggie Langford who presented her with a beautiful posy of flowers - and looked delightful in her very best polka dot frock.
A rugby rematch
After Duchess Kate proved her skills on the high seas last week - and beat Prince William in a yacht race around the harbour - the next sporting event was seen as an instant rematch! Kate and William met a group of schoolchildren to 'coach' them for the final of a 'Rippa Rugby' tournament in Dunedin, New Zealand and this time it was William who looked ecstatic as his team were victorious!
Team talk
Surrounded by mini rugby stars, the Duchess gave her half-time team talk to a captive audience at a children's rugby tournament at the weekend.
Howzat!
Proving she's always game for a laugh, Kate Middleton joined her husband on the cricket pitch in New Zealand - narrowly missing being hit by a fast bowl from Prince William!
Fielding in heels
Kate and William hit Christchurch on their tour to help publicise the Cricket World Cup. Ever the good sport, the Duchess batted and took to the field in her scarlet red skirt suit and court heels.
Bowled over
Competitive spirits soared - as did Prince William's shot - as the royal pair took to a cricket pitch in New Zealand on the second week of the tour Down Under.
A winning streak
They may have been opponents on the pitch but Prince William and Kate were reunited once more when they presented a trophy following their heated sporting encounter!
Rosy in red
Without a hair out of place, Catherine proved she's an adept sportswoman and a style icon after playing cricket with William in New Zealand's capital, Christchurch.
Ruler of the waves
Day five of the royal tour and time for a little friendly competition! After a quick walk around New Zealand's largest military base, Whenuapi, chatting to air force families, it was on to Auckland Harbour where thousands of people had turned out to catch a glimpse of the couple. Catherine and William boarded a boat for a spot of lunch before the day's main event - a yacht race around the iconic harbour with the Duke and Duchess going head to head at the helm!
High street for Her Highness
William tried his best to keep up but Catherine and her crew were victorious after two races. She celebrated the win with a cheeky victory salute, while back on dry land William joked that he was 'sabotaged'. The Duchess dressed down for the occasion, swapping her elegant evening dress from the night before for a nautical high street ensemble made up of a white breton top by Me and Em, skinny Zara jeans and a navy baseball cap. Prince George may have been back at the hotel with his nanny, but he's never far from anyone's mind. Now adding an inflatable dinghy to his list of tour gifts, the eight-month-old's suitcase is growing heavier by the day!
All Blacks
We love the glitz and glamour of a State Reception! Wills and Kate left Prince George to rest and attended the most extravagant event of the tour so far alone, where they joined Governor General Sir Jerry Mateparae, the Queen?s representative in New Zealand, at his official residence, Government House to unveil a new portrait of the Queen. Kate chose a demure black Jenny Packham dress, embellished with elegant silver ferns, the emblem of New Zealand, on the shoulder. The elegant dress featured a boat neck, long sleeves and below-the-knee skirt and is sure to be an instant fashion hit. Kate finished her evening style off with some glittering diamond jewels and her signature smokey eye.
Royal blue
Kate chose another of her favourite designers, Alexander McQueen, to take part in a service of remembrance in Blenheim, in the heart of Marlborough wine country. The Duchess looked every inch the professional princess in her powder blue cover-up as she lay a wreath in memory of New Zealand's war dead, with Prince William by her side.
Chic cover-up
Kate's chic choice for a sombre day in New Zealand marks another new look in the Duchess's growing wardrobe. Opting for longer lengths and higher necks seems to be a trend in her New Zealand wardrobe and marks a more demure style for the new mother.
A closer look
Kate's powder blue coat featured heavy pleating at the back, a wide belt and high neck with a prim collar to finish off a more reserved style than we usually see on the Duchess. Both Kate and Prince William wore a simple poppy pin to mark the occasion.
A sophisticated updo
An elegant updo showed off a more grown-up look on the Duchess and displayed her diamond and sapphire earrings, which matched her engagement ring - previously worn by Princess Diana. Kate's looped ponytail gave her conservative outfit a more youthful edge and made a change from her usual tumbling curls.
A bashful first engagement
Prince George showed his shy side at his first 'official' engagegent in Wellington, New Zealand when he joined other babies of a similar age for a nursery get-together at Government House. The families chatted with the Duke and Duchess of Cambridge, comparing notes no doubt on their parenting stories. Prince George soon shook off his shyness and joined the toddler throng. He showed off his crawling skills and joined in with the other eight-month-olds as his proud parents looked on. See our favourite pictures of Prince William and Kate in our picture retrospective here
Time for a bear hug
Despite a tentative start, Prince George soon perked up at his play date in Wellington once he was presented with a giant blue teddy bear.
Chewing it over
As his mother chatted to fellow parents who had been invited to meet the royal trio at Government House in Wellington, little Prince George cheekily took a strand of the Duchess's hair to chew on as he contemplated meeting his new friends.
Watching over proceedings
Safe in his mother's arms, Prince Charming was unfazed by the gaggle of other eight-month-old babies and as soon as he clapped eyes on a rattle, George was mesmerised.
A super-stylish first engagement
We know the Duchess of Cambridge now has help at hand from her newly-hired Spanish nanny Maria Teresa Turrion Borrallo, leaving Kate time to prepare for each and every royal outing over the next three weeks. At Government House the Duchess appeared in a chic monochrome Tory Burch print dress with fringed hem and sleeves. Equally stylish though was bonny Prince George who sported cute navy dungarees with a boat motif and booties.
A lesson in cruising
At eight months old Prince George proved it won't be long before he's on his feet full-time and walking. Kate Middleton joined a selected group of other parents with children of a similar age and unveiled George's
Prince George at a nursery in Wellington
Red Alert
How does she do it? The Duchess of Cambridge looked flawless as she stepped off the plane in New Zealand yesterday, thanks to her on-board hairdresser, Amanda Cook Tucker and a full-time nanny, leaving Kate plenty of time to make sure she was camera ready for touch down. Landing in New Zealand for the first day of their tour, Kate Middleton chose a red Jackie-O style pillar box hat by Gina Foster and matching Catherine Walker coat to wow the waiting crowds, finishing her look with the Queen's diamond and platinum silver fern brooch, which was presented to her on a tour of New Zealand in 1953. Prince George really stole the show though, in a white cardigan and playsuit.
Baby in Waiting
This was only Prince George's second public appearance, the first being outside St Mary's Hospital, just one day old. At eight months, he is already one of the most well known and most-loved royals - we can't wait to see more photos as the tour goes on.
Nose to meet you!
Taking part in New Zealand customs, Kate rubbed noses with a local dignitary at the official Government House. This is the traditional Māori greeting and usually means foreheads touch as well as noses.
The Princess and the Warrior
Kate spent some time talking to traditional Māori warriors, who were in their native dress and showing off some rather large tatttoos.
Bye, Sydney!
The family were forced to briefly stop over in Sydney on Monday, as extreme weather meant they couldn't fly into New Zealand. Kate looked immaculate, even after a 22-hour flight in a recycled MaxMara wrap dress and Manolo Blahnik pumps.
Mother and Baby
Another quick snapshot of our new prince as he boards the plane from Sydney to New Zealand. See you on the other side, George!
Natalie Cornish is a freelance digital journalist and editor.
Formerly, she was digital editor of Red Online, woman&home, and Fabulous.
Natalie has also freelanced for Stylist, ELLE, The Sunday Times, Cosmopolitan, Glamour, Future Women, Grazia, Country Living, House Beautiful, and Marie Claire.
Natalie has been nominated for a number of awards, including by the British Society of Magazine Editors (BSME) for campaign of the year 2021, Mumbrella for journalist of the year, and Women in Media for rising star.