Penélope Cruz's bejeweled red dress took an astonishing 700 hours to make
Penélope Cruz donned a stunning Chanel dress while being honored at the Museum of Modern Art's Film Benefit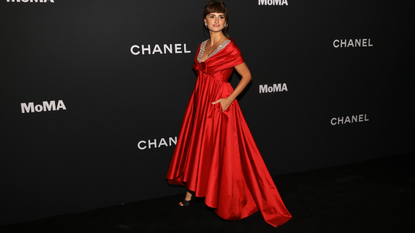 (Image credit: Jamie McCarthy / Staff)
Penélope Cruz and her extensive body of work were honored at the 14th Annual Museum of Modern Art Film Benefit, which has been sponsored by Chanel since 2011, earlier this week. To mark the occasion, the Academy award-winning actress donned a stunning red Chanel dress that made heads turn.
Already a style icon—her sharp bob has become the hairstyle of 2021—Penélope, who happens to be a Chanel ambassador, made headlines given the uniqueness of her dress. The artist wore a gown that was inspired by a look from the brand's fall/winter 2020/2021 collection, featuring an open back and a bejeweled neckline that actually took over 700 hours to build. The shoes, jewels and bag that she carried were also by Chanel.
The dress honored the night's sponsor but also functioned as a nod to the late Karl Lagerfeld, who served as creative director of the fashion house until he passed away in Paris at the age of 85 in February of 2019 following complications related to pancreatic cancer.
"Actually, my last day with him was here in New York," Penélope said to People magazine at the event, which raises funds to add new films to the museum's collection. "We were walking in Central Park at 12 at night and it was really magical."
The actress had also paid tribute to her friend by walking in his final, posthumous Chanel show in 2019 wearing a feathered bubble skirt, a white ruffle top and carrying a white rose. "I did that when Karl left us and that was really special," she remembered.
Penélope was named Chanel's brand ambassador alongside fellow actresses Margot Robbie and Kristen Stewart in 2018. "It's such an iconic brand and Karl is a genius, and I've been admiring everything he's done since I was a little girl, so it's such a pleasure working with him," the Spanish actress said to WWD at the time. "He's like the king of fashion and we had a really, really interesting photoshoot so to be in front of his camera is an adventure."
The MoMa event was attended by the actress' former co-stars, friends and more, including co-chair Ricky Martin, who shared his thoughts on his long-lasting friendship with Penélope. He specifically recalled their very first meeting, when they were both part of a humanitarian effort to assist girls living on the streets of India. "You're an incredible mother, an incredible actress, an incredible citizen of the world," the Porto Rican singer said about the actress.
Anna Rahmanan is a New York-based writer and editor who covers culture, entertainment, food, fashion and travel news. Anna's words have appeared on Time Out New York, the Huffington Post, Fortune, Forbes, Us Weekly, Bon Appetit and Brooklyn Magazine, among other outlets.