Midnight Mass: why you need to binge-watch this eerie Netlix show now
Discover the secrets and inner-demons that sweep through a small island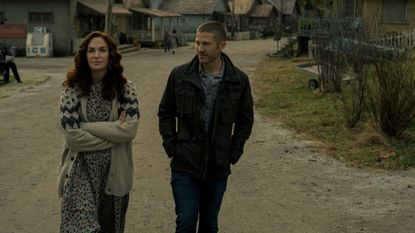 (Image credit: EIKE SCHROTER/NETFLIX)
Midnight Mass is the new Netflix show that will have you turning the lights on before bed.
Now that it's October, spooky season has officially started and for all you Halloween fans looking for your next scare—Midnight Mass may be what you're looking for. As you update your watch list with the best Halloween movies on Netflix, don't forget to add a few haunting TV series to your lineup.
We've got all the details on this creepy show, so before you start browsing the best Halloween movies on Hulu, keep this show in mind for your next scare.
---
Is Midnight Mass about vampires?
Settle in for the night and discover the chilling secrets on a small island. When a new priest, Father Paul, mysteriously shows up on an isolated small town, he brings with him "miracles" that spur a religious awakening among the town's inhabitants. Not all are convinced that these sudden miracles are real though, including a disgraced young man named Riley who has a tragic past. This all contributes to a growing divide among the island's inhabitants.
As the town begins to take sides, it makes you question who is "worthy" and who is truly disgraced. All the while these "miracles" granted by Father Paul may seem to be good-natured, you may find yourself, just like some of the townspeople, questioning what the cost of these "miracles" are.
Is Midnight Mass part of the Haunting series?
Fans of The Haunting of Hill House may recognize some of the faces in Midnight Mass from the original series. The new Netflix show was created by the same people who made the Haunting series, but Midnight Mass is its own separate show. Unlike the Haunting of Bly Manor and its predecessor, the show focuses on a town, not a house. Ghosts are not the central theme of the show either, instead, it explores the idea of religion and devotion.
If you enjoy the mysteries that are webbed into the Haunting series, you don't want to miss out on this new show made by the same minds. While it may not give you a ghostly fright, there are still plenty of chilling scenes you can enjoy.
Who is in the Midnight Mass cast?
There a few actors from the Haunting series who make an appearance in Midnight Mass. You may also recognize some stars from other big-name shows, including Grey's Anatomy. Take a look below to get to know these new characters:
Kate Siegel as Erin Greene
Zach Gilford as Riley Flynn
Hamish Linklater as Pastor Paul
Rahul Kohli as Sheriff Hassan
Samantha Sloyan as Beverly Keane
Annabeth Gish as Dr. Sarah Gunning
Henry Thomas as Ed Flynn
Kristin Lehman as Annie Flynn
Igby Rigney as Warren Flynn
Rahul Abburi as Ali Hassan
Annarah Cymone as Leeza Scarborough
Michael Trucco as Wade Scarborough
Crystal Balint as Dolly Scarborough
Alex Essoe as Mildred Gunning
Robert Longstreet as Joe Collie
Matt Biedel as Sturge
Kate Siegel as Erin Greene
You may recognize Kate as the sister with a psychic gift or the lady without a face from the Haunting series. This time though, she takes on the role of Erin, a single expecting mother who, after finding a renewed faith, is ready for a fresh start. That all gets flipped around once Father Paul comes to town.
Zach Gilford as Riley Flynn
Riley returns home with a dark past that he's trying to outrun. Haunted by a tragedy and his loss of faith, he turns to his close friend Erin for help. Outside of Midnight Mass, Zach has also been in the 2006 series Friday Night Lights and the show Good Girls (2018-2021).
Samantha Sloyan as Beverly Keane
The mysterious Father Paul has come to Crockett Island with the intentions of spreading these "miracles." Hamish is also known for his other roles in The Big Short (2015) and 2004's The Fantastic Four.
Rahul Kohli as Sheriff Hassan
Another Haunting series alum has returned, but this time as the Sheriff of the small town. After moving with his son, the Sheriff becomes skeptical of the strange happenings of the small town and investigates all that's eerie, hoping there's some logical explanation for it all.
Samantha Sloyan as Beverly Keane
Grey's Anatomy lovers will recognize Samantha from the beloved medical drama show. Much like her character from Gery's, she plays a villainous character named Bev who is quick to pass judgment on those she deems "unworthy" of God's love.
Her performance as an antagonist has gained attention from fans who claim she is "good" at making you hate her characters.
This bitch is too good at making me hate her in shows 😂. #midnightmass #GreysAnatomy pic.twitter.com/TcpG3jKrNQOctober 1, 2021
See more
How many episodes are there of Midnight Mass?
You won't be binge-watching the show for too long. There are only seven episodes in the series, and at around an hour-long per episode, you can certainly finish the show in a day. Much like the Haunting series, the creators won't keep you guessing for too long. Most Netflix series don't go over more than 10-episodes a season and Midnight Mass only continues this pattern.
Where is Midnight Mass set?
The show takes place on an isolated island—like you actually have to take a ferry to get there. The next town isn't for 30 miles which makes it difficult for a quick getaway, or in the case of these townspeople, a fast escape. Crockett Island is a fictitious place, but the island itself is located in Garry Point Park in British Columbia, Canada, where filming took place. In 2019, the fictional town was built there to fully create the hauntingly inescapable town we see in the show.
What is the creature in Midnight Mass?
*Spoilers ahead*
There has been much debate surrounding the grotesque creature we learn about later on in the show. While Father Paul claims it's an "angel" sent from Heaven, fans of the show have argued that it is a vampire. It really depends on how you interpret the show itself. Viewers have called referred to it as "Satanic" following along with the more biblical themes the show presents, while others are adamant that the creature itself is a vampire feeding on and turning victims into more vampires.
The series never puts a definitive label on the creature, but you can certainly imply that it is not a creature of Heaven. This is only further asserted when Father Paul explains the real reason why he brought the creature back in the first place in the episode "Book VII: Revelation."
"But if I'm honest, and there's no point in being anything else anymore, it was you. It was you and Sarah. That's why I did it. That's why I put that thing in my trunk. That's why I bribed and lied and smuggled it back here. That was the reason. I didn't want you to die," Father Paul (who we learn is actually Monsignor Pruitt) said.
This revelation shows that this person of God didn't actually bring the creature back for selfish reasons, which in turn shows he lied about it being "God's will."
How does Midnight Mass end?
A lot goes on during the final minutes of Midnight Mass and with it we uncover the true villain of the series. Father Paul practically forces everyone to attend a Midnight Mass in celebration of Easter. During this special mass, he unveils his plan to basically turn the whole town into vampire-like people. Those who were successfully turned (which is a majority of the town) then go on a killing spree running around town and feeding on any townspeople who didn't attend midnight mass.
Meanwhile, Erin (played by Kate Siegel), Sarah (played by Annabeth Gish), and Sheriff Hassan (played by Rahul Kohli) all realize they need to burn the boats so that the town's residents can't leave the island to infect others. Bev (played by Samantha Sloyan) has the idea to burn all the buildings and homes except the rec center and church. That way, anyone she deems as "worthy" will be safe from the sun.
In the end, the church and rec center goes up in flames thanks to the sacrifice of Erin, Sarah, and the Sheriff. As the vampires go to await death, two human children were able to make it safely to a canoe where they sit in the water watching their town burn up into flames, and awaiting the safety of the sun.
Will there be a Midnight Mass season 2?
The show was made as a limited-series, meaning only one season was supposed to take place. At this time, unfortunately, there are no plans for a second season. From the ending too, it looks as if most aspects of the story are wrapped up. Though we do wonder what happened to the creature and what will happen to the two kids that survived, the creators will just keep us guessing. That's not to say there may not be something similar in the future though!
Rylee is a U.S. news writer who previously worked for woman&home and My Imperfect Life covering lifestyle, celebrity, and fashion news. Before joining woman&home and My Imperfect Life, Rylee studied journalism at Hofstra University where she explored her interests in world politics and magazine writing. From there, she dabbled in freelance writing covering fashion and beauty e-commerce for outlets such as the TODAY show, American Spa Magazine, First for Women, and Woman's World.