Best Halloween movies on Netflix 2021 to watch right now
Get in the holiday spirit with some of the spookiest films on Netflix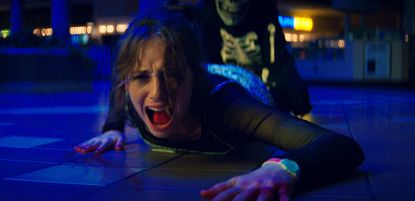 (Image credit: Netflix )
Halloween isn't just a holiday, it's a season, and what better way to ring in fall than with a spooky movie marathon.
For those obsessed with any and all chilling and scream-filled films, Netflix has a library filled with goosebump-inducing movies to stream. Whether you decide to have a quiet night in or need a movie to play in the background as you play Halloween party games for adults, the streaming service has some of the widest selection to choose from.
Not all Halloween movies need to bring the fear factor to be enjoyable. The best kind of Halloween movies will have you laughing, shocked, or hiding your head behind the nearest pillow. It's time to pause your shows starring people over 50 and check out our favorite Halloween movie picks before it's time to stream the best Christmas movies on Netflix 2021.
---
The Conjuring
Some horror fans may consider this film a classic. The Conjuring is the first of three movies that follow Ed and Lorraine Warren, paranormal investigators who aim to help those fallen victim to demonic possession.
The first movie takes place in 1970 and follows the couple as they assist a family whose farmhouse is terrorized by a dark spirit.
Fear Street Trilogy
A witch places a chilling curse on a small town, but the mystery of how to stop it has a group of teens stumped. Follow the backward story that takes place in three different years: 1994, 1979, and 1666, and watch as one mistake leads to decades of murder and horror.
1994 features a group of kids who attempt to stop the curse from making them its latest victim. Then, go back to 1978, to understand how a summer meant to be filled with fun and adventure turned into a murder spree with only one survivor. Lastly, 1666 goes back to the beginning where the so-called witch is accused of sorcery and the origins of a curse that would haunt the small town for centuries.
Things Heard and Seen
Amanda Seyfried stars in this classic scary movie that deals with a haunted house and its small town residents. After a young couple and their daughter move from the city to the country, the wife (played by Seyfried) begins to see and hear strange things in their old home. As time passes on, she begins to unravel the secrets of the home and its residents.
Hubie Halloween
Don't like scary movies? Adam Sandler brings a lighter side to the spooky season in Hubie Halloween.
In this comedy, Adam's character Hubie starts to notice strange occurrences in his town. He then needs to convince the townspeople that monsters are real.
The Strangers
You won't want to watch this film alone. What was supposed to be a relaxing weekend away takes a deadly turn for one young couple.
This thriller follows Kristen and James played by Liv Tyler and Scott Speedman as they attempt to enjoy a romantic getaway at their family vacation home. Their plans are unexpectedly thwarted when three masked intruders invade their home with murderous intent.
In the Tall Grass
Stephen King fans are sure to appreciate this film. Based on Stephen's novel of the same name, this movie tells the chilling story of when a brother and sister hear a young boy calling for help in a field.
As they race to try and save the boy, they soon discover they can't leave the field, and something far more sinister lies lurking within.
The Silence
Much like A Quiet Place, this film features monsters who hunt sound. As a family fights for survival, a mysterious cult also arrives and has plans to exploit their deaf daughter's (played by Kiernan Shipka) heightened senses.
Now, the family must survive not only the monsters threatening to wipe out their existence but an unnerving cult and its leader.
Bird Box
You may want to keep you eyes closed during this movie. Starring Sandra Bullock, a mysterious force has wiped out the Earth, and only one thing is certain—if you see it you die.
The entity seems to takes the form of your worst fears, driving Sandra's character to take her family on a dangerous journey to find a safe haven.
Insidious
What would you do if your child suddenly was possessed by a demon? Well, after his son suddenly falls into a coma, one father (played by Patrick Wilson) decides to take action and enters a demon dimension to find a solution. Expect jump scares as ghouls and ghosts make their surprise appearances.
The Babysitter
A 12-year-old boy named Cole with a crush on his babysitter is quickly disappointed once he finds out she is a part of a satanic cult. Now, Cole must ignore his feelings for his babysitter and try to escape her and her cult's clutches before they try to sacrifice him for their personal gain.
It Comes At Night
A strange apocalypse leaves a family no choice but live in their secluded cabin in the woods. Things take a turn when a man shows up with his wife and son seeking refuge. As the two families form an alliance and bond over their trauma, they soon begin to discover something sinister lurks inside their haven.
Fractured
Sam Worthington plays Ray Monroe, a father, who after stopping at a gas station has to rush to the hospital with his wife after his daughter fractures his arm. While at the hospital, he drifts off to sleep but wakes up to find his wife and daughter missing.
When the hospital claims they have no recollection of his family, he becomes suspicious that the hospital is hiding more than they claim.
Sabrina
You almost can't have a creepy Halloween movie without a doll that comes to life.
There's nothing lighthearted about this movie. Instead, it follows married toy manufacturers who soon are terrorized by their niece, who attempts to summon her dead mother's spirit.
What she gets instead, is a cursed doll named Sabrina who comes to life and haunts the family.
Crimson Peak
From the mind of Guillermo del Toro, enter the haunted mansion of Crimson Peak.
In 1901, a young girl meets the mysterious English gentleman played by Tom Hiddleston. The two quickly get married and dash off to his family's mansion in the middle of nowhere.
For fans of Gothic stories, you fall for the ghostly inhabitants and the mystery that will keep you and the protagonist guessing until the end.
1922
This film based on the Stephen King novel of the same name, tells the story of a farmer convinces his teenage son to help him murder his wife.
From there, he writes a confession letter admitting to killing her, but as the the father and son attempt to go on with their lives, they begin to face haunting delusions.
New Halloween Movies Coming to Netflix 2021
No One Gets Out Alive
Ambar immigrates to America in search of the American dream and is forced to move into a boarding house.
What she doesn't realize though is that she's made a horrible mistake. The room seemingly feels normal, but soon she begins to feel a presence that becomes more hostile with each passing night. Tune in on September 29 to discover the haunting threat.
There's Someone Inside Your House
On October 6, watch as one girl moves from tropical Hawaii to a small town in Nebraska, to live with her grandmother while finishing high school. As the girl and her friends anxiously await graduation, they quickly realize not all of them may make it alive to the big day.
A killer with a life-like mask of their face is intent on stalking and killing people, and now it's up to them to figure out who lies underneath the mask, before it's too late.
Night Teeth
Megan Fox stars in this horror-comedy film about a college student, Benny, who chauffeurs at night.
When he picks up two girls, his seemingly normal night takes a dark turn when he realizes that the women are up to no good.
Now, he is tasked with trying to thwart their sinister plans. Make sure to tune in on October 20 to catch Benny's thrilling adventure.
Rylee is a U.S. news writer who previously worked for woman&home and My Imperfect Life covering lifestyle, celebrity, and fashion news. Before joining woman&home and My Imperfect Life, Rylee studied journalism at Hofstra University where she explored her interests in world politics and magazine writing. From there, she dabbled in freelance writing covering fashion and beauty e-commerce for outlets such as the TODAY show, American Spa Magazine, First for Women, and Woman's World.