Halloween party games for adults - including pumpkin carving ideas, halloween decorations and more
Spooktastic!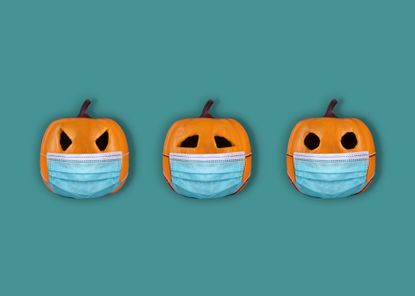 (Image credit: Getty Images)
As with all celebrations this year, Halloween party games for adults are looking a little bit different...
No more than six people can gather, no trips to fun bars post-10pm, no taking out your children or grandchildren trick or treating - not Covid-friendly.
But don't give up on your pumpkin picking just yet - there's still plenty of fun to be had.
If you're a lover of Halloween, then no doubt you'll still want to celebrate but you may not want to leave your home. If that is the case then look no further than this list of suggested ways to have fun - see you and your halloween cocktails on 31st October!
When is Halloween in 2020?
Halloween is this Saturday 31st October 2020.
Staying in is the new going out, so this Saturday, why not plan a day filled with seasonal activities. While trick or treating may be off the cards, there are still plenty of activities you can take part in, from Halloween party games for adults to pumpkin carving to digital murder mystery parties. Get planning a fun-filled spooky weekend with our list of suggestions below.
Carve a pumpkin and then make some pumpkin soup
There is nothing to stop you carving a pumpkin. It is a fun activity which involves the whole family too! Make it into a whole evening event and have a competition over zoom of who has done the most creative design. But don't stop there, make sure you save all of the flesh to make a delicious soup too. Now the cold weather has drawn in, it is exactly the right season for soup. How about trying this recipe?
Halloween movies: have a horror film marathon
Some love them, some hate them. But what a better opportunity than Halloween to spend all evening watching scary films. We love The Woman in Black, Winchester, Get Out and Psycho! You can see a bigger list of halloween movies on Netflix here.
Just add popcorn!
Host a Zoom murder mystery party
If you can't go out then you should bring the party to your house (or your computer in this case). Many venues have turned to host murder mysteries and you can join in from your sofa! We suggest ensuring all participants dress up. You could even have a spooky background behind them There are so many that we have rounded them up below.
https://www.youtube.com/watch?v=vcB7j8SvKN8&feature=emb_title
A Deadly Dose: A Victorian Murder Mystery is usually performed at the Old Operating Theatre in London Bridge, but they're now operating as a Zoom-based extravaganza. Tickets are £10 and you can get them here!
Whodunnit? Macmillan Murder Mystery. What better than having fun and supporting charity too? Simply sign up on Macmillan's website to receive your Whodunnit pack which you can then download and host a zoom party. "Once you sign up, we'll send you all the chara
Murder in the Swinging 60s. Set in a groovy rock festival during the sixties, this virtual video chat mystery game can be played with 6 - 14 people and prices start at £17. The instant download lets you host with your friends on demand and is easy to run. More info here.
Little Rock Horror Shop Murder! The fictional Hyde Studios are best known for their production of science fiction and horror movies, its owner and director, Jacqueline Hyde, suddenly vanished. What happened to her? Solve the mystery with up to 20 people, with tickets starting at £20, in this virtual video chat murder mystery game.
Death's Shadow.It's Coronation Day, 1953. The residents of Albert Street have gathered in murder mystery author Dexter Runcie's front room to watch their new Queen being crowned on his new-fangled television set and to have a party. But then Dexter dies. How did he die? Solve the mystery with 20 of your friends for £21, in this virtual video chat murder mystery game.
Halloween party games for adults
Halloween isn't just for kids and games certainly aren't either. In fact, we think they're great for adults especially if you have pandemic fatigue and finding time passing slowly. These Halloween party games for adults are sure the get the conversation flowing.
Tarot cards
Ever considered tarot reading? Perhaps one of your friends is an expert and if not, why not hire someone who is. You can all join a Zoom call and all have your future predicted.
Halloween grab bag
Or what about a fun game of Halloween grab bag? Cover some boxes with gross items such acold spaghetti, jelly, and. Then get your guests to reach inside and guess what the spooky items are.
Pumpkin pictionary
Why not combine two of our favourite things? Games and pumpkin carving! Each person picks a random person, place, thing, song, movie, or TV show — Halloween themed, of course. Then get your guests (whether that be over Zoom or not!) to carve it into the pumpkin while the others guess. We already know this will be hilarious.
Halloween decorations
Decorating ideas are endless, you can even make lots of them edible! Keep it chic for table decor and do an orange and black theme, think candles and napkins are contrasting colours with mini pumpkins as centrepieces. Print out menus and place settings to match your theme.
VIEW NOW: Not On the High Street Halloween garland by Rosie and the Boys
Seeing as this is for adults we love the idea of spooky shots or, jelly shots. Get a whole tray of them on a sideboard and they will soon become part of the decor. You could even buy some toy syringes to serve them in. Or, make a big spicy rum cocktail punch in a jug. Aren't drinks decorative anyway? We certainly think so! Buy plastic skeletons, mini broomsticks and any other spooky paraphernalia and use them to decorate cocktails. It's all about being creative.
So don't be disheartened and think you can't celebrate this year, because trust us, there is plenty to do. What will you choose?
Rachel is a freelance contributor to woman&home, covering news as well as books, lifestyle and travel. Her byline has also appeared in The Independent, The Financial Times, ELLE Magazine, VICE, Glamour Magazine and others. She loves nothing more than talking with people to share their stories. When she is not writing you will definitely find her nose in a book or magazine, or perhaps training for the next half marathon, practicing yoga or eating in London's best restaurants.