Best Halloween movies on Hulu 2021 to watch now
You'll want to keep the lights on while watching these Halloween movies on Hulu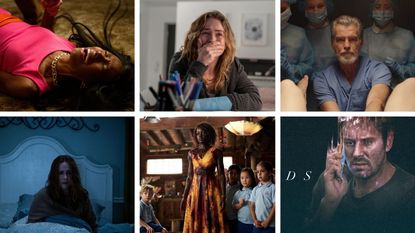 (Image credit: Courtesy of Hulu, Tobin Yellan/Hulu, Chris Reardon/Hulu, Ben King/Neon, Eric Zachanowich/Hulu)
A cozy blanket, candles and spooky Halloween movies on Hulu can only mean one thing—fall is well and truly here. So as the ghosts and ghouls come out of hiding, we celebrate all things eerie.
As well as the best Halloween movies on Netflix, Hulu also has a wide selection of new and vintage movies to choose from, meaning the whole family can take their pick ahead of Halloween.
Whether you're looking for a murder mystery (especially for fans who watch Only Murders in the Building) or a supernatural-filled film, check out our best picks below to get your Halloween movie marathon started now. Don't wait too long though, with the holiday season right around the corner, it won't be long until the best Christmas movies on Hulu will be filling your screen time.
Best Halloween movies on Hulu 2021
Parasite
The Kims are a poverty-stricken family who lie their way into working for a rich family's home—the Parks. Class division is tackled in the movie which doesn't feature any supernatural jump scares, but may leave you with a feeling of uncomfortable ease as secrets become unearthed.
Little Monsters
Lupita Nyong'o stars alongside Josh Gadd in this comedy-horror flick. Taking place in a zombie-filled world, Lupita plays a teacher who must protect her young students from an unexpected zombie invasion. With the help of a struggling musician and children's TV personality star, the three will have to put aside their differences to save the kids—and themselves.
False Positive
Ilana Glazer, Justin Theroux, and Pierce Brosnan star in this 2021 mystery thriller. When a Lucy and Adrian (played by Ilana and Justin) find their dream fertility doctor, they're overjoyed once Lucy becomes pregnant. This seemingly perfect doctor isn't as innocent as he makes everyone believe though. Lucy soon begins to suspect there's something sinister behind the doctor's eyes and sets out to learn the truth.
The Other Lamb
This 2019 movie tells the story of a young girl, Sarah, played by Raffey Cassidy, who is born into an all-female religious cult. Their cult leader is a lone male to who they are all subservient, and as Sarah grows up she begins to attract his attention. When a situation forces the cult to find a new home though, she begins to question her leader's teachings and the reality in which she lives.
Wounds
Think again before picking up something left behind. This psychological thriller tells the haunting story of a bartender who picks up a phone left at his bar. While seemingly innocent, he soon begins to receive disturbing messages on the phone.
Bad Hair
Sometimes it can feel as though our hair has a mind of its own. Well, in this horror flick, one ambitious young woman is going to find out her hair has just that. It's 1989 and Anna decides to get a weave to help her fit into the "image-obsessed" realm of music television. She soon realizes that her weave isn't like normal ones. In fact, it seems to truly have a mind of its own—and it wants blood.
Books of Blood
Based on the short stories written by Clive Barker comes a horror movie with three tales tied into one film. The story follows three characters: Jenna (played by Britt Robertson), a college student who after suffering from a mental breakdown tries to put her life back together, but discovers something disturbing along the way. Then, there's Mary (played by Anna Friel), a college professor who is known for debunking psychics, but when one claims to be able to speak to her dead son, she begins to realize maybe she was wrong after all. The final character whose story interweaves with the rest of the characters is a mercenary (played by Yul Vazquez) who's trying to retrieve a book worth a lot of money. The movie will have you guessing the fate of each character up until the very end.
Villains
Bill Skarsgård, Maika Monroe, Jeffrey Donovan, and Kyra Sedgwick star is this scary thriller. A young couple is on the run after completing a robbery, but when they break into a suburban home they discover the homeowner's dark secret. Now, the sadistic homeowners will do anything to make sure their secret stays hidden.
The Addams Family
Your favorite creepy and kooky family is back again to bring the laughs and spook. The Addams Family is the perfect film for the whole family as it shows not all monsters are scary. In this animated movie, the family is preparing for a visit from their "even creepier" relatives. Trouble soon arises though when a shady TV personality discovers that the Addams' hilltop mansion is in the way of her dream to sell all the houses in the neighborhood.
Child's Play
If dolls give you the creeps, then you may want to pass on this movie. In the film, a young Andy Barclay moves to a new town and is given a new Buddi doll as a gift from his mother. The doll instantly becomes Andy's new best friend doing everything with him. Things take a dark turn though when the doll suddenly comes to life. Now, Andy and the neighborhood kids must team up to put a stop to the doll's murderous plans.
The Wretched
Divorce is can be hard for kids, and for Ben, it's about to get a lot more challenging. As he struggles to come to terms with his parents separating, this teenager also has a face-off against a thousand-year-old witch who decided to possess his next-door neighbor. As if being a teenager wasn't complicated enough...
Into the Dark: Down
It's Valentine's Day weekend and two co-workers are headed home to enjoy their long weekend. Unfortunately for them, they end up getting stuck in the elevator together. Hoping to make a romantic connection, the two begin to get to know one another. The more they get to know one another, the more dangerous things seem to get.
Crawl
With a hurricane on the way, a young Haley ignores the evacuation orders and instead goes searching for her missing father. When she finds him, she discovers he's gravely injured in their family home. The two soon become trapped in their home as the floodwaters rapidly begin to rise. That's not their only problem though, as the water quickly rises, they discover a group of large alligators waiting to attack.
The Houses October Built
Five friends go on the ultimate road trip to find haunted houses across the country. What was supposed to be a fun bonding trip turns into their worst nightmare though when the friends are suddenly stalked by a mysterious and disturbing group. The film was produced by Zack Andrews and Steven Schneider (known for his involvement with the Paranormal Activity franchise).
Children of the Corn
Based on Stephen King's novel of the same title, this 1984 film follows a couple who find themselves in a deserted town. The only inhabitants are a cult of murderous children who worship a demon that lives in the local cornfields. Believing that anyone over the age of 18 must die, the children are on the hunt to kill the couple who desperately try to escape before it's too late.
It
Red balloons won't look the same after viewing this disturbing flick. This movie is also based on the novel of the same title by the twisted mind of Stephen King. In it, a killer clown named Pennywise morphs into children's greatest fears. As more kids begin to go missing across the town of Derry, Maine, it's up to one band of children to face their fears and take down the bloodthirsty clown.
Run
There's nothing a mother wouldn't do for her child—or at least for this mother. Ever since her birth, Chloe (played by Kiera Allen) has been controlled by her mother (played by Sarah Paulson). Living in complete isolation causes Chloe to begin to want more out of her life. Now a teenager, she begins digging into her mother's secrets, but what she uncovers will alter her world completely.
Trick
Fans of Halloween and Scream may appreciate this scary movie. Much like those two classic films, this one features a mystery the main characters will need to solve quickly if they hope to survive. It's Halloween night in 2015 and Patrick `Trick' Weaver has massacred his classmates at a costume party. While he's in police custody, he manages to escape but not before he's shot five times by an officer. Everyone believes Trick to be dead, but things take a murderous turn when a masked killer begins to show up every Halloween with blood on the mind.
Duvets at the ready, these Halloween movies are seriously chilling!
Rylee is a U.S. news writer who previously worked for woman&home and My Imperfect Life covering lifestyle, celebrity, and fashion news. Before joining woman&home and My Imperfect Life, Rylee studied journalism at Hofstra University where she explored her interests in world politics and magazine writing. From there, she dabbled in freelance writing covering fashion and beauty e-commerce for outlets such as the TODAY show, American Spa Magazine, First for Women, and Woman's World.