Martha Stewart says these are her top 2 red flags to look out for when dating - and she's so right
Martha Stewart revealed her major dating red flags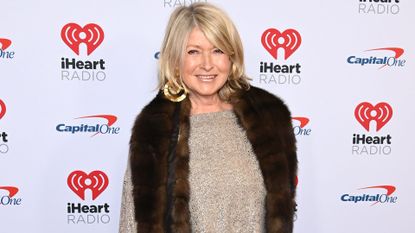 (Image credit: Getty Images)
Martha Stewart is always impressing us with her various talents - and she recently revealed some dating advice that we can't stop thinking about.
Martha Stewart, 81, is the queen of surprising us. From her unreal skin, her sexy selfies, and her unmatched recipes, she is a woman of many talents and... well, quirks. Recently though, Martha shared some dating advice that has been infiltrating our minds ever since we heard it.
Dating is a feat that no one can ever perfectly master - so we're taking all the help we can get. One thing Martha noted to E! Insider Shop that her red flags in dating are obvious and can be noted pretty much as soon as you have your first date.
The first thing Martha stresses as a red flag is bad breath - and we don't mean the inevitable morning breath or consequential garlic breath after a huge Italian meal. We mean consistently bad breath.
The other thing Martha notes is a huge red flag is a cheap man. "When I mean cheap, I mean not generous," she clarified.
Martha did say, although she has strong opinions about dating, she has no time for it right now, as her schedule is packed.
"I know a lot of eligible men," she said.
"I think they really want a woman who will take care of them, so I'm still not quite in that position where I can take care of a man full-time because I work too much." We can't blame her, really.
Of course, Martha's dating red flags are undeniably valid, but it doesn't look like she'll be making room for dating in her life. Why? She thinks about her work too much, she says.
"I think that If I analyze my life, I think the work has taken precedence over the romance. And I think a lot of people are in that position. I have a hard time making room for both," she said.
She did say, however, should the perfect man come along, she wouldn't be closed off to getting back in the dating game.
"It's not the highest priority that I have a boyfriend, but it would be nice," she noted.
She says, should a man want to take her out on a date, she has certain expectations for how the first date would go. "I'd like to go someplace. I'd like to have a lovely dinner in a good place, a good restaurant," she said.
She also makes sure to note that she loves to explore, and would also like to have some sort of first date that satiates her curious side - something that keeps her young at heart.
"I'd like to, maybe if it's daytime, maybe take a nice hike... I'd like to go on a nice big boat someplace. I'd love to travel by boat. I like to explore. I'd like to go helicoptering, too. Helicoptering is a lot of fun. I love to see places from the air," she concluded.
Madeline Merinuk is woman&home's US lifestyle news writer. She covers celebrity, entertainment, fashion, and beauty news but is also obsessed with internet trends - you can find her reciting trending TikTok sounds out loud at any given time.
After winning multiple student journalism awards for her investigative work, she graduated from Hofstra University in 2021 with a B.A. in Journalism. After graduating, she worked at today.com, the digital site for the Today Show, where she wrote pop culture news and interviewed big-name personalities like Emily Ratajkowski, Haley Lu Richardson, Emma Corrin, and more.
Her personal interests, in no particular order, are: cheese, Joni Mitchell, reading, hot yoga, traveling, having multiple chapsticks in every handbag at all times, and dancing to ABBA songs as if she were in the Mamma Mia movies.