Here's how Martha Stewart and her friends keep each other young at heart
Martha Stewart and her friends have an agreement that all but assures they will stay young forever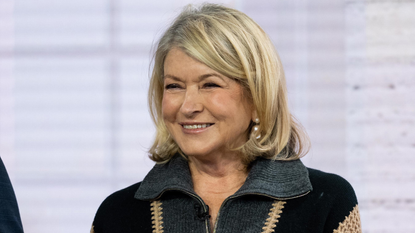 (Image credit: NBC / Contributor)
If there is one celebrity who knows how precious youth is and how to properly hold on to it, it is Martha Stewart - so we'll go ahead and follow any advice she has to dish out about staying young forever.
In a new interview with Yahoo Life (opens in new tab), Martha, who has in the past shared her secret tip for looking great, opened up about the friendship pact that has helped her continue to live her very best life.
"I have an agreement - all of us, all my friends - we have an agreement where if we start to act like a little old lady and don't care about what our house looks like, or it smells or anything, we get killed," she said to the outlet. "We get killed, just finished."
As for how she manages to stay away from even feeling like an "old lady," the 81-year-old entrepreneur and TV personality mentioned eating healthy foods, exercising daily and spending time with her loved ones - including her grandchildren, 11-year-old Jude and 10-year-old Truman. Martha even traveled to Madagascar with them before the end of 2022!
"[It's important to] keep up with the grandchildren and know who they are and what they're doing without being too intrusive," Martha said on the record. "I travel around the world with my two grandchildren and we just got back from Madagascar [...] they learned how to scuba dive, we took hikes through jungles, we visited primitive villages and really learned a lot about seaweed farming. We hunted for lemurs - with cameras - and at the end of a trip like that, what I want to hear when you ask, 'How did you like it?' is, 'Oh, we loved it.'"
Back to exercising and healthy eating, ("Having a healthy existence and working - I don't ever think about retiring, that's something that's sort of foreign to me," the celebrity said), Martha specifically mentioned pilates and horseback riding as some of her favorite activities. "I try to go to pilates as many times a week as I possible can," she said, also revealing to have attended 6:30am class that very morning.
But Martha's joie de vivre and her top-notch lifestyle aren't the only reasons why the celebrity is so loved (despite having gone to jail!). In fact, Martha has turned her whole existence into a reputable brand that touches upon all aspects of life.
She recently posted her Christmas card display on Instagram, for example, to the delight of all her followers who found it to be innovative and beautiful. She's also getting into the CBD for dogs business, has launched a frozen meal line you'll actually want to dig into and was spotted flying private with eight trees, a delightful little episode that people are still naturally talking about.
If you just can't get enough of Martha, we don't blame you and you're in luck: in addition to her various exciting lifestyle-related business dealings, Martha hosts her eponymous podcast, The Martha Stewart Podcast, and a slew of other TV shows, including Martha Knows Best, which originally premiered on HGTV in 2020. So you can get your Martha does through whatever medium you wish to!
Anna Rahmanan is a New York-based writer and editor who covers culture, entertainment, food, fashion and travel news. Anna's words have appeared on Time Out New York, the Huffington Post, Fortune, Forbes, Us Weekly, Bon Appetit and Brooklyn Magazine, among other outlets.