Martha Stewart makes history as she poses on the cover of Sports Illustrated in stunning white bathing suit
The Food Network star is proving to be more than just a talent in the kitchen...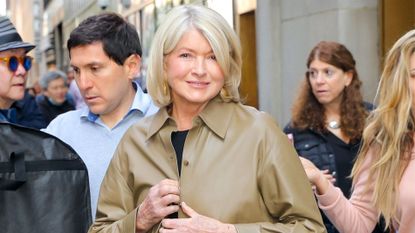 (Image credit: Getty Images)
At 81, Martha Stewart is now the oldest woman to ever pose on the cover of Sports Illustrated, making history for the publication - and for herself.
It goes without saying that Martha Stewart, in short, is an icon. Not only is she a whiz in the kitchen and at home, but she also takes incredible selfies of her unreal skin, is just genuinely hilarious, has a quirky friendship with Snoop Dogg (and, lest we forget, briefly went to jail) - and is now the oldest woman to ever pose on the cover of legendary magazine, Sports Illustrated.
"When I heard that I was going to be on the cover of Sports Illustrated Swimsuit, I thought, 'Oh, that's pretty good, I'm going to be the oldest person I think ever on a cover of Sports Illustrated,'" Martha said on an appearance on the TODAY Show to announce the news. "And I don't think about age very much, but I thought that this is kind of historic."
The publication teased the cover to its fans, stating that the newest cover stars were going to be "epic."
"The #SISwim23 covers are out now and when we say they're absolutely groundbreaking, we mean it. These women are mothers, artists, entrepreneurs, history-makers, and everything in between and we're spilling the tea on exactly who it is at the link in our bio," they said on their Instagram in a post that featured black silhouettes of all of the cover stars, including Martha.
In the images, she poses with her face-framing bob in a tousled style, and wears a handful of super chic bathing suits.
The cover image debuted on the TODAY Show, where Martha gave a live reaction to seeing the image for the first time. "I like that picture," she said as it appeared on the screen.
"It's odd to go to an island and then get changed into nine different bathing suits in one day in front of all those people," she told TODAY hosts Hoda Kotb and Savannah Guthrie. She then goes on to explain the process of getting ready for the shoot, and how she prepared to be the Sports Illustrated cover model in the two-month span of November 2022 to January 2023.
"That was a kind of request I'd never had before," she said. "To be on the cover at my age was a challenge... I didn't starve myself, but I didn't eat any bread or pasta for a couple of months. I went to pilates every other day, and that was great."
She added that still, even though the shoot is over, she continues to go to pilates frequently because she loves it so much.
She said that, even though the people on set were "prodding" and "pinching" her, and pouring water on her head, she still had a lot of fun - and looked damn good doing it, too!
Madeline Merinuk is woman&home's US lifestyle news writer. She covers celebrity, entertainment, fashion, and beauty news but is also obsessed with internet trends - you can find her reciting trending TikTok sounds out loud at any given time.
After winning multiple student journalism awards for her investigative work, she graduated from Hofstra University in 2021 with a B.A. in Journalism. After graduating, she worked at today.com, the digital site for the Today Show, where she wrote pop culture news and interviewed big-name personalities like Emily Ratajkowski, Haley Lu Richardson, Emma Corrin, and more.
Her personal interests, in no particular order, are: cheese, Joni Mitchell, reading, hot yoga, traveling, having multiple chapsticks in every handbag at all times, and dancing to ABBA songs as if she were in the Mamma Mia movies.