Lyrids meteor shower 2023 is going to be super intense, here's how to watch the cosmic display
April's epic meteor shower is nearly here!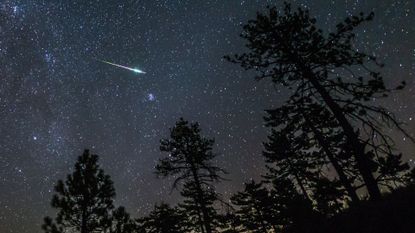 (Image credit: Getty Images)
For those who enjoy learning about space and viewing what it has to offer, you won't want to miss the Lyrids meteor shower coming in spring 2023.
There are truly very few natural feats that are more thrilling to view than that of the night sky - and as if the beautiful stars and moon weren't enough, every once in a while we get lucky enough to view something even more incredible, like the Lyrids meteor shower.
The Lyrids, which is said by Earth Sky to be the strongest cosmic phenomenon of this year, will occur in mid-April of 2023. Here's what we know about it so far, including what it is exactly, and how you can watch it.
What is the Lyrids meteor shower 2023?
This coming spring is not the first time the Lyrids will occur in our night sky. In fact, Lyrids are dusty trails of debris from Comet Thatcher that have been orbiting the sun for centuries.
Have you ever heard the phrase, "In the middle of the night, stars fell like rain"? That phrase comes from Chinese astronomers in 687 BC, who were viewing Lyrid meteors whizzing through the sky.
According to NASA, Lyrid meteors leave behind glowing dust trails that can last for minutes at a time. The Lyrid meteor showers typically show about 5-20 meteors per hour, and will last for about two weeks.
This meteor shower takes place between the constellations Lyra and Hercules - which is right near the brilliant star, Vega, which (for those who are astronomy buffs) can be seen under the "swan" constellation.
When can I watch the Lyrids meteor shower 2023?
Luckily, this intense meteor shower is coming up very soon, and will be able to viewed between April 15 and April 29. Cosmic experts have noted that the meteor shower will be at its most visible in the late evening on April 22 and early morning April 23.
If you're dedicated to viewing the star-studded April event of the Lyrids, you may have to adjust your sleeping hours, as the show will be at its brightest between the setting of the moon and dawn. So, if you're already an early riser, you may be at an advantage. You could also try to catch some falling meteors between 9 and 10pm, when the Lyra constellation begins to rise in the night sky.
Of course, light pollution will affect your viewing of the Lyrids, so if you're near a big city like New York, Chicago, or any other city that emits dense amounts of light pollution, you may not be able to see it as well as someone who might be in the desert or the mountains. So although the Lyrids will be able to be seen all throughout the Northern Hemisphere, there are still some locational details to note.
Madeline Merinuk is woman&home's US lifestyle news writer. She covers celebrity, entertainment, fashion, and beauty news but is also obsessed with internet trends - you can find her reciting trending TikTok sounds out loud at any given time.
After winning multiple student journalism awards for her investigative work, she graduated from Hofstra University in 2021 with a B.A. in Journalism. After graduating, she worked at today.com, the digital site for the Today Show, where she wrote pop culture news and interviewed big-name personalities like Emily Ratajkowski, Haley Lu Richardson, Emma Corrin, and more.
Her personal interests, in no particular order, are: cheese, Joni Mitchell, reading, hot yoga, traveling, having multiple chapsticks in every handbag at all times, and dancing to ABBA songs as if she were in the Mamma Mia movies.