Lorraine shares adorable snap as she enjoys a lunch date with her lookalike mum
Two peas in a pod!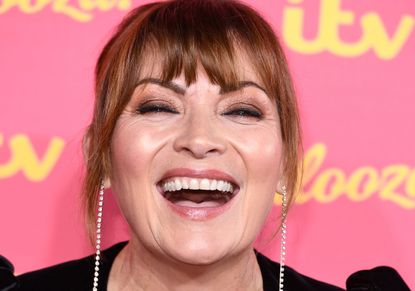 (Image credit: Getty)
Lorraine Kelly took to Instagram yesterday to share a sweet glimpse into her life away from our TV screens.
The iconic Scottish presenter, her mother and her family friend Betty enjoyed a lunch time meal at Glasgow's branch of The Ivy and Lorraine made sure to snap a sweet photo of the trip out.
'Ladies who lunch - me and my lovely mum and her pal Betty at The Ivy in Glasgow - fabulous grub and top service! @theivyglasgow #mum #happy #friends #love,' she penned.
In the comments section, Lorraine's fans couldn't help but point out how alike she and her mum look.
READ MORE:Lorraine Kelly replicates Duchess Meghan look with Marks & Spencer dress (opens in new tab)
'Aww lovely. You are so like your mama ❤️,' one wrote.
'Lovely pic. You look just like your mum👌💕,' added another, while a third chipped in, 'Aw 2 peas in a pod! Great photo.'
'You can tell which one is your mum,' agreed one more.
There's clearly strong genetics in Lorraine's family, because her very own daughter Rosie looks so similar too.
Lorraine recently shared a sweet selfie of the pair, when Rosie visited Scotland from her home in Singapore.
'Perfect pre #christmas lunch with my @rosiekellysmith at @balthazarldn - she's over on a flying visit from @singapore.#love #family #happy xxxxx,' Lorraine wrote alongside the post.
'Lorraine your daughter looks so much like you,' one follower commented, while a second added, 'Rosie is the image of you Lorraine xxx😘.'
Earlier this month, Lorraine confirmed that her Asia based daughter was having to self -isolate amid coronavirus fears.
"My Rosie has got a cold and she's in Singapore as you know," she explained on screen.
"She's self-isolating right now."