Liza Tarbuck has to be one of the most refreshing women in the media—here's why not conforming has set her free
From comedy to becoming a radio presenter and successful actress, Liza Tarbuck has done it all...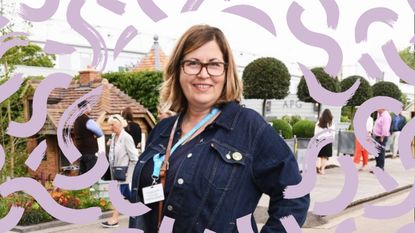 (Image credit: Future/Getty Images)
woman&home newsletter
Sign up to our free daily email for the latest royal and entertainment news, interesting opinion, expert advice on styling and beauty trends, and no-nonsense guides to the health and wellness questions you want answered.
Thank you for signing up to Woman & Home. You will receive a verification email shortly.
There was a problem. Please refresh the page and try again.
We shine a spotlight on powerful and inspiring women like Liza Tarbuck to tell you more about their daily lives and most relatable moments. Our in-depth profiles cover everything from how these women juggle work and play, to their most important relationships, and the pearls of wisdom they have to offer other women—with no detail spared.
---
Liza Tarbuck has enjoyed a long and fruitful showbiz career over the years. She's gone from presenting The Big Breakfast back in 1998, alongside Johnny Vaughan, Sara Cox, and Richard Bacon to being a guest presenter on Have I Got News For You and narrating the show Supersize vs Superskinny.
She's even played Anne Hathaway in BBC Two's comedy Upstart Crow, and written a book.
Nowadays, Liza regularly presents her own Radio 2 show on Saturdays between 6pm and 8pm—which she's stood at the helm of for over nine years now. And she's got family in the business too—her dad is legendary comedian Jimmy Tarbuck. He has regularly appeared on comedy shows and even took part in Strictly Come Dancing back in 2006.
But aside from her career highlights and famous father, there are a few other things you should know about Liza...
How old is Liza Tarbuck?
Liza Tarbuck was born on 21 November 1964, making her 56. She is the middle child of parents Jimmy Tarbuck and Pauline Tarbuck.
Liza was born in Liverpool and despite training at the National Youth Theatre and RADA, has ended up following in her famous father's footsteps and making a career for herself from comedy.
"It was watching Franco's Romeo and Juliet at the age of 15 that first made me want to act," Liza told the London Evening Standard. And thanks to years of live TV doing comedy, she's got nerves of steel. "Very little daunts me these days," she confessed. "Doing live telly removes that element of fear from you."
Unlike most aspiring actors, Liza landed a job straight out of college in a new comedy series called "Watching," playing a character called Pamela. She went on to stay there for seven years, before moving on to her next project.
In 1988 Liza starred opposite Colin Firth, Paul Rhys and David Calder in a Falklands drama, Tumbledown and three years later took the title role in Linda Green. After a few quieter years, Liza made an appearance in series 6 of French & Saunders alongside Dawn French and Jennifer Saunders and more recently is a regular face on Channel 4 and Dave's Taskmaster.
As well as acting and comedy, Liza has established herself as an excellent TV presenter on shows like The Big Breakfast, Time Team and Without Prejudice. But she never likes to out-stay her welcome, which is why she only stayed on The Big Breakfast for a year. Liza admitted, "I work hard not to be pigeonholed. And I can't understand how you can work on jobs back-to-back all year, with cameras in your face, contestants to look after and someone screaming in your ear, and still expect to remember the price of a pint of milk."
No matter how much she loved the job, there were parts of it that simply weren't sustainable. "I had such a laugh on there. Some of the people are brilliant, and all doing those bloody hours as well," she told The Guardian.
"With The Big Breakfast, the only way I can describe it is you spend your life jet-lagged, because of the hours. It's so strange, it's like you're a foot behind yourself. Even when you were there, nothing seemed real."
Like most women in television, Liza has been overlooked due to her appearance over the years. But she doesn't let it get her down.
"They [TV bosses] were very looks orientated and age orientated. They're not necessarily new, but at that time they were," she told the Guardian. And she's open about the fact her self-proclaimed 'plus-size' body doesn't necessarily conform to the norm.
"We're actually talking about body size, aren't we, mainly? Because that's the thing that gets referred to with me. How do I feel not being a size 8? Well, I don't know what it's like to be a size bleeding 8. My legs are size 8. I'm not," she confessed. "I don't get that. Why is somebody better than somebody else because of something like size? Because actually, it might mean that the other person's ill."
Is Liza Tarbuck in a relationship?
Liza Tarbuck is currently single and her love life has been something of a mystery for many years. Despite reports that the star hasn't been in a relationship since she split from her childhood sweetheart aged 24, she previously told woman&home that's not entirely the case.
"If you believe everything you read, I've been single for about 20 years, but that isn't true. Some things I prefer to keep private," she confessed.
Her choice to remain single, at least publicly anyway, has caused lots of people to question her sexuality. But it's a topic she has never properly addressed. The only comment she has made on the matter was this: "All I'll say here is I adore male company. It's extraordinary how great that attention can make you feel. And I don't do badly on that score, even if I'm single now."
Does Liza Tarbuck have children?
No, though she always imagined she would have. In a 2003 interview with The Standard, she said, "I'm happy enough. I always believed, as did my mum, that I'd be the one married to a farmer, with a huge brood running around my ankles."
When quizzed further about her decision to stay single, Liza admitted she's fiercely independent. "It hasn't happened, but that's okay. I've just not met anyone I want to have babies with. I'm frighteningly self-contained and I've got a lot of mates."
Who is Liza Tarbuck's father?
As well as a whole host of close friends, Liza is very close to her family—including her famous father, Jimmy Tarbuck. And the Tarbuck family spends a lot of time together.
Speaking to woman&home, Liza said, "It's fair to say, my family is ridiculously close and we really do love each other's company.
"I feel so lucky to have both my parents and we all get together at Mum and Dad's at least every fortnight and try to go away on holiday together once a year. When it was Mum and Dad's 50th wedding anniversary, we all went to Devon, which was fabulous."
In fact, the clan is so tight-knit that Liza had to force herself to move out of the family home. She told the Guardian, "Dad likes nothing more than when we're all staying. We're like a big pride of lions lazing around the house.
"But I'd be very happy to stay there. It would have been perfect 150 years ago, wouldn't it? They'd have been stuck with me. Embroidering in black in the corner, an old spinster."
Liza's father Jimmy, now 81, is a famous English comedian, actor, entertainer, and games show host who has fronted the likes of Sunday Night at the London Palladium.
Sadly, the comic was diagnosed with prostate cancer back in 2020 but vowed to beat the illness. "Right now I feel great. I'm on the telly and I'm having a good time," he told Good Morning Britain, before encouraging other men to get checked out.
"All men out there watching, and all wives, get your husbands to go for the tests. I think after 50, just have a test, let them have a look at you," he confessed. "You will be relieved and be with your families for extra years."
'I have prostate cancer and I'm going to try and beat it.' Jimmy Tarbuck is urging all men to get checked out.Listen to Jimmy, boys. He's a total legend. ❤️ pic.twitter.com/ff65hFJnlPFebruary 19, 2020
See more
---
More from woman&home:
---
When was Liza Tarbuck on Radio 2?
Liza Tarbuck is on BBC Radio 2 every Saturday evening from 6pm-8pm. Liza started her presenting career on Radio 2 back in 2007 when she co-presented the weekday afternoon show with Mark Radcliffe during Steve Wright's absence.
She went on to present this show twice more as a solo presenter before moving to the Saturday morning slot in December 2008 and January 2009. Since then, Liza has stood in many times to cover the Drivetime show and was eventually given her own show in May 2012. Liza took over the 6pm-8pm slot from Alan Carr and Melanie Sykes who famously hosted Going out with Alan Carr.
Remember to join the lovely Liza Tarbuck on her weekly radio show on BBC Radio 2, tonight at 6.00pm. #LizaTarbuck @BBCRadio2 pic.twitter.com/pMp37EIPyWJune 1, 2019
See more
Liza is incredibly popular on the radio and is famed for entertaining the nation with listener tales of the everyday blended with an eclectic, hand picked soundtrack for a Saturday evening.
In fact, whenever she takes a week off from the show she is sorely missed. "I can't wait for the Liza Tarbuck show on radio two tonight. Have I now reached old age?" one fan tweeted.
While another said, "Liza Tarbuck's show once again is the best thing on Radio 2 this week."
And it's no surprise she's so popular as music is in Liza's DNA.
"Music makes me so happy and I always have music on in my house," she previously told us. "I have a huge vinyl collection that I really should put into storage, as I don't have anything to play it on anymore, but my records are a bit of a comfort blanket for me.
"I also hear new things that I love all the time. I'll regularly go up and knock on car windows to ask what someone is playing if I like it. They don't seem to mind!"
What does Liza Tarbuck do in her spare time?
As well as all of her various work commitments, Liza finds time for cooking, reading, and writing in her spare time. "My favorite way of cooking is one-on-one - to make something wonderful for someone I care about. I live near a really good butcher's and La Fromagerie cheese shop, and I'm into buying local from them," she previously told us.
And her favorite go-to celebrity chef is the one and only Nigella Lawson. "I had to write to Nigella Lawson recently because there are a couple of recipes of hers that have made me look like a dream," she admitted.
"(And, no, I won't tell you what they were!) Nigella's recipes are cracking. Jamie Oliver and Hugh Fearnley-Whittingstall are also brilliant. And, frankly, you can't knock Delia —I use all of her recipes."
As well as writing her own book, I Am Distracted By Everything (an annual for grown-ups), Liza is a big reader. "I am a huge reader of anything and everything, pretty much," she told us. "I love a good detective novel and, once a year, I'll read a classic.
"I'm mad for Sebastian Faulks—I loved Engleby—and I like poetry too. One of my favorite books over the last year was Any Human Heart by William Boyd. Kathy Burke thought it was depressing, but I absolutely loved it."
Sign up to our free daily email for the latest royal and entertainment news, interesting opinion, expert advice on styling and beauty trends, and no-nonsense guides to the health and wellness questions you want answered.
Georgia writes across Woman & Home and Good to Know and specialises in all things royal. Previously labelled the "Queen of the royals," Georgia knows the whose who and what's what when it comes to the monarchy. When she's not eagerly following the royal family, Georgia enjoys shopping and self-care. She lives with this motto in mind; "if your dreams don't scare you, they aren't big enough."