Judi Dench Made Michelle Pfeiffer Cry - But The Reason Why Is Actually Really Sweet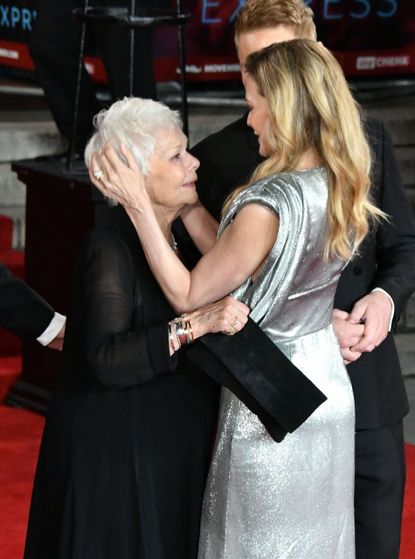 (Image credit: Shutterstock/Rex)
Dame Judi Dench almost bought a tear to our eyes when she revealed her greatest fear (opens in new tab) last week.
The award-winning actress worries that each time she performs it will be her last. However with her latest film Murder On The Orient Express, which hits cinemas today (3 November), she shows no signs of stopping.
In fact, Dame Judi's acting ability was so inspiring that it reduced co-star Michelle Pfeiffer to tears.
Michelle has enjoyed her own very successful career, picking up three Oscar nominations since she first started out in the 1970s.
But during her New York Times profile interview, Michelle admits how self-critical she is and how this was heightened by Judi's presence.
Michelle said, "Every new part I do I'm afraid I'm going to fail. I'm afraid I'm disappointing my director and you should have gotten someone else. I said to Steve Kloves [the writer-director of 'The Fabulous Baker Boys'] when I started 'Murder,' I said, 'I'm ruining the film.' He laughed".
Michelle at the London premier of Murder on The Orient Express
The character for Murder on The Orient Express was difficult enough says Michelle but it was also the thought of performing in front of Dame Judi.
She said, "And so I was at that stage and I'm acting in front of Judi Dench, and I'm thinking O.K., you cannot bomb in front of Judi Dench. This just can't happen.
"[She's] salty but salt-of-the-earth. She exudes this warmth; she's lovely. When I met her, I just cried."
Michelle went on, "Wah. I was just completely star-struck and moved by meeting her."
Michelle took a break from the world of acting to look after her two children with David E Kelley, a television writer and producer. But now that they have grown-up she's been back to her favourite craft.
She starred alongside Jennifer Lawrence in the mystery thriller Mother! which hit UK screens in September. Michelle also played Ruth Madoff in the American television drama The Wizard Of Lies.
While she is enjoying her comeback Michelle revealed that her only reservation was stepping back into the constant spotlight.
She said: "The only trepidation was I think I took for granted how nice it was to not be under the spotlight and just having a life. I remember thinking, 'Do I really want to step back into this?' And I just realised that I'm not done. I have a lot more to do, and a lot more to say. I'm never going to be one that retires."
We cannot wait to see what she has lined up next!
Murder on the Orient Express is in cinemas now
Jessica is a Senior Food Writer at Future and is an enthusiastic, self-taught cook who adores eating out and sharing great food and drink with friends and family. She has completed the Level 1 Associate course at the Academy of Cheese and is continually building on her knowledge of beers, wines and spirits. Jessica writes food and drink related news stories and features, curates product pages, tests and reviews equipment and also develops recipes which she styles on food shoots.