Dame Judi Dench opens up about her biggest fear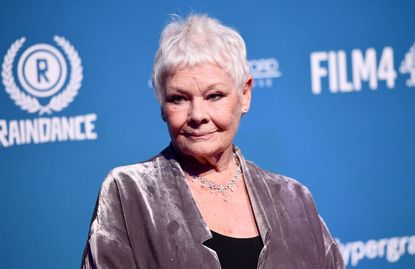 (Image credit: Getty Images)
Dame Judi Dench may be an award-winning actress with more successes under her belt than others could wish for, but she still has fears like anybody else.
For some it might be creepy crawlies, heights or the dark. Others might fear rejection or loneliness or even something more unusual like certain foods or textures.
But for Judi Dench it is something many people could relate to: the future of her career as she gets older.
Despite being so well known on the big screen and the stage, 84-year-old Judi says that she worries she'll never get another job. The star has been acting for 60 years, but still can't shake the fear she'll stop getting gigs.
"The director Trevor Nunn once said to me, 'Why are you always in tears on the first night?' And I said, 'Because I think I'm never going to be employed again." She admitted.
MORE:Judi Dench opens up about her struggle with her failing eyesight (opens in new tab)
"I don't take anything for granted. At the depths of me I do have a fear of that unbelievable silence you get in a theatre."
"The fear that the audience sees that thing in your eyes and thinks, 'Oh, she's gone'. The more you do, the more frightening it is as you are much more aware."
MORE:Prince Charles makes a bold statement on the James Bond set (opens in new tab)
Judi's most recent role is a cameo in Bond 25, after previously starring as Head of MI6 Agent 'M' in a number of films including GoldenEye, Casino Royale, and Spectre.
Last year, she took on a thrilling role as KGB British Spy Joan Stanley inRed Joan.So she's definitely not slowing down any time soon.
Judi Dench is also a seven-time Oscar nominee, winning the coveted award for her role inShakespeare in Love. But she admits she never watches the films she stars in, saying "You see, in my mind I'm still a tall, willowy, 39-year-old blonde".
"I don't want to see the reality. I've a touch of the Queen Elizabeth the firsts, really. She banned mirrors in her old age." She added.
Despite this, Judi is keen to keep acting as long as possible, admitting she has banned the word 'retire' in her family as a result.
Jessica is a Senior Food Writer at Future and is an enthusiastic, self-taught cook who adores eating out and sharing great food and drink with friends and family. She has completed the Level 1 Associate course at the Academy of Cheese and is continually building on her knowledge of beers, wines and spirits. Jessica writes food and drink related news stories and features, curates product pages, tests and reviews equipment and also develops recipes which she styles on food shoots.