Prince Charles makes a bold statement on the James Bond set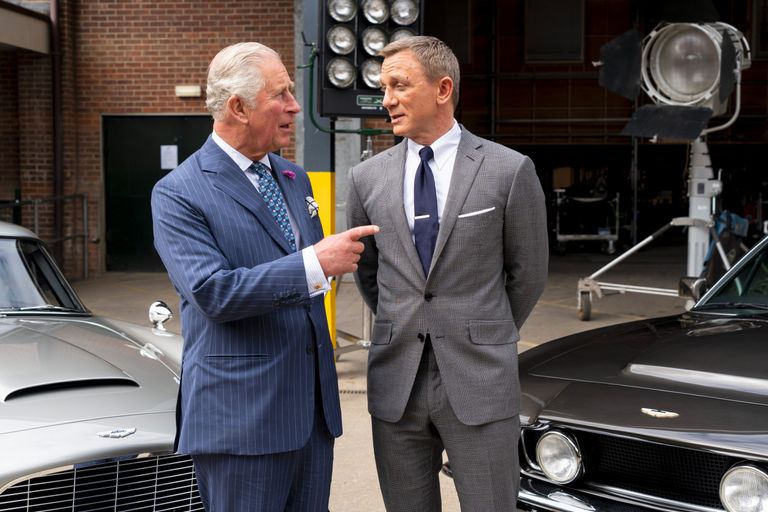 Prince Charles paid a visit to the James Bond set recently, wearing a tie that was particularly fitting for the occasion.
The Prince of Wales wore a tie decorated with speedboats and palm trees, a nod to the Jamaican theme of the new James Bond film, which is yet to have a confirmed name.
Bond 25's Executive Producer Barbara Broccoli commented on his fashion choice, saying, "I don't think anything is a mistake when it comes to His Royal Highness," as she hinted she thought the royal had chosen the tie deliberately.
Prince Charles surprised the cast and crew on set when he arrived at Pinewood Studios in Buckinghamshire, where Daniel Craig and Ralph Fiennes were filming a dramatic scene between Bond and 'M'.
The royal met those involved in the production, including actress Naomie Harris, who will be reprising her role as MI6 field agent Eve Moneypenny.
MORE:Prince Charles and Camilla in fits of giggles as they host fancy dress themed charity ball
During his visit, the Prince was also given a closer look at the cars used in the film. He was shown a DB5 and a V8, which were both custom made for the upcoming blockbuster.
As a long time Aston Martin fan, he said, "The cars are the interesting thing here, much more interesting."
Six of the cars on set are stunt cars, with two built so an actor can sit in the driver's seat while the stunt driver actually does the work, for the actor's safety.
MORE: This previously unseen throwback image of Prince Charles shows an hilarious similarity between him and Prince George
Commenting on the visit, and the prince's interaction with Daniel Craig, Barbara added, "He had a lot to talk about with Daniel. They both have a love for Aston Martin. Boys with toys!"
She said the Royal Family and James Bond were "two great British traditions".
"This is our 25th film in the series. It's almost 60 years making Bond films in Britain - a British tradition, two great British traditions."
Interestingly, Meghan Markle was on a short-list of five actresses to appear in the film, but casting directors dropped her after her relationship with Prince Harry. It would've been interesting to see her as a Bond Girl, but she has lots of royal responsibilities now!
Will you be watching Bond 25 when it's released? We'd love to know your thoughts on the upcoming film!