This previously unseen throwback image of Prince Charles shows an hilarious similarity between him and Prince George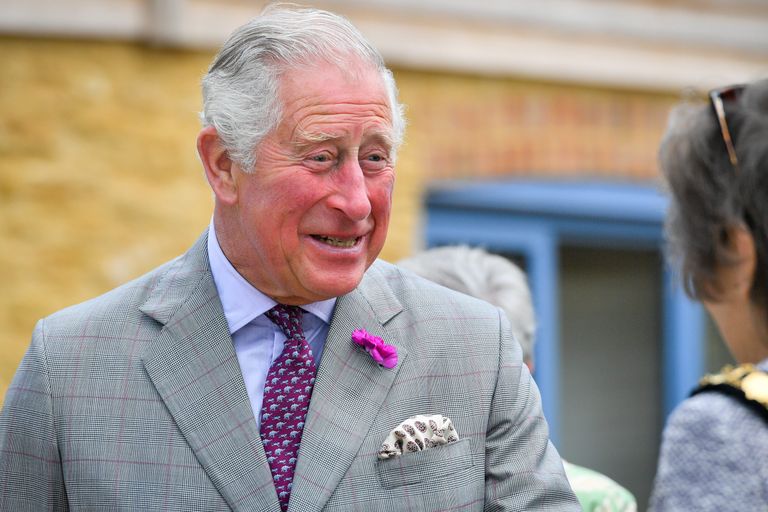 By Amy Hunt
Prince Charles and his eldest grandson, Prince George, are rarely photographed together, but an adorable archive photo has been released showing an hilarious similarity between the two royals.
To mark the Queen's 66 years on the throne, and so, 66 years since her coronation, royal Instagram account the Royal Collection Trust shared a sweet image of the special day back in 1953.
The historic picture shows the Queen Mother, Prince Charles, and Princess Margaret (the Queen's sister), gathered on the balcony at Westminster Abbey.
MORE:Prince George surprises supermarket workers with this adorable gesture
And the young Prince Charles was unfortunately pictured looking less than thrilled by his mother's big day.
The picture see a five-year-old Charles looking distinctly bored by the important proceedings, with his hand on face and his eyes cast down. Because lets face it, these things aren't always a walk in the park for little boys!
But the image adorably looks distinctly similar to a recent picture of Prince George, on the balcony of Buckingham Palace for the annual Trooping the Colour ceremony.
Back in 2016, the then 3-year-old Prince George can be seen looking somewhat bored by the day's events, putting his hand to his cheek, just like his grandfather did 60 years earlier.
Royal fans have been left delighted by the picture, with many noticing the similarities between George and Charles themselves.
One wrote, 'Shades of Prince George on the balcony at BP not long ago ♥️', while another follower said, 'Prince Charles!!! So adorable!'
And a third commented, 'Children will always be children. Lol. Young Prince Charles looks so 'over it'. 😂😂😂'
MORE:Duchess Camilla reveals the one thing she and Prince Charles disagree on
Charles was of course just a young boy when he became the heir apparent to the throne, when his mother Queen Elizabeth II took to the throne at the age of 25.
The Prince of Wales has held the same position for six decades since then, with his own children, Prince William and Prince Harry, joining behind him in the line of succession.
Prince George is now third-in-line to the throne, after his dad Prince William, and grandfather Prince Charles. We wonder how he'll one day look at his own coronation?