Jennifer Lopez poses nude for 53rd birthday and 'feels amazing'
Jennifer Lopez has lots to celebrate, not only did she recently marry Ben Affleck but she just celebrated her 53rd birthday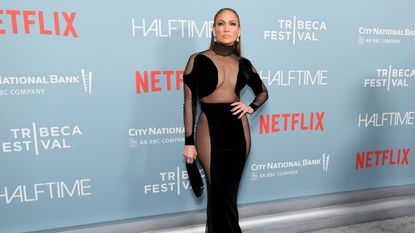 (Image credit: Dia Dipasupil/FilmMagic)
It seems like the one-and-only Jennifer Lopez just can't get away from the headlines.
Just a few days after getting married to Ben Affleck at iconic Hollywood location and changing her name to Jennifer Affleck, the triple-threat artist treated fans to a wonderful photoshoot that she posted on Instagram.
Posing nude in the photos, the singer has many reasons to celebrate: she just turned 53 and has officially launched her new line, JLo Body.
"We give all this care and attention to the skin on our face, but we sometimes neglect the body," she wrote in the caption to the video she posted on Instagram. "It was important to me to create a skincare routine for the body to address its specific and unique needs and we started with the booty!"
Discussing the debut of her new line with PEOPLE, Jennifer got to talking about aging and beauty.
"'Beauty has no expiration date' was always my personal mantra because I'm in a business where youth is glorified and people try to write, especially women, off at a certain time [...] I believe you can look and feel amazing and sexy at any age," she said to the outlet. "I really dislike the phrase, 'You look good for 40, or you look good for 30, you look good for 50.' How about you just 'you look good?'"
In regards to her 53rd birthday, JLo noted, "I am the age I am, but I feel amazing and happier than ever. I feel like I'm just at my halftime right now and just getting started."
Speaking of new beginnings: while opening up about life with her new husband Ben, Jennifer was quick to note that he also embraces her age and actually prefers it when she goes for a more natural look.
"He is like, 'I like you when you have nothing on. No hair on, no makeup on, just you in your own skin," she said to PEOPLE. "He really appreciates that and that makes me feel really confident and beautiful. Someone can see the essence of who you are and just the skin that you're in and that I take care of that and that he appreciates that. That makes me feel really beautiful too."
Alas, JLo's beauty and wellness routines are the stuff of legend and, perhaps, those exact routines are what allow her to look stellar even when au natural.
Which begs the question: how does the celebrity stay so fit and healthy? "I feel most confident when I'm getting my sleep, practicing my affirmations and doing my skincare, fitness and eating routines," she said, likely alluding to the beauty hack that helps her look 10 years younger.
We can't help but think that love and pure joy also aid that confidence and make Jennifer look as radiant as ever these days. Happy birthday and happy belated wedding, Jennifer!
Anna Rahmanan is a New York-based writer and editor who covers culture, entertainment, food, fashion and travel news. Anna's words have appeared on Time Out New York, the Huffington Post, Fortune, Forbes, Us Weekly, Bon Appetit and Brooklyn Magazine, among other outlets.