Is The Power based on a book and what is the TV show starring Toni Collette about?
Toni Collette stars in the intense sci-fi series The Power now on Amazon - here is everything you should know about it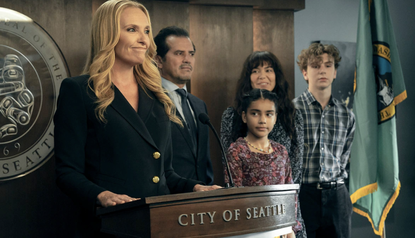 (Image credit: Amazon)
The Power just premiered on Amazon Prime and we already can't get enough of it.
Starring Toni Collette - best known for her roles in Pieces of Her, the Staircase, Drive My Car and plenty of other TV and film productions - The Power is a British sci-fi series of nine total episodes that's by many been defined as a feminist manifesto with great potential.
Fun fact: the TV show's entire writing room is made up of women - a political statement of sorts that carries through the actual plot lines as well.
IS THE POWER BASED ON A BOOK?
The Power is based on Naomi Alderman's 2016 novel of the same name.
Interestingly enough, Naomi actually worked on developing the series for Amazon alongside Raelle Tucker and Sarah Quintrell so you can expect many elements of the original iteration of the story to be properly reflected on the small screen as well.
WHAT IS THE POWER ABOUT?
At first impact, The Power seems to focus on the same world we live in today. However, it is pretty soon made clear that, in this fictional realm, all teenage girls suddenly have the ability to electrocute people at will.
According to an official synopsis of the TV show, the superpower is "hereditary, inbuilt and can't be taken away from them."
But there's more.
"Coming alive to the thrill of pure power: the ability to hurt or even kill by releasing electrical jolts from their fingertips, they rapidly learn they can awaken the Power in older women," reads the synopsis. "Soon enough nearly every woman in the world can do it. And then everything is different."
Thrilling, right?
WHO STARS IN THE POWER?
In The Power, Toni takes on the main role, that of mayor of Seattle Margot Cleary-Lopez, also a mother to three kids, including Jos Cleary-Lopez (played by Chloe Auli'i Cravalho of Moana fame).
The always-wonderful John Leguizamo plays Rob, Margot's husband, while Eddie Marsan is London crime boss Bernie Monke. His illegitimate daughter, Roxy Monke, is played by Ria Zmitrowicz.
The cast is rounded out by Toheeb Jimoh as Tunde, an aspiring video journalist, and his close friend Ndudi, played by Heather Agyepong.
A number of recurring characters are of importance to the overall plot lines as well.
HOW TO WATCH THE POWER
The first three episodes of The Power are currently available for streaming on Amazon Prime, so anyone with a subscription can start diving into the sci-fi world immediately.
Expect one new episode to drop on the platform each Friday until May 12, when the finale will finally air.
Fair warning: you'll be hooked to the series in no time so make sure to catch all first few episodes in one breath... you'll be left begging for more!
Anna Rahmanan is a New York-based writer and editor who covers culture, entertainment, food, fashion and travel news. Anna's words have appeared on Time Out New York, the Huffington Post, Fortune, Forbes, Us Weekly, Bon Appetit and Brooklyn Magazine, among other outlets.