Is Karen Pirie based on a true story and how many episodes of ITV's chilling Val McDermid crime drama are there?
Delving into the past ITV drama Karen Pirie sees the titular detective determined to uncover the truth behind a horrific murder 25 years ago…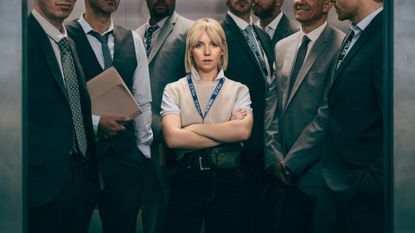 (Image credit: WORLD PRODUCTIONS FOR ITV)
ITV's Karen Pirie has delivered the perfect blend of intense storylines, compelling characters and dark humor as it unveiled its suspenseful series-long mystery.
Nothing screams autumn quite like the arrival of some truly chilling crime dramas and ITV's newest offering, Karen Pirie, is the perfect watch to get the season off to a sinister start. With a cast lead by Outlander's Lauren Lyle, the show sees DS Karen Pirie delve into the past as she attempts to solve a heartbreaking murder case and pin down if any of the original four main suspects were responsible. If you loved the atmosphere and detective focus of Shetland season 7 then Karen Pirie could be just what you've been looking for.
But is Karen Pirie based on a true story, which of the Val McDermid books is it adapting and how many episodes of the ITV crime drama are there? We reveal what you need to know about this sinister series…
*Warning: Spoilers ahead!*
Is Karen Pirie based on a true story?
With the likes of hit shows like Sherwood and The Staircase being either loosely or directly inspired by equally disturbing true life events, it's perhaps all-too easy to wonder whether ITV's Karen Pirie is based on a real case. However, this chilling new series breaks with this increasingly popular tradition and Karen Pirie is not based on a true story but upon one of the Karen Pirie books written by bestselling Scottish novelist Val McDermid.
The story focuses upon the titular character of Karen Pirie as she finds herself promoted in the aftermath of a true crime podcast bringing the unsolved murder of barmaid Rosie Duff back into the public consciousness again 25 years after her body was found by St Andrews Cathedral.
Played by lead Karen Pirie cast member and Outlander star Lauren Lyle, Karen might not have any new evidence at her fingertips but she's tasked by the top brass with solving the crime. The decision was also made to keep series 1 of Karen Pirie focused upon just one book in the wider series, rather than basing the show upon multiple books across each of the episodes.
Opening up about this choice to RadioTimes.com (opens in new tab), Emer Kenny who not only wrote the ITV drama but is part of the Karen Pirie cast playing River Wilde, explained that this was something she felt very strongly about when she was approached about the series.
"Originally ITV said to me, 'Do you want to do one book per two hours?' – but the original book was 600 pages long or something. And I was just, like, 'If I do that, it will just be plot, there will be no character, there will be no texture, there'll be no humor...' and humor is so important to me," she said.
Emer continued, "I've been a comedy actress for a long time and I find it really difficult to write anything that doesn't have some element of gags and jokes in it. So I said, 'I just don't think it's going to fit, I don't think it's going to work', and so I ended up pitching the way that I did it, and they were happy with it. I am so glad that we got that extra time. Obviously it's unusual to have a two-hour but I think it allowed all of those things that I've mentioned in each episode to expand a little bit from the usual 60 minutes."
Having two hour long episodes has also allowed the ITV drama to delve deeper into the two timelines that are so critical to the show's main mystery. As revealed by executive producer Simon Heath at an event attended by RadioTimes and other press, he believed that these timelines - 2021 and 25 years earlier - wouldn't have worked with a shorter running time.
"I don't think we could have done the two timelines across an hour. Imagine how little you could fit into 47 minutes when you're cutting between 1996 and 2021," he said. "It was difficult initially to get your head around that but once it was delivered it was like, 'Oh my god, this again will make it feel distinctive', because traditionally those two-hour films we know are kind of self-contained stories but this was going to be serialized."
Which Karen Pirie book is the ITV show based on, what is it about and how many are there?
Unlike ITV's Grace where each episode brought to life the plotline of one of Peter James' Grace books, the entire first series of the Karen Pirie ITV crime drama is based upon one of Val McDermid's bestselling Karen Pirie books - The Distant Echo. This psychological thriller is not only one of the best thriller books for mystery fans, but brilliantly introduces the character of DS Karen Pirie to readers and immerses them into her world, just as the ITV show does.
Both The Distant Echo and the Karen Pirie show tell the traumatic tale of the investigation into the brutal attack and murder of teenager Rosie Duff in the university town of St Andrews over two decades earlier. At the time four men were firmly fixed in the police's sights as they were found covered in her blood but no charges were brought and they claimed they came across her body.
Now Karen is on the case and their status as suspects is very far from being over until it seems someone isn't prepared to let the investigation run its course the second time around. In the Karen Pirie book and show the suspects are soon under attack, but what's not yet clear is whether someone is trying to exact revenge for Rosie - or suppress what the four men know…
With such a complex and disturbing case to crack and justice to be obtained, it's perhaps no surprise that the Karen Pirie ITV show is following this one storyline throughout its debut series. Of course, this doesn't mean that fans of the drama won't get to see any more of Val's compelling characters and plotlines explored going forwards.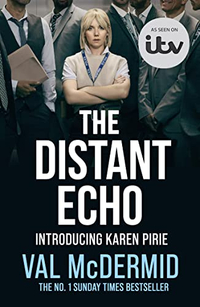 (opens in new tab)
The Distant Echo by Val McDermid, £3.99 (opens in new tab)/$4.22 (opens in new tab)| Amazon
25 years after Rosie Duff was found left stabbed and left for dead in an ancient cemetery, Karen Pirie is determined to discover the truth as the police review the "cold case" of her murder. The four men who were found stained with her blood at the time are still suspects but soon two of them die very suspicious deaths...
Although no Karen Pirie season 2 has been confirmed, if the show were to be renewed after its initial run, then there are plenty more Karen Pirie books ready and waiting to be adapted.
There are six Karen Pirie books published so far:
The Distant Echo published in 2003
A Darker Domain published in 2008
The Skeleton Road published in 2014
Out of Bounds published in 2016
Broken Ground published in 2018
Still Life published in 2020
A new as-yet-untitled Karen Pirie book is set for release in 2023. This means that there's certainly scope to develop the Karen Pirie crime drama further if there were to be follow-up seasons, potentially with each adapting the next in the series of Karen Pirie books.
How many episodes of Karen Pirie are there?
For anyone wondering how many episodes there are until the ITV drama's finale there are three episodes of Karen Pirie overall, each 2 hours long. The series landed at 9pm on ITV on Sunday, September 25 and will continue to air in that scheduling slot going forwards. There's also good news for fans who just can't wait to find out what happens at the end of this suspenseful series!
Just like episodes of Crossfire and The Secrets She Keeps, Karen Pirie has been made available to catch up on via ITV Player all in one go. And though not every viewer will want to binge-watch Karen Pirie in one go, this does mean that fans can gradually begin to form their own conclusions about what *really* happened all those years ago as they watch at whatever pace suits them best.
Emma is a Senior Lifestyle Writer with six years of experience working in digital publishing. Her specialist areas including literature, the British Royal Family and knowing all there is to know about the latest TV shows on the BBC, ITV, Channel 4 and every streaming service out there. When she's not writing about the next unmissable show to add to your to-watch list or delving into royal protocol, you can find Emma cooking and watching yet more crime dramas.