Is Sherwood based on a true story and how many episodes of the intense BBC drama are there?
Multiple murders threaten to tear a fractured Nottinghamshire community apart as Sherwood hints at a dark secret to be brought to light...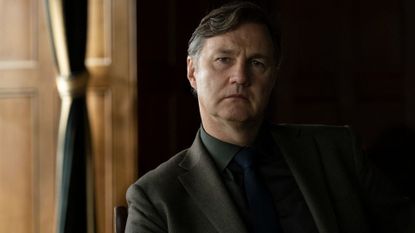 (Image credit: BBC)
Sherwood has got audiences captivated with its brilliant cast and emotional story and many fans might well be wondering if it's inspired by real life.
Following on from many equally compelling crime dramas ranging from the Chloe BBC show and the Candy Hulu adaptation so far this year, Sherwood focuses on murders that shock a former mining town in Nottinghamshire. Its cast features none other than Lesley Manville, set to join The Crown season 5, and David Morrisey, amongst many other talented stars, who bring to life a community fractured by the past and facing intense police scrutiny. Tormented by the recent killings, it soon becomes apparent that everyone isn't quite as they seem in this powerful series.
But is Sherwood a true story, who is in the cast and how many episodes are there of the BBC series? Here we reveal what you need to know as the drama continues…
*Warning: Spoilers ahead!*
Is Sherwood based on a true story?
With so many shows keeping viewers hooked with their interpretation of real-life events, from The Staircase to ITV's dramatization of how John Darwin got caught in The Thief, His Wife and The Canoe, some viewers might be wondering if Sherwood is also based on a true story. And as the BBC's Sherwood Unwrapped (opens in new tab) episode reveals, the new Nottinghamshire-set show is partly inspired by the sinister events of 2004, though it's not a direct adaptation.
Two killers were on the run in the same forest, sparking what has been described as one of the "largest manhunts in British police history". If you couldn't help but be drawn into Manhunt The Night Stalker, Sherwood's plotline is similarly intense and emotionally-charged.
The show was written by James Graham who grew up close to the area where the drama is set and an official synopsis declared, "Inspired in part by real events, set in a Nottinghamshire mining village at the heart of Sherwood lie two shocking and unexpected killings that shatter an already fractured community and spark a massive manhunt."
It continued, "As suspicion and antipathy build - both between lifelong neighbors and towards the police forces who descend on the town - the tragic killings threaten to inflame historic divisions sparked during the miners' strike three decades before.
The series' real events are understood to be the two simultaneous manhunts that took place to find Robert Boyer and Terry Rodgers. Robert fled to the woods after killing ex-miner Keith Frogson whilst Terry is understood to have murdered his daughter Chanel just days later. He'd walked her down the aisle weeks before and just like Boyer, attempted to evade police by also heading for the forest.
According to Esquire (opens in new tab), Rodgers managed to do so for 17 days before he was eventually found by police and Boyer was reportedly discovered not long after this. Though inspired by these true events, Sherwood's creator James Graham revealed to The Guardian (opens in new tab) that he chose to fictionalize them in the show.
"The decision to fictionalize was driven by a responsibility to the community, knowing the real families involved," he explained. "My uncle lived on the street where one murder took place. And, unlike other real-life crime stories where the images of the participants become very well known, this one isn't like that. So there is more freedom to create. I felt grateful not to be putting my friends and neighbors through direct dramatization."
And whilst the murders and resulting manhunts might have influenced the plot, this isn't the only link to real life in the new BBC show. The drama series also focuses heavily on the divisions caused by the UK Miners' Strike in the 1980s that continue to be felt by the characters, as well as the alleged use of so-called "Spy Cops" in communities to gather information.
Discussing how he's incorporated these powerful themes into Sherwood, James told RadioTimes.com (opens in new tab) more about the mysterious Robbie Platt, who in the series is suggested to be a "Spy Cop" that remained in the village long after the strike.
"As we move through the series, we begin to dig more into this mystery of undercover policing and the rumor that there's a 'spycop' who was planted in the village during the 1980s miners' strike, but stayed and is living their fictional identity," he said.
James continued, "Somebody the audience have met already is going to be revealed as someone who was playing a part and has been playing a part for 40 years, and we'll try and explore the reasons why somebody might do that. Robbie Platt is the fictitious name of one of the spies who came up and policed the strike, and over the next two episodes that spirals out of control quite quickly."
Ultimately, Sherwood is inspired by the two real manhunts and the devastating and divisive impact of the miners' strike on so many, though the series is a work of fiction that tells its own story surrounding these events.
Who's in the Sherwood cast?
The Sherwood BBC cast:
David Morrisey as Detective Chief Superintendent Ian St Clair
Robert Glenister as Detective Inspector Kevin Salisbury
Lesley Manville as Julie Jackson
Alun Armstrong as Gary Jackson
Joanne Froggatt as Sarah Vincent
Bally Gill as Neel Fisher
Adeel Akhtar as Andy Fisher
Claire Rushbrook as Sarah Rowley
Kevin Doyle as Fred Rowley
Adam Hugill as Scott Rowley
Terence Maynard as Sergeant Cleaver
Stephen Tomkinson as Warnock
Just like so many of the most popular shows out there, Sherwood BBC has a seriously star-studded cast that includes many legends of British TV. Icon of the Downton Abbey A New Era cast, Joanne Froggatt, is in action as Sarah Vincent, who is eager to become the local councillor in Sherwood. Alongside her is David Morrisey, perhaps best known as The Governor in The Walking Dead, who plays Detective Chief Superintendent Ian St Clair.
Meanwhile, Spooks star Robert Glenister joins them in the cast as Detective Inspector Kevin Salisbury with Lesley Manville as Julie Jackson. In the show she is the wife of Gary Jackson, a former miner who is played by Alun Armstrong and had been investigating the identities of possible "Spy Cops".
Neel Fisher plays Sarah's fiancé Neel and other cast members include Claire Rushbrook and Kevin Doyle as Sarah and Fred Rowley, Julie's sister and brother-in-law.
How many episodes of Sherwood are there?
Anyone who can't get enough of a brilliantly tense and ever-twisting crime drama might well be relieved to learn that there are six episodes of Sherwood in total, with much more to be revealed before its conclusion. And now the Silent Witness ending has aired, thriller fans' Mondays and Tuesdays are being kept equally as intrigued with Sherwood.
The drama first landed at 9pm on BBC One and BBC iPlayer on June 13th and will continue to air in this timeslot on Mondays and Tuesdays, with the highly-anticipated finale set to bring dark secrets into the light on June 28th.
Until then, there's still plenty of time for newcomers to catch-up on all the gripping instalments of Sherwood so far as the characters continue to reel from the devastating events that have struck right at the heart of the community.
Emma is a Senior Lifestyle Writer with six years of experience working in digital publishing. Her specialist areas including literature, the British Royal Family and knowing all there is to know about the latest TV shows on the BBC, ITV, Channel 4 and every streaming service out there. When she's not writing about the next unmissable show to add to your to-watch list or delving into royal protocol, you can find Emma cooking and watching yet more crime dramas.