What happened in the Silent Witness ending and what do we know about season 26?
The Silent Witness ending finally answered some of season 25's burning questions though it left things on a rather mysterious note...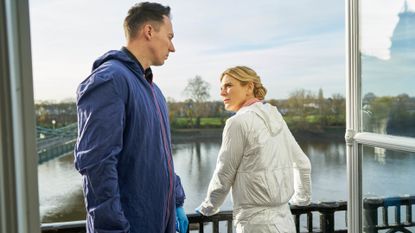 (Image credit: BBC)
woman&home newsletter
Sign up to our free daily email for the latest royal and entertainment news, interesting opinion, expert advice on styling and beauty trends, and no-nonsense guides to the health and wellness questions you want answered.
Thank you for signing up to . You will receive a verification email shortly.
There was a problem. Please refresh the page and try again.
The Silent Witness ending in the 25th anniversary season brought the series-long DNA fabrication story to an end but it also left some mysteries behind…
From the moment Silent Witness 2022 landed and Amanda Burton returned to Silent Witness it was clear fans were in for a treat. Joining regular cast members Emilia Fox, David Caves and Genesis Lynea for the show's milestone season, Professor Sam Ryan was part of a storyline that spanned all six episodes. This focused on suspects being framed with fabricated DNA, concerns about data and a lot of assassinations.
Tom Faulkner in Silent Witness was introduced as a new character central to the plot and connected to Nikki and he was the first to be framed. The penultimate episode saw the Lyell team prove that he was innocent, but before the people involved could reveal more an accident left their lives hanging in the balance.
Here we reveal what happened in the Silent Witness ending and what we know so far about a potential season 26…
*Warning: spoilers ahead!*
What happened in the Silent Witness ending?
All season long viewers have been drawn in as pathologist Dr Nikki Alexander and forensic specialists Jack Hodgson and Simone Tyler attempted to get to the bottom of who is behind the fabrication of DNA. Now in the Silent Witness ending the villain was unmasked as none other than government special adviser Oscar Harris, played by David Leon. It seems no amount of time working alongside the fictional Health Secretary Alice Reynolds could keep him loyal when huge amounts of money were offered by businessman Ethan Daley in Silent Witness.
Ethan wanted someone to lobby in government for his Vigil Network, which was used throughout series 25 to help the police identify suspects. Alice wasn't convinced, though, and this ultimately sealed her fate. Oscar ensured she was in the wrong place at the wrong time, eliminating her as a threat.
And Ethan and Oscar's disturbing scheme sadly didn't stop there. The pair were also behind the murder of Rosa Hernandez, who had been an assistant to Sam Ryan's husband Jomo Mashaba, as well as journalists Dan Clements and Oliver Meehan. The journalists had been investigating allegations about how Sam and Jomo funded their health passporting company, UNITAS, and Ethan wanted access to the company's data to ensure his own domination.
In History part 5 viewers saw Ethan telling Jomo that he needed him amid the scandals. And in the Silent Witness ending it emerged that Jomo's son David Mashaba was already very much involved with Ethan. He and Oscar are underwood to have decided to frame Tom Faulkner for Alice Reynolds' death and used their hold over David to get him to persuade his scientist wife Fiona to create the fake DNA.
When cornered by the police and Nikki, David and Fiona were then targeted themselves, whilst Ethan's wife was found dead and his son Lewis was arrested for the crime.
Following on from these major developments and opening directly after the car accident in episode 5, the finale showed that Fiona was in a coma and an injured David managed to escape before calling Ethan Daley's office. He was then found by Jack Hodgson and DSI Ronnie Boyle shot dead, with the forensic specialist lured into a trap as they attempted to dispose of anyone who knew too much.
Thankfully, as all Jack fans will already know, he's not one to be overpowered easily and he managed to survive. Meanwhile, Nikki had determined that Ethan's son Lewis had been framed for his step-mother's death. Ethan himself was later seen being threatened over the phone and told that his wife's murder was punishment for her "having a loose tongue".
As the Lyell team and police attempted to put all the pieces of this complex puzzle together, many fans might well have been asking themselves an all-important question: where is Sam Ryan?
She went missing (and was briefly presumed dead) in episode 5, but in the closing stages of the Silent Witness ending, she was back.
After a bit of brilliant research by Simone, Oscar realizes where Sam might be and tracks her down to a make-shift lab. Here she reveals that she knows about his involvement and disappeared to buy herself time to learn from Fiona's research and fabricate Oscar's DNA in case anything should happen to her.
Just as Oscar and the assassin who'd accompanied him prepared to strike, Tom arrived on the scene, shooting the killer and threatening Oscar. Before turning cold blooded murderer himself, though, Nikki, Jack, Simone and DSI Boyle enter the room and the pathologist convinces him to let Oscar face "justice the proper way".
This is short-lived, as the final scene sees Tom entering Oscar's prison cell a month later after pretending to be his lawyer. Though the outcome is left to the audiences' imagination, it's likely not good. Especially as Nikki received a text saying, "I can't let it go. I'm sorry", in the moments before this scene.
The unknown phone seemed to have been planted on her deliberately and the suggestion is that the message is from Tom. But with this gripping show anything is possible and with no direct confirmation of the sender, the Silent Witness ending left things on a rather dark and enigmatic note…
What do we know about Silent Witness season 26?
Sadly for anyone hoping for news about the future of the show, unlike The Tourist season 2 and And Just Like That season 2, the next instalment of Silent Witness hasn't been confirmed yet. Though having already come back again and again for the past quarter of a century, it's thought that Silent Witness season 26 could be announced at some point.
If Silent Witness is renewed, then it's likely that the current main Silent Witness cast members, Emilia Fox, David Caves and Genesis Lynea will be back. All three survived the perilous events of the latest Silent Witness ending. And though it wasn't part of the DNA fabrication storyline, the finale had quite the revelation in store for Simone, perhaps setting up an interesting ongoing plot for any potential season 26.
In History part 3, fans learnt that Simone had a missing sister and in Part 6 she was told that her sister had died in a boating accident whilst trying to save her two daughters. Not already heart-wrenching enough, Simone's gran confessed that her sister had hated her and left because of Simone.
Conflicted and hurt, Simone eventually makes the courageous decision to go to Trinidad and meet her nieces. She's seen off at the airport by Jack and Nikki (still looking very much together!) and it's here that the pathologist receives the phone and text message.
If Genesis Lynea does return for any future seasons of Silent Witness it's possible her nieces will be living with her, leaving the door open for plenty of challenges and emotional moments for her character. Similarly, Jack and Nikki's relationship is a lovely development that many of us have been hoping for over the previous seasons.
And the text could hint that Tom isn't fading into the ranks of Silent Witness' past characters just yet. Jack accepted Nikki's reasons for not discussing Tom with him before, but if he does stay in their lives, who knows how it could affect their blossoming romance?
With no renewal confirmation announced yet, not much else is known about a possible season 26. Although it could be that it would resume the pattern of previous seasons before the 25th anniversary, with ten episodes made up of five separate stories.
Meanwhile, Silent Witness cast member David Caves who plays Jack recently told RadioTimes.com (opens in new tab) that he believes the show has a long future ahead of it.
"This show could go on for forever. We [the current cast] won't, but I think this show could," he said. "I don't see why not. It's timeless stuff. Everybody loves crime mysteries and trying to solve the riddles, so I don't think that'll ever go out of fashion. It could go on for another 25 years but again, it'll change, it'll become something new again as the times change themselves."
There'll certainly be many fans hoping for a Silent Witness season 26 after *that* spellbinding 25th anniversary series. And with so many exciting possibilities sparked by the Silent Witness ending, any future series looks set to be every bit as suspenseful.
Emma is a Senior Lifestyle Writer with six years of experience working in digital publishing. Her specialist areas including literature, the British Royal Family and knowing all there is to know about the latest TV shows on the BBC, ITV, Channel 4 and every streaming service out there. When she's not writing about the next unmissable show to add to your to-watch list or delving into royal protocol, you can find Emma cooking and watching yet more crime dramas.