Who is Ethan Daley in Silent Witness and how could he change things for Nikki Alexander and Sam Ryan in the season 25 finale?
If you're wondering who is Ethan Daley in Silent Witness you're probably not alone as Kevin Shen joins the cast ahead of season 25's finale…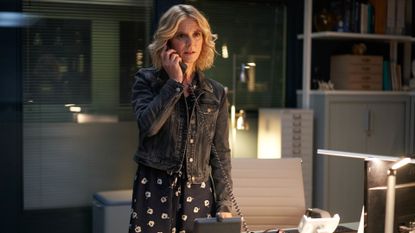 (Image credit: BBC)
Ethan Daley in Silent Witness has only just been introduced but with all that's unfolded so far in season 25 it seems like he could have a huge part to play.
With the season finale just around the corner there's still so much to be uncovered ever since Amanda Burton returned in Silent Witness season 25 as Professor Sam Ryan. It's clear that she's keeping secrets and as the regular characters Dr Nikki Alexander and Jack Hodgson and Simone Tyler delve deeper, the stakes are getting perilously high. For the 25th anniversary season the show has kept one plot thread throughout and this centers on Tom Faulkner in Silent Witness and DNA fabrication.
The Lyell team have been trying to discover how DNA could be faked and now newcomer Ethan Daley and his story have made things even more intriguing. But who is Ethan Daley in Silent Witness, who is his actor Kevin Shen and how could this new character make serious waves in the season 25 finale?
*Warning: spoilers ahead!*
Who is Ethan Daley in Silent Witness?
Introduced just ahead of the season 25 finale, Ethan Daley in Silent Witness is one of the newest characters to be intertwined in this 25th anniversary overarching storyline. However, if episode 5 is anything to go by, not only is it likely we'll see him again in Silent Witness season 25 episode 6, but he's intricately linked to this series' chilling and ever-twisting plotline. The businessman is behind the Vigil Network and anyone who's been paying extra-close attention to the tiny details this season might find this ringing some huge bells.
Throughout the Silent Witness History episodes fans have heard the police refer to Vigil as a way of identifying suspects or individuals. They even used it in episode 1 to connect the assassins behind the fictional Health Secretary Alice Reynolds' death with the murder of a Swedish politician years before.
Now Ethan has become all the more involved as returning fan-favorite character from the earlier seasons of Silent Witness Professor Sam Ryan and her husband Jomo Mashaba's health passporting company is in desperate need of his help.
Already surrounded by rumors that Sam and Jomo funded UNITAS with money from less-than-scrutable financial backers (a belief Nikki Alexander's ex-husband Tom Faulkner remains convinced of), Jomo admits in episode 5 that they can't survive another scandal. He's seen having a meeting with Ethan at the UNITAS offices without inviting his son David Mashaba who isn't thrilled about being left out.
Ethan tells Jomo he needs him and this certainly seems to be true as the businessman has government connections that could come in seriously handy. Though things look to have been massively derailed by the end of Silent Witness History part 5 as Ethan arrives home to his impressive mansion to find what seems to be his wife being carried in a body bag to an ambulance.
"We've arrested your son Mr Daley," a police officer tells him, before Ethan shouts at Lewis Daley asking what he's done, devastated at what's unfolded. This makes for quite the dramatic and enigmatic twist for Ethan and his connection to the main story as he'd just been on the phone to Jomo. The UNITAS boss had been slowing things down with their potential business relationship as David and his wife Fiona had just been arrested for the fabrication of DNA evidence to frame Tom Faulkner.
Just as fans of fellow thriller Grace on ITV and the Pieces of Her ending might be used to, it seems that as one mystery seems to be resolving itself, another dark twist could be about to be revealed.
How could Ethan Daley change things in the Silent Witness finale?
Ethan Daley in Silent Witness is revealed to have a somewhat wayward son Lewis and in episode 5 the determined businessman makes it clear that his son is an extension of his own reputation. In light of this Lewis' arrest could potentially end up being revealed as an attempt to discredit his father.
In the final moments of the penultimate installment, Jomo's daughter-in-law Fiona Mashaba admitted something unknown to DS Martine Chalal who tried to relay the information to Nikki over the phone.
"Fiona didn't just do it once. Ethan Daley's son was..." she declared, just as the car that was driving Fiona and David Mashaba to a safe house is hit by a lorry, leaving all of their lives hanging in the balance. Already in the episode it was clear that David had asked Fiona to do something against her conscience and the hints are there that she also fabricated some DNA involved in the Daley case.
If this does turn out to be true then Ethan Daley's introduction into the Silent Witness History story is especially significant as someone seems to be trying to pull the strings to ruin him as they tried to frame Tom for murder. As the businessman was attempting to help UNITAS it could be that the villains want to prevent this.
Though Ethan's company Vigil has also been used prominently by police so who knows whether this could come into play in the final solution.
Either way it could be that Ethan Daley in Silent Witness could hold the key to uncovering who has been behind the assassination of Alice Reynolds, the framing of Tom, manipulation of David and Fiona and even the disappearance of Sam Ryan. Though the Professor's flat was broken into and left in quite the gory state, her final fate remains unknown and after Nikki received one of Tom's fabricated blood samples in the post she's convinced that Sam is actually helping her.
Sam definitely knows more than she was previously letting on to Nikki, Jack and Simone and though it was all-too easy to think the worst after she tipped off the police and got Tom arrested, it seems that maybe she was working to help him after all. In the Silent Witness season 25 premiere Nikki asked if her financial backers wanted their "pound of flesh" now they'd invested.
Sam had no answer but with these mystery backers yet to be unveiled and her body nowhere to be found, many will be hoping the character is alive and returns in the finale to provide the Lyell team with what they need to uncover the truth. And with Ethan's son arrested and his network a useful crime-solving tool, who knows if he might be just as helpful?
Who is Kevin Shen who plays Ethan Daley?
Actor Kevin Shen plays Ethan Daley in Silent Witness and he might be familiar to die-hard EastEnders fans out there. Kevin played Eddie Tsang in the soap opera back in 2016 and he's also appeared in everything from Criminal Minds to Yellow Jacket and The Christmas Prince: A Royal Baby. Now Kevin has joined the cast of Silent Witness episode 5 (and likely 6 too given what's been revealed so far) as businessman Ethan Daley as fans await the resolution of the DNA fabrication storyline that's had us on the edge of our seats for weeks.
When is the Silent Witness season 25 final episode?
Each season of Silent Witness is typically 10 episodes long with each storyline separated into two parts, making up five individual plotlines. However sadly Silent Witness season 25 is only six episodes long, with the final episode set to air at 9pm on June 7th on BBC One. And it promises to be a seriously dramatic one as the show's producer told Nick Landon previously told Metro.co.uk (opens in new tab), 'Everything we understand about forensics, about DNA and about the makeup of Silent Witness is now under threat."
Now we'll have to wait and see whether Nikki, Jack and Simone will be able to face that threat and resolve the mysteries of this 25th anniversary season.
Emma is a Senior Lifestyle Writer with six years of experience working in digital publishing. Her specialist areas including literature, the British Royal Family and knowing all there is to know about the latest TV shows on the BBC, ITV, Channel 4 and every streaming service out there. When she's not writing about the next unmissable show to add to your to-watch list or delving into royal protocol, you can find Emma cooking and watching yet more crime dramas.