What happened in the Silent Witness Southbay ending, are Nikki and Jack still a couple and will there be another season of the intense BBC drama?
The Silent Witness Southbay ending brought the new season to a high-octane conclusion as multiple crimes were solved by the Lyell team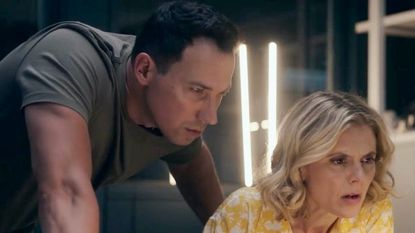 (Image credit: BBC Studios)
The Silent Witness Southbay ending ensured the latest season of the BBC drama was rounded off in dramatic style with betrayal round every corner and some major dark twists.
After five more gripping cases and brilliant scenes from newcomers Gabriel and Velvy in Silent Witness, the latest season the hit BBC show has sadly now drawn to an end. Silent Witness season 26 saw Nikki and Jack face some of their toughest infestations yet with more than a few threats to their own lives in the pursuit of the truth. They started the series as a couple and their romance has been every bit as compelling as the show built towards the Silent Witness finale.
Here we explain the Silent Witness Southbay ending, including whether Nikki and Jack are still a couple and what's next for the future of the show after this chilling final episode…
*Warning: Spoilers ahead!*
Silent Witness Southbay ending explained
For those who might be looking for a little clarification about the Silent Witness Southbay ending, the investigation across both Southbay Parts 1 and 2 focused on the murder of Carol Laing. Jack got the Lyell Center involved as he helped his former mentor Bill Burnett process the crime scene after driving him back to Southbay in Silent Witness. Carol was the estranged wife of police officer Mike Laing, the mother of his sons and the daughter-in-law of Chief Superintendent Bridget Laing.
In Southbay Part 1 Mike's girlfriend Kate Freeman was arrested and charged with Carol's murder because of what later emerged to be circumstantial evidence. However despite negligence from Bill and corruption being unearthed in the police force, she actually was guilty.
She also almost killed Bridget after her guilt was discovered telling her, "In so many ways, you were to blame".
After a drunken argument with Mike where he'd said the only way he'd be allowed by his mother back into CID from being a uniformed police officer was if he went back to his wife, Kate had set out to confront her boyfriend's ex. During the argument Carol told Kate that if Mike came back to her it was "because he wants to" and not to please his mother and get back in CID.
Furious, Kate had hit her with a dumbbell in the head and left her there. Subsequently, DI Andrew Walsh who had been dating Carol arrived on the scene and saw his sister Lisa's scarf by Carol's unconscious body.
Panicking that Carol would identify Lisa as her assailant and she'd go to prison, Andrew carried Carol upstairs and stabbed her. Nikki determined in the Silent Witness Southbay ending if he'd left Carol, the head wound caused by Kate's earlier attack could've been fatal so both could be counted as murderers. Andrew later learned that Lisa hadn't harmed anyone and so confessed to murdering Carol, as well as a criminal he'd tried to frame and admitted he had intended to kill Lisa too.
Alongside all this and despite being exposed as a murderer, Kate had been right about her police partner Fred Woods' disappearance being suspicious. She'd been suspended for telling Bridget Laing that another officer had threatened Fred and was corrupt.
It turned out this was the case and he'd hired the criminal Andrew framed and another to give Fred a scare. Fred had escaped with his hands tied behind his back and tripped, hitting his head and drowning in a stream.
So Silent Witness Southbay ending had not one but three cases and crimes interwoven that were all solved, largely thanks to the investigative expertise and persistence of Nikki and Jack.
Are Nikki and Jack still a couple in the Silent Witness Southbay ending?
Fear not, Nikki and Jack fans! As things were left in the Silent Witness Southbay ending the pathologist and the forensic scientist were still more than colleagues. If anything, the popular couple's relationship looked to have reached another level. In Southbay Part 1, Jack and Nikki freely said the all-important, "I love you", to each other reasonably casually during a phone conversation. The end of the finale storyline brought them together for a beautiful final scene together on the beach at the fictional Southbay and romance was very much on their minds.
Telling her boyfriend that Southbay had "grown on" her, the pathologist suggested that they could return for an upcoming bank holiday weekend.
Jack's verdict? Absolutely not! Laughing, Nikki protested that the Southbay beach was "romantic" and as the couple got up and began walking down the sand, Jack hilariously quipped, "You and I have different ideas of romance in that case."
Picking Nikki up in his arms, Jack proceeded to walk towards the sea as she told him not to dare trying to drop her in it. Eventually, he heeded to his girlfriend's plea and put her down again.
The final shots of the Silent Witness Southbay ending showed Nikki and Jack as they raced back towards the shore before it faded to the operatic credits. So the Silent Witness Southbay ending seemed to suggest that the couple's relationship status isn't going to change anytime soon.
How long have Nikki and Jack been together in Silent Witness?
Dr Nikki Alexander and Jack Hodgson have been together since the opening episode of the 25th anniversary season, History Part 1. This followed a devastating storyline in season 24's Matters of Life and Death Part 2 when the colleagues kissed, only for Nikki's one-night stand with a student and a particularly emotional case to prevent any real conversation about it. Thankfully, they finally discussed it in History Part 1, leading to the two sleeping together for the first time. The rest was, appropriately enough given the episode name, history.
Although Jack was slightly shocked when he learnt that Tom Faulkner in Silent Witness is Nikki's ex-husband they moved past this and started the latest series of Silent Witness very much together. Things did admittedly look a little shaky in Hearts of Darkness Parts 1 and 2 when the mother of his niece Cara in Silent Witness arrived. Aoife Connelly is also Jack's ex and she made it clear she still had feelings for him. He stayed true to Nikki and eventually Aoife decided it was right for her to return to Northern Ireland since she didn't want to be "just someone" to Jack.
Since then Nikki and Jack's relationship hasn't faced any more major issues and fans are no doubt excited to see where things might go for them in Silent Witness.
Will there be another season of Silent Witness?
It's perhaps no surprise given the long-standing popularity of the forensic drama but even though the 2023 season has only just aired the Silent Witness Southbay ending it's already been announced that there will be another season of Silent Witness. As reported by RadioTimes.com (opens in new tab), Silent Witness season 27 was confirmed as being in production on February 1, 2023.
There's currently no update on the cast or a possible release date for the new season of Silent Witness, though it might be reasonably safe to predict that Emilia Fox will at least be back as Nikki. Emilia recently told the publication that she would carry on playing Nikki whilst she loves it and that she currently still does.
She said, "I have always said that I would like to do this job while I love it, and I still love it. And they might say, 'No, we don't want you to do this anymore,' and that's someone else's decision. But I will forever look back on this period of time in my life, which is the best part of two decades, and think what a fantastic chance I have had to play someone that I love, who makes the most out of her life and her work, which I have found endlessly fascinating."
All episodes of Silent Witness seasons 1-26 are available to watch via BBC iPlayer now.
Emma is a Senior Lifestyle Writer with six years of experience working in digital publishing. Her specialist areas including literature, the British Royal Family and knowing all there is to know about the latest TV shows on the BBC, ITV, Channel 4 and every streaming service out there. When she's not writing about the next unmissable show to add to your to-watch list or delving into royal protocol, you can find Emma cooking and watching yet more crime dramas.