How did John Darwin get caught and where are he and his wife Anne now?
Many people might be wondering how did John Darwin get caught as the shocking real-life events in ITV's new drama continue to unfold...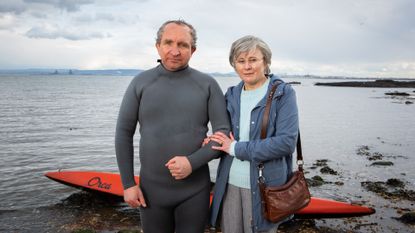 (Image credit: ITV)
woman&home newsletter
Sign up to our free daily email for the latest royal and entertainment news, interesting opinion, expert advice on styling and beauty trends, and no-nonsense guides to the health and wellness questions you want answered.
Thank you for signing up to Woman & Home. You will receive a verification email shortly.
There was a problem. Please refresh the page and try again.
How did John Darwin get caught is the question on our minds as ITV's The Man, His Wife and the Canoe tells the extraordinary tale of their real-life crimes.
Twenty years after their shocking scheme was first put into action and the so-called "Canoe Man" John Darwin and his wife Anne are once again at the forefront of our minds. Taking centre stage in ITV's latest true crime drama, The Thief, His Wife and the Canoe, the couple faked John's death in a canoeing accident in the North Sea to collect a substantial life insurance pay-out and escape mounting debts.
Anyone who couldn't get enough of the equally dramatic true story of Manhunt The Nightstalker or is looking forward to the release of the Candy Hulu show, are sure to find themselves drawn into this depiction of the Darwins' surreal-sounding crimes.
But how did John Darwin get caught and where are he and his wife Anne now? We reveal what you need to know as The Thief, His Wife and The Canoe continues…
*Warning: spoilers ahead!*
How did John Darwin get caught?
Whether or not you've already binge-watched your way to the gripping final instalment of The Thief, His Wife and the Canoe or simply enjoyed the premiere of this new ITV drama, you might well be wondering how did John Darwin get caught? After all, the show has made no secret of how it's bringing shocking true events to life on screen as it tells the tale of John and Anne Darwin.
The married couple's extraordinary (and initially successful) attempt to fake John's death in a canoeing accident and escape their debts is a true story that can't fail but to intrigue all who hear it. Amongst the people completely taken in by John and Anne Darwin's pretence were their own children, Mark and Anthony, who were left horrified and devastated when the truth eventually came out.
ITV's The Thief, His Wife and the Canoe is narrated by Anne (played by BAFTA-winner Monica Dolan) and it was her who collected her husband's life insurance which reportedly amounted to around £250,000. The Darwins' sinister plan was put in action back in 2002 after John set off from Seaton Carew in his canoe in March.
According to The Times, Anne reported her husband missing that evening and four days after he disappeared the search for John was halted. It was assumed that the father-of-two had tragically drowned in the North Sea and it supposedly took six weeks for his canoe to wash up.
John's "death" allowed Anne to pay off the debts whilst she and their children grieved for him. Meanwhile, unknown to anyone but his wife, John is understood to have secretly moved next door to the family home into one of the many bedsits he'd bought as he racked up his debts.
John and Anne's life starts to crumble as their lies and deceit begins to catch up with them... 👀Starring @eddiemarsan & @MonicaDolan, The Thief, His Wife and The Canoe continues tonight at 9pm on ITV and ITV Hub 🛶 pic.twitter.com/keUqQe6sM7April 18, 2022
See more
The two properties even had hidden doors so John and Anne could see and speak to each other secretly. After five years, however, the police finally caught up with John Darwin, who had since adopted the fake identity of John Jones.
By 2007 John and Anne Darwin had bought a property in Panama and were looking to start afresh. But their dream of a new life in the sun was soon left in tatters as the country's laws meant that he would need the UK authorities to confirm his identity as John Jones before moving there permanently.
Knowing his use of a fake passport would be exposed, John instead walked into a London police station in December 2007 and declared he had amnesia, leaving Anne behind in Panama and seemingly hoping that their new and even more outrageous plan would at least allow him to claim his old life back.
The Times reports that John Darwin claimed he could remember only his name and that he once lived near Hartlepool, but that the past five years were a complete and convenient blank. John Darwin's supposed amnesia was later revealed to be yet another lie after a photograph was discovered online of a beaming John and Anne Darwin together in Panama with an Estate Agent.
The photo had been taken in July 2006, suggesting John did know exactly where he'd been during the past five years and had been actively enjoying his newly debt-free life. It also showed that Anne had been aware John was alive after all and suggested that the couple had been planning to start over in Panama for quite some time and were very much still together.
Ultimately for anyone wondering how did John Darwin get caught, it was his own carelessness when it came to keeping a low profile consistently that lead to the truth finally coming out.
Where are John Darwin and his wife Anne now?
After the photograph emerged of John and his wife Anne together, it wasn't long before the criminal couple faced justice at last. As reported by The Times, after being confronted with the evidence and questioning, John eventually pleaded guilty to charges of obtaining money by deception as well as a passport offence.
Anne was later tracked down in Panama and returned to the UK, admitting that she'd been aware of the whole plan to fake John's death from the start. In 2008 John and Anne Darwin were found guilty, with the so-called Canoe Man himself receiving a prison sentence of six years and three months and Anne being sentenced to six and a half years.
Despite the Darwins being in it together from the moment the fake death plan was formed, after sentencing, their marriage soon fell apart. During their prison time, Anne is understood to have ended their relationship, though it was John who reportedly cited "unreasonable behaviour" as the reason for their divorce.
Since being released from prison in 2011, Anne has gone on to detail her experiences in her book, Out of My Depth, with all proceeds going to the RNLI and the RSPCA. Meanwhile, John Darwin has reportedly started a new life in the Philippines where according to the Daily Mail he's found love with his second wife Mercy. The couple are said to live outside Manila, whilst Anne has allegedly settled in the north of the UK all these years later.
Did John Darwin pay the money back?
Given his crimes, any fans wondering how did John Darwin get caught after watching The Thief, His Wife and the Canoe might now be intrigued about whether John ever paid the money he and Anne claimed from his life insurance company back.
According to The Guardian, the so-called Canoe Man was previously ordered by a judge to repay £679,073. John Darwin is said to have attended a Proceeds of Crime Act Hearing in 2014, with the publication alleging that at that time John had only been able to pay back £122 of it.
With his pensions having matured, the crown was reportedly applying for him to repay more. In May 2014, the BBC reported that John had been ordered to pay back £40,000 in a lump sum from two matured pensions over the next year.
In contrast, Anne Darwin had reportedly paid back over £500,000 following a separate Proceeds of Crime order in place for her. As reported by the BBC in 2012, ten years after John's fake canoe incident the CPS revealed that they had recovered all of the assets which Mrs Darwin had acquired as a result of the fraud.
These assets are said to have included a property and plot of land in Panama and amounted to over half a million pounds overall.
A revealed by the BBC, Kingsley Hyland, head of the North East CPS Complex Casework Unit, explained, "After a painstaking operation over the past two-and-a-half years, the CPS has now successfully recovered all the assets which Anne Darwin held as a result of the fraud, amounting to £501,641.39."
What happened to John Darwin's sons?
John and Anne Darwin chose to keep their sons Mark and Anthony in the dark about their scheme to defraud the life insurance company. As a result, both were left shaken by the revelation that whilst they were grieving and helping their mother through the early years of widowhood, their father had been living next door.
Speaking out about deceiving her sons in an interview with The Guardian in 2016, Anne expressed remorse at how she'd kept up this horrific lie and about the strain this placed on their relationship.
Describing her sons as "full of anger", Anne even reflected on the moment Mark testified against her in court.
"After the truth came out that we'd been living in Panama together, I continually wrote to Mark and Anthony to say: 'I am so sorry. I really do love you'," she explained. "But they refused to see or talk to me. The first time I set eyes on them was at my trial when Mark was the first to testify against me. After he left the witness box, he only lifted his eyes fleetingly to meet mine."
She continued, "I was totally shocked by how dark and full of anger they were. To see that was absolutely horrendous. It jolted me. I could easily have buckled then and there."
However, despite the immense pain John and Anne Darwin's lies caused their sons, the mother-of-two told the publication that things had turned a corner for her and her sons one day in 2008 when Mark wrote to her in prison.
"I feared so much for what was in it. It wasn't a long letter. It just said he was thinking of me and he would write soon," she said. "Then in the next letter that came, he asked if he could come and see me."
"I remember sitting in the visiting room just watching Mark and his wife walking towards me. He was still angry. All I could say was: 'I'm sorry.' It was a long time before my apologies were accepted," Anne shared. "But there was a short hug at the end—but at least it was something—some physical contact. I just hoped they would come back."
The Guardian reported that following her release from prison Anne had reconciled with Anthony and Mark and had been on holidays with both of them. Admitting that she would never expect complete forgiveness from her sons, she said, "I'm sure many people will wonder whether I really deserve a second chance. Mark and Anthony decided I did, and to me that's the only thing that matters."
When it comes to whether or not Mark and Anthony have reconciled with John Darwin isn't quite so clear. According to The Mirror, David Leigh, the journalist who broke the story of the Canoe Man's crimes, told ITV daytime show, This Morning, that whilst he thinks John keeps in touch with one of his sons, the other has "completely disowned him" after all that has happened.
The Thief, His Wife and the Canoe brings the almost unbelievable tale of John and his wife Anne's crimes to life across four suspenseful instalments available on the ITV Hub and airing on consecutive nights on ITV at 9pm with the finale airing on Wednesday, April 20th.
If you loved the twists and turns of WeCrashed and the Landscapers true story and couldn't help wondering how did John Darwin get caught, then there are plenty more astonishing moments to enjoy in the ITV drama…
Sign up to our free daily email for the latest royal and entertainment news, interesting opinion, expert advice on styling and beauty trends, and no-nonsense guides to the health and wellness questions you want answered.
Emma is a Royal Editor with seven years of experience working in digital publishing. Her specialist areas including literature, the British Royal Family and knowing all there is to know about the latest TV shows on the BBC, ITV, Channel 4 and every streaming service out there. When she's not writing about the next unmissable show to add to your to-watch list or delving into royal protocol, you can find Emma cooking and watching yet more crime dramas.