Manhunt The Night Stalker—the horrific true story behind the new ITV drama
Manhunt The Night Stalker is inspired by the real-life diaries of DCI Colin Sutton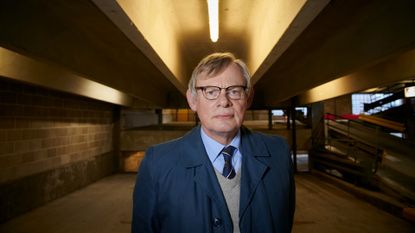 (Image credit: ITV)
Manhunt The Night Stalker is back on ITV this autumn and will bring to life the story of DCI Colin Sutton's quest to bring Delroy Grant to justice.
Hit ITV drama Manhunt first premiered back in 2019 and received great critical acclaim, dramatising the investigation into the death of Amélie Delagrange with great sensitivity. Fans of true crime shows such as The Serpent and Dr Death might well remember Martin Clunes as former DCI Colin Sutton in Manhunt series 1 which brought to life the journey to apprehend killer Levi Bellfield. Now the ITV show is back for its highly-anticipated second series, Manhunt The Night Stalker, which sees Sutton join the investigation into a serial burglar and rapist whose identity remained unknown for 17 years.
Eventually revealed to be Delroy Grant, the Night Stalker's reign of terror left elderly people in south east London living in fear for over a decade. Manhunt The Night Stalker has been inspired by Sutton's real-life diaries and will see Clunes brilliantly portray the detective's unwavering desire to ensure justice is finally served.
*Warning: spoilers ahead!*
What is Night Stalker about?
Manhunt The Night Stalker is a chilling four part series that follows on from the critically acclaimed drama, Manhunt. The first series saw BAFTA award winning actor Martin Clunes take on the role of DCI Sutton as he pursued serial killer Levi Bellfield. Night Stalker follows an entirely different, yet just as terrifying path, as Sutton returns to track down a notorious serial burglar and rapist, later revealed to be Delroy Grant.
Though this is undoubtedly a very difficult and poignant subject matter for the drama, the focus remains on catching Delroy Grant and the crimes themselves are not depicted in the series. Instead in Night Stalker, viewers see Sutton called in to act as a fresh pair of eyes in Operation Minstead, as the investigation into Grant's crimes was referred to. With his identity not yet known to the police, he had been committing crimes for a staggering 17 years and successive investigative reviews had unfortunately failed to uncover his identity.
Across four parts, it's understood that Night Stalker will depict Sutton's new investigation into Grant's crimes, as well as his arrest of this dangerous criminal.
Is the Night Stalker based on a true story?
Manhunt Night Stalker is inspired by the diaries of former Metropolitan Police detective, DCI Colin Sutton, and brings to life the horrific true story of Delroy Grant and the quest to bring him to justice. Grant committed rape and burglary over a period of 17 years, leaving thousands of elderly people in his much-frequented area of south east London living in fear.
According to The Mirror (opens in new tab), Grant would sneak into homes using open windows or by removing panes of glass, ripping out telephone lines and switching off the electricity to ensure he was in darkness, before attacking those who lived there.
It was in 1998 that a dedicated unit was put together and tasked with tracking him down. However, according to the publication, there was a case of mistaken identity made in the investigation in 1999. This reportedly ended up meaning that the wrong Delroy Grant's DNA was looked at in comparison to the DNA they'd found at an earlier crime scene and was found not to be a match, seemingly discounting Grant. Having remained unidentified as the perpetrator, Grant continued to commit his appalling crimes for another decade.
As reported by Express.co.uk (opens in new tab), despite all the police efforts, the randomness of Grant's attacks and geographical range made him hard to predict. In 2009, DCI Colin Sutton, who by then had successfully arrested Levi Bellfield, was asked to review the case, as was depicted in the ITV show.
After assessing why the previous investigations had been unable to identify the Night Stalker, Sutton reportedly realised that the criminal often targeted a specific Croydon street.
Sutton helped secure extra funding to help track down the Night Stalker and after additional officers were deployed in the target area at night, Grant was finally caught committing a burglary on November 15, 2009. When police searched his car, they are said to have found a balaclava, cagoule, fleece and a crow bar. He was then arrested and was later convicted of his multiple crimes two years later.
Who was the Night Stalker Delroy Grant?
Delroy Grant and the investigation into tracking him down is the case that has inspired the storyline of Manhunt The Night Stalker. Grant was a serial burglar and rapist who targeted elderly people, particularly women, who lived in south east London. His first offence is believed to have taken place back in 1992 and it's thought that he committed over 100 assaults throughout his reign of terror. Though police later found the Night Stalker's DNA at the scene of one of his crimes, they were unable to identify a match for many years.
Across 17 years, Grant continued to commit horrific crimes before finally being caught in the act of committing a robbery in 2009 after Sutton's investigation saw additional police officers put in place in a key area believed to be frequently targeted by the Night Stalker.
In March 2011, Grant was convicted of 29 offences, including burglary, rape and indecent assault and, as reported by the RadioTimes (opens in new tab), he received four life sentences for his horrific crimes. Grant was also ordered by the judge to spend a minimum of 27 years in prison and he is currently serving his sentence at HMP Belmarsh.
Who is in the Night Stalker cast?
Manhunt The Night Stalker cast
DCI Colin Sutton—Martin Clunes
Louise Sutton—Claudie Blakley
Delroy Grant—Jude Akuwudike
DCS Hamish Campbell—Guy Williams
DS Simon Morgan—Matt Bardock
DC Patricia Henry—Diveen Henry
DS Neville Hylton—Sule Rimi
DC Adam Spicer—David Witts
Perhaps one of the most prominent and recognizable members of the Night Stalker cast is BAFTA winning actor Martin Clunes. Returning in Manhunt series 1, Martin reprised his role as former Metropolitan Police Detective, DCI Colin Sutton. It is from Sutton's diaries that Night Stalker is adapted and after his retirement he wrote about his experience catching Delroy Grant, as well as of Levi Bellfield, whose crimes were the focus of Manhunt series 1.
Opening up during a recent appearance on ITV's This Morning to hosts Holly Willoughby and Phillip Schofield, Martin Clunes discussed this challenging role and how he goes about handling the dark themes brought to life in the Manhunt series.
Asked if it was "tough" when reading through the scripts and immersing himself in the show's world, particularly for Manhunt The Night Stalker, Martin responded, "Well, because they're real crimes and they have been solved and Delroy Grant is in prison, you know you're a part of that machinery that ended up stopping him and getting him off the streets. And so you kind of think, that's our mission."
Whilst during the interview, Martin also reflected on the timing of the filming and how it was made especially poignant given the winter UK lockdown.
"We shot it last winter," he said. "In a time of lockdown and when, I think, English society was found wanting a bit in its attention towards the elderly and it felt quite prescient to show these stories now."
Martin is joined in the Night Stalker cast by Claudie Blakley (Pride and Prejudice, Lark Rise to Candleford) as his on-screen wife Louise Sutton and Jude Akuwudike (Benediction, Sahara) as Delroy Grant.
Whilst Guy Williams, Matt Bardock, Diveen Henry, Sule Rimi and David Witts act alongside him as fellow police officers in the gripping series.
When is Manhunt The Night Stalker on ITV?
Manhunt The Night Stalker premiered on ITV on Monday, September 20th at 9pm and for anyone who can't wait to see the horrific criminal brought to justice, there's good news! Instead of events unfolding over several weeks such as in fellow ITV drama Endeavour season 8 and BBC's Vigil, the four part drama will be shown on consecutive nights on ITV.
This means that fans of the Night Stalker can tune in to watch episode 2 on Tuesday September 21st, with episode 3 premiering on Wednesday September 22nd and the final episode being shown on Thursday September 23rd. Each of these compelling episodes will be aired at the same 9pm slot on ITV and will also be available to watch on the ITV hub.
And if you find yourself intrigued to see Martin Clunes in action once again as DCI Colin Sutton in Manhunt series 1 as he sets off in pursuit of serial killer Levi Bellfield, then all three episodes of the first season are also on the ITV hub and the book that inspired this latest season is also well worth exploring. Manhunt: The Night Stalker by Colin Sutton is published by John Blake and is out now.
Manhunt The Night Stalker will air at 9pm on ITV on September 21st, 22nd and 23rd.
Emma is a Senior Lifestyle Writer with six years of experience working in digital publishing. Her specialist areas including literature, the British Royal Family and knowing all there is to know about the latest TV shows on the BBC, ITV, Channel 4 and every streaming service out there. When she's not writing about the next unmissable show to add to your to-watch list or delving into royal protocol, you can find Emma cooking and watching yet more crime dramas.