Vigil—the BBC series has us hooked but what is it about, was it filmed on a real submarine and who's in the cast?
The new Vigil BBC series takes place on a nuclear submarine off the Scottish coast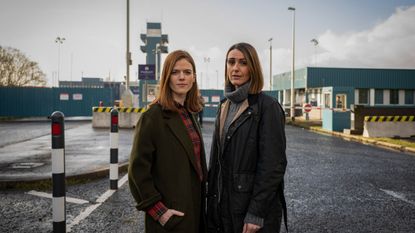 (Image credit: BBC )
woman&home newsletter
Sign up to our free daily email for the latest royal and entertainment news, interesting opinion, expert advice on styling and beauty trends, and no-nonsense guides to the health and wellness questions you want answered.
Thank you for signing up to . You will receive a verification email shortly.
There was a problem. Please refresh the page and try again.
Vigil might only just have landed on the BBC, but already the tense drama has fans hooked with its star-studded cast, submarine setting and intriguing name.
The BBC's Vigil comes from the producers of hit drama Line of Duty and is perfect for fans of chilling series like Silent Witness 2021. Starring Dr Foster actor Suranne Jones and Game of Thrones' Rose Leslie, Vigil takes place in close quarters as DCI Amy Silva (Suranne) comes aboard HMS Vigil to investigate a suspicious death. Forced to conduct her questioning from the same ship where the incident took place, things become ever more complex as the crew seem less than willing to give her the answers she needs. Filmed and set in Scotland, the atmospheric scenes are sure to have audiences coming back for more each week as Amy edges ever closer to uncovering the truth.
But what is Vigil about, is it accurate and was it filmed on a real submarine?
*Warning: spoilers ahead!*
---
What's Vigil about?
The new Vigil BBC series is packed full of intensity, drama and dark twists as DCI Amy Silva, masterfully played by Dr Foster star Suranne Jones, arrives to investigate after a crew member is found dead aboard the Trident nuclear submarine, HMS Vigil, off the West coast of Scotland.
And if the prospect of identifying a possible murderer isn't daunting enough, Amy is not only faced with solving her case, but must do so whilst the crew ensures that the UK's nuclear deterrent remains effective. This means the submarine has no choice but to remain on patrol, with Amy coming aboard herself to carry out her investigation in the already cramped conditions.
The death has been written off as an accidental overdose, experienced detective Amy isn't quite so convinced. Now she must contend not just with the conditions, but with the crew who begin to close ranks amidst her questioning.
But whilst Amy presses on, determined to get to the truth, hers isn't the only investigation going on. Back on land, DS Kirsten Longacre, her old friend and former flame, is also delving deeper into this mystery and soon uncovers what appears to be a dangerous conspiracy that could threaten Britain's nuclear deterrent.
With their only means of communication being heavily monitored, Amy and Kirsten have no choice but to weave secret messages into their telegrams, trusting that the other will work out their clues.
Whether or not they will both be able to resolve the case in time remains to be seen...
How accurate is Vigil?
The realism of Vigil's dark and dramatic scenes might have some fans wondering how accurate the new BBC series really is, though the show is officially fictional. Vigil was created by the producers of hit drama, Line of Duty, though it was reportedly inspired by real-life events and the potential situation that could arise if a member of crew really died onboard one of the Trident Submarines.
The UK's real-life Trident submarines are located on Her Majesty's Naval Base, Clyde which is in Argyll & Bute, Scotland. And it seems that the Vigil series has done a very impressive job of presenting what life is truly like on board one of these ships.
Opening up to The Times (opens in new tab), Richard Humphreys, a man who worked on naval submarines like the fictional one in Vigil explained, "The scenes in the bunks took me back to exactly how it was. It was like being asleep in a coffin. There's just enough room to turn over and your nose is pressed up against the top of the bunk."
He continued, "I got what they call 'coffin dreams'. Suranne Jones's character suffers from claustrophobia and when she realizes the lack of room at the top of her bunk, she starts to panic, which does happen."
Richard also revealed that bullying does sometimes take place onboard, but that it typically is nipped in the bud.
"In Vigil the chap doesn't get on well with his fellow crewmate. That happened, but you just kept out of each other's way if you really disliked each other," he said. "It wasn't worth the aggro. It's not nice for the rest of the crew to be dealing with two idiots having arguments during a 100-day patrol."
Is Vigil filmed on a real submarine?
Vigil is primarily set in the HMS Vigil, a fictional nuclear naval submarine. Sadly for any fans hoping that the gripping show was actually filmed on a real life submarine, this was unfortunately not the case.
Instead, most of the filming for Vigil took place in a specially designed set that was meticulously designed and created to look like a naval submarine. Opening up to RadioTimes.com (opens in new tab), Vigil writer Tom Edge explained how necessary this was to helping to create a realistic sense of "enclosure" for the cast.
"Tom Sayer the production designer was able to provide blueprints, floor-plans for what the set would be, based off early drafts and the conversations that we had with him about which things felt essential to us," he revealed.
"And [going onto the set] was a really joyful experience. It did leave us kind of giddy, it was incredible, just lovingly recreated. So the actors when they were working in that space travelling through it, there were no sort of missing fourth walls really, it was that feeling of enclosure and even I felt that on my visits to the set."
His sentiments were echoed by the show's lead director, James Strong, who disclosed that it was vital to "create a big enough space to contain the action and be big enough to work in and yet retain all the claustrophobia of a real submarine."
James added, "Creating HMS Vigil was an enormous endeavour, brilliantly carried out by designer Tom Sayer and his team. It looked incredible, was a great place to shoot and yet always felt utterly real."
Where is Vigil filmed?
Whilst Vigil primarily takes place aboard HMS Vigil, following the increasingly mysterious investigation of DCI Amy Silva, there are also a variety of city locations used in Vigil for the scenes on land. In order to bring the contrasting settings to life, the series filmed at locations including Squinty Bridge, Finnieston Street, Hamilton Park Avenue in the West End and the streets around Blythswood Square in Glasgow.
The naval base, Dunloch, that is so significant in Vigil is not itself a real place, though it's based on Faslane, the home of HM Naval Base Clyde on the Gare Loch. Though it's understood that Faslane was not actually used in production for the BBC show.
Several other areas in the West of Scotland were used to film these rural scenes, including the small island of Cumbrae and Hunterson, a town in Ayrshire.
Who is in the Vigil cast?
Vigil cast list:
DCI Amy Silva—Suranne Jones
DS Kirsten Longacre—Rose Leslie
Chief Petty Officer Elliot Glover—Shaun Evans
Chief Petty Officer Craig Burke—Martin Compston
Commander Neil Newsome—Paterson Joseph
Lieutenant Commander Mark Prentice—Adam Jones
DSU Colin Robertson—Gary Lewis
Jade Antoniak—Lauren Lyle
Lieutenant Commander Erin Branning—Lolita Chakrabarti
Lieutenant Commander Hennessy—Dan Li
Surgeon Lieutenant Tiffany Docherty—Anjli Mohindra
The Vigil cast features many acclaimed stars, though perhaps the most prominent in the series so far is Suranne Jones. Best known in recent years for her roles in fellow BBC drama Dr Foster and historical series Gentleman Jack, Suranne leads the Vigil cast as DCI Amy Silva and has previously opened up on what it's like starring as a 'woman in a man's world'.
As reported by the RadioTimes (opens in new tab), Suranne has described her Vigil character as "complex" as she expressed her excitement at stepping into this challenging role.
"Tom Edge has created a thrill of a story, set in a world I knew nothing about," she revealed. "The cast and crew World Productions have put together to tell this story is so exciting.
"Amy Silva is a brilliantly complex character, thrown into a highly charged situation where her authority is weakened. We watch as she navigates her own personal trauma and loss, all at a time when she's questioning her relationships and life choices."
Suranne's Amy Silva is the perfect counterpart to Kirsten Longacre, played by Rose Leslie, who will likely be a welcome sight for Downton Abbey fans in the aftermath of the Downton Abbey sequel trailer recently landing. Known for her role as Gwen in the period drama, as well as Ygritte in Game of Thrones, the Scottish actor has previously shared her love of being able to film in Scotland for Vigil, revealing that she also grew up watching brilliant BBC dramas.
"I was weaned on BBC drama and it is thrilling to be back working at a place that feels like home with Tom Edge's complex and gripping script," Rose said. "It will be a real honour to work with Suranne and I am looking forward to be filming back in Scotland."
Fellow Scot and fan-favorite amongst Line of Duty viewers, Martin Compston, joins Rose and Suranne, though his role as Craig Burke is sadly rather short-lived. The supporting Vigil Cast who comprise the ship's crew is huge and you may recognise familiar faces such as Jade who is played by Lauren Lyle whom many of us loved as Marsali Fraser (nee MacKimmie) in Outlander. Connor Swindells also features as the character Hadlow in this series, following on from his brilliant performance as Adam Groff in Netflix's Sex Education.
How many Vigil episodes are there and when is it next on?
The BBC's new hit thriller Vigil consists of six episodes, each an hour long, with the show debuting on BBC One on Sunday August 29 2021. This was closely followed by the second episode on August 30, with both the first two episodes being made available on BBC iPlayer for fans to enjoy. However, following the initial airing, the set broadcast day for each Vigil episode is Sunday.
Vigil episode 4 will be shown on Sunday, September 12 at 9pm on BBC One and BBC iPlayer.
What does Vigil mean?
Vigil refers to the act act of staying awake during times that are usually spent sleeping, especially when it comes to spending this time praying or keeping watch. It can also be used to refer to a stationary and peaceful demonstration in support of a certain cause and is typically carried out without speeches and can include the lighting of candles. The use of this word for both the Vigil BBC series as a whole and for the submarine in question certainly seems in keeping with this.
With the feeling of being enclosed and the wall of silence that Amy is attempting to break down in her quest to get to the truth, the watchful connotations of 'Vigil' brilliantly reflect the chilling plotline of the hit series.
Who sings the theme tune for Vigil?
Many viewers might have found themselves captivated by the haunting theme song for Vigil that plays during the opening credits of each episode. And who can blame them with the vocal talents of Danish singer-songwriter Agnes Obel adding to Vigil's suspense and atmosphere. The theme tune for Vigil is understood to be an extract from her song, Fuel to the Fire, released on her 2013 album, Aventine.
And Agnes is no stranger to her songs behind used in TV soundtracks, with Big Little Lies and Euphoria just a few of the shows that have featured her music. As the opening credits roll each week, her song certainly keeps anticipation high for what lies in store.
For anyone who just can't wait for the next Vigil episode, there's plenty of time to discover how to watch Line of Duty for an extra helping of drama and intrigue or catch-up on all you've missed in Vigil so far on BBC iPlayer.
Emma is a Senior Lifestyle Writer with six years of experience working in digital publishing. Her specialist areas including literature, the British Royal Family and knowing all there is to know about the latest TV shows on the BBC, ITV, Channel 4 and every streaming service out there. When she's not writing about the next unmissable show to add to your to-watch list or delving into royal protocol, you can find Emma cooking and watching yet more crime dramas.