Who is Christopher Duntsch and what is the terrifying true story behind new Peacock drama Dr Death?
This chilling new show tells the story of Christopher Duntsch's career as a neurosurgeon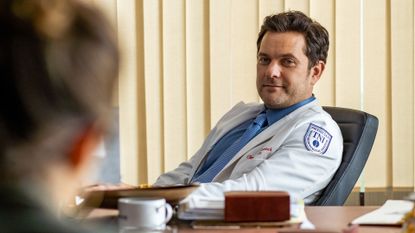 (Image credit: Scott McDermott/Peacock)
Christopher Duntsch is masterfully played by Joshua Jackson in Peacock's new drama, Dr Death, but the real-life former neurosurgeon he's portraying is every bit as terrifying as the show suggests.
Peacock's new eight-part miniseries, Dr Death, landed on the streaming service on July 15, bringing the twisted career of Christopher Duntsch to life on-screen. Instead of doing his best for his patients, the Texas-based neurosurgeon was responsible for maiming and killing a horrifying number of them until he was finally stopped.
The official Peacock synopsis declares, "Patients entered his operating room for complex but routine spinal surgeries and left permanently maimed or dead. As victims piled up, two fellow surgeons and a young Assistant District Attorney set out to stop him.
"Dr Death explores the twisted mind of a sociopath and the gross negligence of the system designed to protect the most defenceless among us."
Now after racing through this chilling new series, many viewers might be left wondering—who is the real-life Christopher Duntsch, and how did he earn his sinister nickname?
---
More from woman&home:
• Best travel pillows for every kind of trip and sleeper
• Best scented candles for a gorgeous-smelling home
• Best Kindles for digital book lovers—we help you decide which one to buy
---
Who is Christopher Duntsch?
Former neurosurgeon Christopher Duntsch was reportedly born in Montana, and was raised in Memphis, Tennessee. While he often came across as charismatic or charming, there were those who noticed his often shocking level of determination. As reported by ProPublica, a former classmate during his time at high school remarked that: "He had his goal, his sight on a goal and whatever it took to get there."
𝟑𝟑 victims. 𝟏 doctor. Press ▶️ on the exclusive first look at our new series based on the hit true crime podcast about Dr. Duntsch. #DrDeath is streaming July 15. pic.twitter.com/QIGFb3tEGzJuly 12, 2021
See more
This approach can be seen to have been carried through to his medical career. In an email sent to his former assistant and ex-girlfriend Kimberly Morgan, played by Meryl Streep's daughter Grace Gummer in Peacock's Dr Death, Duntsch went on to show just how far he was willing to go.
"Unfortunately, you cannot understand that I am building an empire and I am so far outside the box that the Earth is small and the sun is bright", he is understood to have written to her.
"I am ready to leave the love and kindness and goodness and patience that I mix with everything else that I am and become a cold-blooded killer."
Why is Christopher Duntsch called Dr Death?
Christopher Duntsch is understood to have first received the nickname 'Dr Death' after Dallas' monthly magazine, D Magazine, published a cover story about him, featuring it in the headline. And it certainly reflects the atrocities the neurosurgeon committed throughout his career. As reported by TIME, 33 of the 37 patients Christopher Duntsch operated on during a two-year period were harmed in some way by his actions.
Some of his patients woke up from surgery paralyzed, while others woke to find themselves in permanent pain due to nerve damage sustained during the operation. Though this is already shocking enough, two of Duntsch's patients tragically died; one due to significant blood loss after their operation and another after experiencing a stroke caused by a cut vertebral artery.
Get a behind-the-scenes look at the horrifying true story of #DrDeath, a case that's almost too impossible to believe. Dr. Death is streaming now on Peacock. pic.twitter.com/BP88odfJ2RJuly 15, 2021
See more
Duntsch also operated on a childhood friend who came to him for a spinal operation, only to awake from the surgery to find himself a quadriplegic after his vertebral artery was damaged by the trusted doctor. Despite Duntsch's many harmful operations, however, he managed to avoid prosecution and is said to have been hired by different hospitals despite an investigation into his cases by the state medical board.
Duntsch's colleagues Robert Henderson and Randall Kirby, played by Alec Baldwin and Christian Slater in Dr Death, were among those who reported the surgeon's dangerous actions and attempted to prevent him from causing any more harm.
Everyone's talking about Dr. Duntsch. July 15. pic.twitter.com/qzLUEInwYrJuly 13, 2021
See more
According to TIME, it was an operation he performed in 2013 that saw things finally come to a head. Here, Duntsch supposedly mistook a patient's neck muscle for a tumor, leading Kirby to describe the operation as "an attempted murder".
Determined to stop him once and for all, Henderson and Kirby increased their efforts to help bring him down. And it was June that year that they finally succeeded as Duntsch's medical license was suspended, before being fully revoked in December.
Our star-studded cast on the red carpet at the premiere of #DrDeath. One week until you can binge the series based on the shocking true story. pic.twitter.com/ifAYeIYfpPJuly 9, 2021
See more
As depicted in the series, it's thought that it was this turning point that saw Duntsch descend into heavy drinking and shoplifting hundreds dollars worth of items. The dangerous doctor was indicted on five counts of aggravated assault and one count of causing harm to an elderly person.
Looking to establish that Duntsch's horrendous crimes formed part of a wider pattern, many of his former patients were called by prosecutors to testify at his trial. Though it was his earlier email to Kimberly Morgan that is said to have really shown the jury his true colors. After so many years of dangerous practicing, Christopher Duntsch was finally convicted and sentenced to life in prison.
What is the Dr Death podcast?
Peacock's Dr Death is based not only on the real-life Christopher Duntsch but also on the Wondery true crime podcast of the same name. The acclaimed podcast follows famous cases of medical malpractice, with the first season focusing on Duntsch's crimes. Hosted and reported by Laura Beil, the season ran throughout 2018 and explored the doctor's background, medical career, and how he was able to go unpunished for so many years.
Dr Death is available to watch in the US on Peacock and is set to premiere on StarzPlay in the UK this September. But for anyone who can't wait until then to discover their next must-watch true crime drama, then now's the perfect time to learn who The Serpent's Charles Sobhraj was in real life as they catch up on all eight episodes on BBC iPlayer!
Emma is a Senior Lifestyle Writer with six years of experience working in digital publishing. Her specialist areas including literature, the British Royal Family and knowing all there is to know about the latest TV shows on the BBC, ITV, Channel 4 and every streaming service out there. When she's not writing about the next unmissable show to add to your to-watch list or delving into royal protocol, you can find Emma cooking and watching yet more crime dramas.