Ina Garten just shared photos from her newly remodeled kitchen and her stove has us beyond jealous
Ina Garten shared a tour of her newly remodeled kitchen and it looks straight out of a Nancy Meyers movie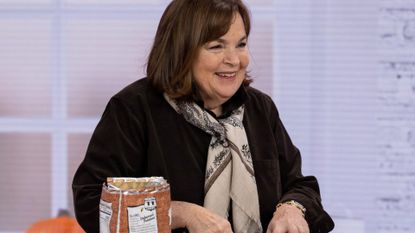 (Image credit: Getty Images)
Ina Garten has given fans an inside look of her newly renovated kitchen - a project she hadn't touched in 25 years.
Recently on Instagram, fans of Ina Garten were so graciously treated to an inside look at her newly renovated kitchen - and we've already added the pictures to 2023 kitchen trends Pinterest boards.
As a celebrity cook with multiple decades of experience and over 10 cookbooks published, we'd say she deserves this long-awaited, expensive-looking renovation. "During the Pandemic, I gave myself a project of renovating my kitchen, which I actually hadn't done in 25 years," she said in her Instagram caption. "I built my dream pantry and bought my favorite Lacanche stove plus lots of food photographs and a great view of the garden."
The first picture Ina shares in her carousel post is one of her minimal servingware collection in a newly organized pantry. Ina is known for typically only using white dishes when she serves her famous recipes - and her new kitchen images only further prove this point. With the exception of some wooden bowls, rattan placemats, and blue and white patterned jars, Ina sticks to her typical all-white servingware aesthetic. Dare we say it - it's exuding Coastal Grandmother energy.
If we ever need help organizing our pantries, we know who we're calling.
Next up, Ina gives a look at her highly-coveted Lacanche range, perfectly fit for the Food Network star's kitchen. She's known for staying true to her gas range, despite rumors that went aflame in recent months saying that gas stoves are bad for you. She says that the Lacanche burners "tend to be hotter than most burners," so if you plan on getting a range from their collection, that's worth keeping in mind.
Ina also shows a small nook of her kitchen, complete with a collection of cookbooks atop her marble countertop, and six different images of food photography for inspiration. The specific prints she has are from the Staley-Wise Gallery.
Finally, the pièce de résistance - her perfect marble countertop, hosting a massive (and we mean massive) vase of dogwood branches, next to a smaller vase of anemones. Behind the vase are two gorgeous windows looking out to her yard, which is perfectly green and lush.
She also defends her marble countertops, which have been at the butt of controversy for years due to their porous texture. "I love the look of marble - the movement and energy - but until recently, it was thought not to be ideal for kitchens because it's a porous material," she said. "However, the sealers have gotten really good now so it's a great choice for a countertop."
The kitchen is so perfect, in fact, that even the Queen of rom-coms, Nancy Meyers, approved. "Love every pic! Beautiful! That view!!" she commented on Ina's post.
Madeline Merinuk is woman&home's US lifestyle news writer. She covers celebrity, entertainment, fashion, and beauty news but is also obsessed with internet trends - you can find her reciting trending TikTok sounds out loud at any given time.
After winning multiple student journalism awards for her investigative work, she graduated from Hofstra University in 2021 with a B.A. in Journalism. After graduating, she worked at today.com, the digital site for the Today Show, where she wrote pop culture news and interviewed big-name personalities like Emily Ratajkowski, Haley Lu Richardson, Emma Corrin, and more.
Her personal interests, in no particular order, are: cheese, Joni Mitchell, reading, hot yoga, traveling, having multiple chapsticks in every handbag at all times, and dancing to ABBA songs as if she were in the Mamma Mia movies.