How to watch True Lies, the spy TV show based on the James Cameron movie
This hilarious espionage show is rising in popularity - here's where you can watch it, plus what to know about the plot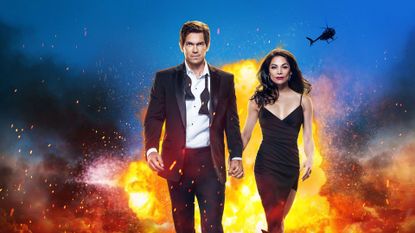 (Image credit: CBS )
What would you do if you found out your husband was a spy? That's what Helen Tasker, played by Ginger Gonzaga, navigates in this new, hilarious TV show.
If the last few years have proved anything, it's that thrillers and mystery shows and movies, like Glass Onion or The Watcher, are all the rage - but the trend isn't exactly new.
The 1994 film True Lies, which stars Arnold Schwarzenegger and Jamie Lee Curtis as Harry and Helen Tasker, is a thrilling flick directed by James Cameron (Titanic) about a couple who has to save their marriage in the midst of kidnapping and espionage. The brand new show based on the movie follows a similar path, except in the show, Helen has to become a spy along with her husband for US intelligence agency Omega Sector, working on missions around the globe.
In the new True Lies show, Harry and Helen are played by the dashingly handsome Steve Howey (Shameless) and Ginger Gonzaga, respectively.
If you're interested in watching the new CBS show but are worried about being too late to the game - no need to fear. Only five episodes have been released so far, and they're all easily accessible on multiple streaming platforms.
How to watch True Lies
For those who have cable subscriptions, True Lies releases new episodes every Wednesday night on CBS, with the season 1 finale set to air on May 13, 2023. If you have on-demand with your cable TV package, you can also stream the episodes that have already been released there.
If cable isn't available to you, no worries - Paramount+ has the episodes available to stream as they release on CBS, so you can catch up on all of the Omega Sector drama as it unfolds with the rest of the True Lies fans.
Don't worry though, if you don't have cable OR Paramount+, there are other options available for how to stream. PlutoTV and fuboTV both offer free streaming options on their streaming platforms - the only difference is that you might catch some sneaky ads.
You also can stream the show if you have premium subscriptions to YouTubeTV or Hulu.
Turns out, if you start watching, you'll be joining what happens to be a pretty large fan base.
"Loving this show ❤️❤️❤️ feel like we could use more corny funny shows like this!" someone commented on the True Lives Instagram.
"Watching True Lies on CBS for the first time, and this show knows what it is, and leans hard into it. It's corny in a good way. I like it," another person tweeted about that show.
Madeline Merinuk is woman&home's US lifestyle news writer. She covers celebrity, entertainment, fashion, and beauty news but is also obsessed with internet trends - you can find her reciting trending TikTok sounds out loud at any given time.
After winning multiple student journalism awards for her investigative work, she graduated from Hofstra University in 2021 with a B.A. in Journalism. After graduating, she worked at today.com, the digital site for the Today Show, where she wrote pop culture news and interviewed big-name personalities like Emily Ratajkowski, Haley Lu Richardson, Emma Corrin, and more.
Her personal interests, in no particular order, are: cheese, Joni Mitchell, reading, hot yoga, traveling, having multiple chapsticks in every handbag at all times, and dancing to ABBA songs as if she were in the Mamma Mia movies.