Here is how Halle Berry stays fit with just a towel
Halle Berry swears by this easy-to-reproduce workout that's convenient and requires a single piece of equipment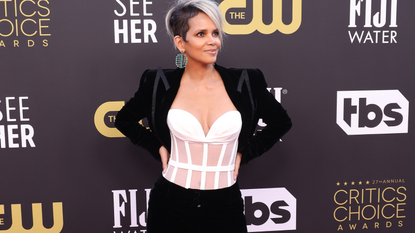 (Image credit: Taylor Hill / Contributor)
Let's be honest: there is just something about running on a treadmill and lifting weights at a gym that makes it very difficult to follow through with a weekly workout routine.
Halle Berry, who has, in the past, shared her secret to getting her signature rock hard abs, knows a thing or two about exercise monotony. In fact, the star actually swears by this pretty simple and easy-to-replicate drill that only requires the use of a towel.
---
The 55-year-old actor took to Instagram to share the details of her routine with her own trainer Peter Lee Thomas.
The workout is a relatively easy-to-follow one that consists of five moves in total requiring between 10 and 20 repetitions each. You'll start off with a series of regular sit-ups and follow them with Russian twist reps. For the latter portion of the routine, you'll have your feet flat on the floor while sitting down. Lift your feet about 45 degrees and start twisting left and right from your torso, keeping your neck and head neutral.
Halle's workout continues with skaters, which are basically lateral jumps that will increase your heart rate while improving your sense of balance, followed by reverse lunges with knee drives.
To note: all the exercises mentioned until now solely require the use of your own body weight. The fifth and final drill in the sequence involves squat press burpees during which you'll jump over a towel (think of it as a jump rope).
As for the specific towel you should use, it's up to you (you can honestly even use a T-shirt!), but Halle herself whips out the Cooling Towel by re*spin for the workout.
"Slower is usually harder, faster is usually easier, and people do things fast to rush through them so they can just get it done," Peter said to Shape back in March, when he also revealed that he actually created the workout himself in an effort to be as resourceful as possible with as little as possible.
"I'll do a 'resourceful week' where we're just using all the things in her path," Peter said to Shape about his work with Halle. "The following week we'll do purely outdoor training where we're flipping tires, we're using sledgehammers, we're using pushing a sled, we're doing a lot of animal movements and keeping it primal and fun and integrative and multifaceted versus always being stuck in the gym."
Halle's body is the stuff of legend and she clearly works really hard for it. Here's to hoping that a few days of this towel exercise will get us just a bit closer to her awesome physique.
Anna Rahmanan is a New York-based writer and editor who covers culture, entertainment, food, fashion and travel news. Anna's words have appeared on Time Out New York, the Huffington Post, Fortune, Forbes, Us Weekly, Bon Appetit and Brooklyn Magazine, among other outlets.