Firefly Lane season 2: What we learn from the trailer, release date and what you can expect after *that* Tully and Kate moment
The first part of Firefly Lane season 2 will land soon and we can't wait to dive back into the emotional highs and lows of Kate and Tully's friendship...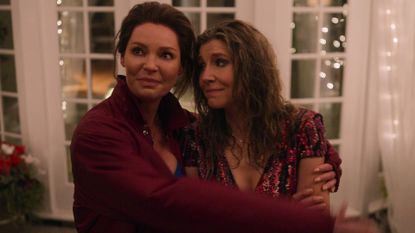 (Image credit: Cr. Courtesy of Netflix © 2022)
Firefly Lane season 2 is almost here and if the previous finale and the trailer are anything to go by it's going to be an emotional rollercoaster.
From the moment they made it to that tear-jerking finale Firefly Lane fans were left wondering whether there'd be another season of Firefly Lane and luckily they didn't have too long to wait before it was confirmed that Firefly Lane season 2 was happening. Now the trailer has finally landed, teasing plenty more heartbreaking and touching moments to come for Kate Mularkey and Tully Hart in this entrancing story of their decades-long friendship.
Here we look into what we can learn from the Firefly Lane season 2 trailer, what else we can expect from the plot and the all-important 2022 Netflix release date for the first half…
*Warning: Major Firefly Lane spoilers ahead!*
What can we learn from the Firefly Lane season 2 trailer?
Despite the finale of season 1 ending with them not talking, the Firefly Lane season 2 trailer opens with Kate and Tully arriving at a hospital and attempting to gain access to Kate's ex-husband Johnny's room. Unfortunately for them, they're told by a rather stern soldier guarding the door that only immediate family can visit. The trouble being that Kate is now his ex-wife and Tully's attempt to lie that she's his cousin fails to work. From there the friends are seen embracing as Tully tells Kate, "Promise me that we will always be there for each other".
They are then shown as teenagers, with Kate declaring she wants to run away from Firefly Lane with Tully. Throughout it all the screen often splits between the past and the present, showing the two friends in similar embraces or situations but decades apart and showing that the time-jump nature of the first season isn't going anywhere.
We also see Tully being served with legal papers in the grocery store before she appears, tearful, on camera telling unseen viewers, "He took my show. He took my voice. So I'm taking it back."
Exactly who the mysterious "he" is remains to be seen, but it's clear that Tully is preparing for a major fight when it comes to the future of her career. It's also revealed that the star is making a documentary about her process to find her dad, only to later be telling her friend, "I don't even know who I am anymore."
Meanwhile, Kate's concern for Johnny has continued beyond their divorce as it becomes apparent he is struggling massively after returning from Iraq. Despite him telling her that since they're no longer married she doesn't need to worry about him anymore, Kate goes on to confess that whilst "There's a million reasons" they divorced, she still loves him.
Love seems to be a prominent theme once again this season as Tully is seen meeting and later in bed with a new man who tells her he can't be the man she deserves.
"All roads lead back to each other", flashes up on the screen, suggesting - hopefully - that a full reconciliation is looming for Kate and Tully after the season 1 finale left their friendship on the rocks like never before. The Firefly Lane season 2 trailer ends with the teenage Kate and Tully being told how lucky they are that they have a best friend, as not everyone does.
What will Firefly Lane season 2 be about?
Whilst we might not know the ins and outs of everything that lies in store in Firefly Lane season 2, Netflix's official description reveals we will finally know why the 30-year friendship of Tully and Kate ended like it did in season 1 with them not talking.
They add that "Kate grapples grapples with the painful aftermath of Johnny's ill-fated trip to Iraq, while Tully faces a lawsuit after walking away from her talk show, and must start her career over from the bottom."
In Firefly Lane season 2, this will lead Tully on a "quest to find the father she never met, against the wishes of her secretive hippie mother, Cloud."
Meanwhile, keeping with the time-jump theme of the first series, the second season will also dive back into Kate and Tully in the 80s. Fans will see Kate and Johnny falling in love and "creating more than a little drama in the newsroom where they work" whilst Tully's career rises.
In the 70s, a teenage Kate and Tully will "struggle to keep their friendship together as Cloud goes to jail for dealing drugs". Tully departed the titular Firefly Lane after this to live with her grandmother and according to Netflix, "as the girls face the tumult of high school apart, they know the one thing they really need is each other."
The official description also suggests that Kate and Johnny's marriage will remain a key focus of the show and in the season 1 finale his fate was left in the balance after he was caught up in an explosion in Iraq. Now the trailer has shown that both he and Kate have a lot to process after his survival.
Family has always been complicated for Tully too and with her career at a difficult point, it seems she'll be confronting the past like never before. And whilst she looks for answers, there are plenty more wanted by fans after the season 1 cliff-hanger.
We already know that there have been some small and some much more noticeable Firefly Lane book vs show changes that make a difference to the plot, perhaps the biggest revolving around Kate. For those wondering whose funeral it was at the end of Firefly Lane season 1, it was her father Bud's. But in the book by Kristin Hannah, Kate dies and the book sequel to Firefly Lane titled Fly Away picks up after her death.
In the show Kate is currently alive and well, but she and Tully have had a huge falling out culminating in Tully being turned away from Bud's funeral. Kate coldly reminded her that she said she could "never forgive" her friend for what she did - only we still don't know exactly what that is.
The cause for their falling out in the book is down to Tully inviting Kate's daughter Marah on to her show, only for the segment to talk about overprotective parents, implying she thought Kate was one. Though the show has often taken a different direction and might be explained differently, though Tully and Kate's estrangement will be explored in the second season.
Opening up to ET (opens in new tab)'s Denny Directo about the second season, Sarah and Katherine explained that the answers fans are given might surprise some people a lot.
Sarah shared, "You're going to get all of the answers and it's crazy. I don't think it's going to be what you thought it was going to be. But it's juicy and you're going to laugh and you're going to cry and you're going to do all of the things."
"It's going to feel very similar to season 1 and it's moving through the decades and the timelines so we'll get to journey with them through all that backstory that led us to that moment, plus some other things," Katherine added. "John coming back from Iraq and Kate trying to deal with him post this traumatic experience, Tully in a storm effect from her career and being sued and not sure what she's going to do moving forward."
She continued, "So there's some great character drama for all of us that we go through this season and with the audience. Like Sarah said, there's just so much. I don't want to give anything away but it's so good."
Netflix's decision to split the season up could be enlightening too. Only the first half will be released in 2022 and the stars have teased that the end of episode 9 will keep us hooked…
When asked about that instalment, Sarah said, "It's a giant cliff-hanger so that and some space and then the next round [of episodes drop]. It's actually really cool to film 16 episodes in a row so it allowed for time and space... I think we really needed it to get to everything that happens in the book and really dive into like Johnny and Kate's love story, having found love at work."
If that hasn't got you eager and ready with the best blankets and delicious snacks waiting to watch the first half of Firefly Lane season 2, we don't know what will!
What Firefly Lane characters are back for season 2?
Returning Firefly Lane cast:
Sarah Chalke as Kate Mularkey
Katherine Heigl as Tully Hart
Ben Lawson as Johnny Ryan
Yael Yurman as Marah Ryan
Ali Skovbye as Teenage Tully
Roan Curtis as Teenage Kate
Beau Garrett as Cloud
Firefly Lane wouldn't be Firefly Lane without Kate and Tully and so of course Sarah Chalke and Katherine Heigl are back for season 2. They are joined this season by several other returning cast members including Ben Lawson as Kate's husband Johnny Ryan, Yael Yurman as their daughter Marah Ryan, Ali Skovbye as teenage Tully, Roan Curtis as teenage Kate and Beau Garrett as Tully's mother Cloud.
There are also four new cast members who will soon be seen in Firefly Lane season 2 - India de Beaufort, Greg Germann, Jolene Purdy and Ignacio Serrichio. They will play Charlotte, Benedict, Justine and Danny respectively.
When does Firefly Lane season 2 come out?
For well over a year Firefly fans have been held in suspense waiting for Firefly Lane season 2 after it was confirmed that Firefly Lane's ending thankfully wouldn't be the last we see of best-friends-turned-potential-enemies Tully and Kate. Now the arrival of the second instalment is just a few weeks away and part of Firefly Lane season 2 will land on Netflix on December 2, 2022. But only the first nine of the 16-episode-long season will be released this year, with the remaining seven episodes set to come sometime in 2023, with the date as yet unconfirmed.
This means that the cliff-hanger Sarah Chalke promised will most likely leave Firefly Lane fans desperate for the New Year to come a little faster as they anticipate how the second and final season of the Netflix show will end.
Emma is a Senior Lifestyle Writer with six years of experience working in digital publishing. Her specialist areas including literature, the British Royal Family and knowing all there is to know about the latest TV shows on the BBC, ITV, Channel 4 and every streaming service out there. When she's not writing about the next unmissable show to add to your to-watch list or delving into royal protocol, you can find Emma cooking and watching yet more crime dramas.