Firefly Lane book vs show - these are the key differences
Did you know these already?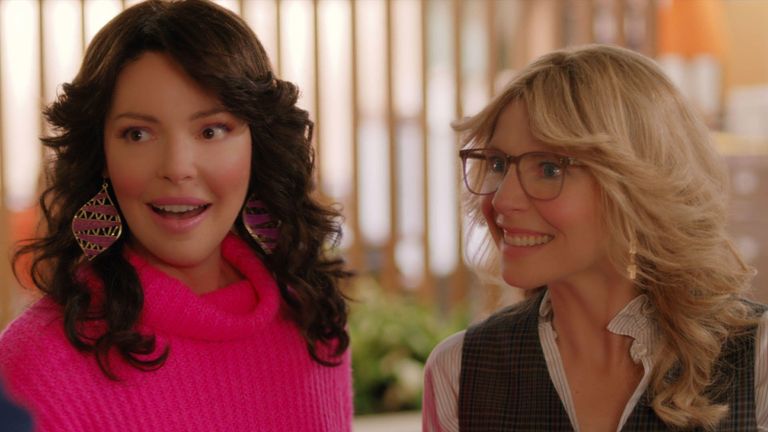 (Image credit: Credit: BRIGHTLIGHT PICTURES / Album via Alamy)
Firefly Lane book vs show differences might not be far from your mind after the hit Netflix adaptation has had us laughing and crying in equal measure.
Fans have grown to love close friends Tully and Kate, watching their bond grow from childhood to the present day. Netflix's Firefly Lane is based upon the novel of the same name by Kristin Hannah. And whilst the show has all the drama, emotion, and romance we have come to love watching on-screen, the original source material has even more twists and turns.
Those who love a cliffhanger are in for a treat, as the funeral at the end of Firefly Lane posed some pretty jaw-dropping questions, not least - why did Tully and Kate stop talking? It seems we'll have to keep our fingers crossed for confirmation of a Firefly Lane second season before we fully get to the bottom of this. But there are some equally significant questions that book-readers may have after seeing Netflix's adaptation.
In the books, the characters of Tully and Kate may be the same duo we've all come to love, but there are some pretty big differences elsewhere that many people won't have seen coming...
Warning: spoilers ahead!
Mara is *not* an only child
In Netflix's Firefly Lane, Johnny and Kate have a daughter, Marah. The relationship between Kate and her daughter isn't hugely prominent in the show, though in the books Marah and Kate's role as a parent is indirectly the cause of Tully and Kate's falling out. Perhaps more important is the fact that in the books, Marah isn't an only child at all. Johnny and Kate actually have three children.
More from woman&home:
It's not been confirmed why the other children didn't appear in Firefly Lane season one, but it could be that their absence simply allows more screen time for Marah and her parents. Or, who knows, we might see them in a potential second season...
Johnny and Kate's divorce
Johnny and Kate's relationship is certainly different in the books as in the show, it's revealed that present-day Johnny and Kate are estranged before show-watchers even get to see them meet, fall in love and start their family. With us always knowing it would end up this way, that certainly put a new spin on everything we saw unfold. Yet in the book, their marriage never hits this breaking point. They may have their problems, but Johnny and Kate manage to overcome them and remain together throughout everything.
Max and Travis don't exist
Fans of love interests Max and Travis might be disappointed to hear that these two don't actually exist in the book. Those who were drawn in by the question of does Tully have a baby in Firefly Lane might not be too thrilled with the book's original storyline. Whilst Tully meets and becomes pregnant with Max's child, marrying him, before tragedy drives them apart - he is a show-only character. So is Travis, who Kate has a crush on. The breakdown of Johnny and Kate's marriage means that Kate is left free to pursue other romantic possibilities and she and Travis soon hit it off.
Tully's pregnancy doesn't happen in the books
As some might have guessed already, no Max in the book means Tully doesn't get pregnant by him in Kristin Hannah's novel. In the show, Tully and Max's relationship deteriorates after Tully miscarries their baby. Whilst she wants to work at their marriage, ultimately, Max seems to decide that's not what he wants. In the book, Tully never becomes a mother and expresses uncertainty over motherhood given her childhood experiences. But with the show already deviating from this book storyline, perhaps there's still room to hope things would be different in a possible second season.
Only half of the story is showed
Kristin Hannah's Firefly Lane book shows Tully and Kate's relationship from childhood, through to their teenage years, career years and even later. But Netflix's Firefly Lane mainly covers the first half of the book story - and unlike the book, it doesn't do it in a linear way. There are plenty of flashbacks and flashforwards to keep us hanging on for more in the show and we are definitely in need of some answers!
Kate dies in the books
In the show, the cliffhanger ending that sets the stage for a potential Firefly Lane season 2 sees Kate turn Tully away from her father Bud's funeral. In the book, it's not actually Bud that dies - but Kate herself. Show watchers might be heartbroken to learn that Kate sadly passes away from cancer in the book, though not before she makes her peace with her once best friend.
Despite the distance that had grown between them, Kate tells Tully not to regret anything that they had been through. Kristin Hannah's sequel, Fly Away, tells the story of what happens following Kate's death.
Whether you're a show-only viewer or a fan of the book, these Firefly Lane book vs show differences have certainly raised some more questions!
Emma is a Senior Lifestyle Writer with five years experience working in digital publishing, ranging from book publishing to magazines. She currently looks after all things Lifestyle for Woman&Home, GoodToKnow and My Imperfect Life.
Before she joined Future Publishing, Emma graduated from the University of Warwick with a Bachelor of Arts degree in English and Comparative Literary Studies. After leaving education, she started out her publishing career in the world of books, working as a Publisher for an independent digital publisher specializing in back-list and debut commercial fiction novels. With a huge book list and a passion for bringing the best stories to the broadest audience possible, Emma filled her spare time with reading the latest best-sellers and catching up on hit adaptations.
In 2017 she joined TI Media as a fiction writing coordinator on Woman's Weekly and Woman's Weekly Fiction as part of the features team. From here, she used her love of books, working to bring short stories to our dedicated readers and began writing for the books pages of Woman, Woman's Own and Woman&Home, as well as online features ranging from genre round-ups to travel pieces for womanandhome.com.
After honing her skills, Emma branched out online in 2020 when Future gave her the opportunity to focus on digital-first. When she's not writing about the next big lifestyle trend, she enjoys cooking, long walks and watching as many crime dramas as she can!