Diane Keaton's 'endless fashion mistakes' video is making us laugh
Actress Diane Keaton posted a video of her fashion faux pas on Instagram, hilariously captioning it "may they rest in peace"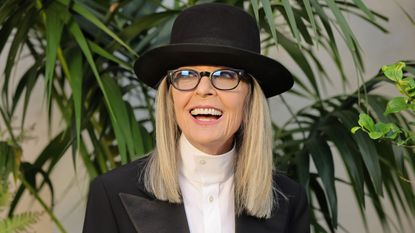 (Image credit: Amy Sussman/Getty Images)
Even style icons have bad days - just ask 77-year-old actress Diane Keaton, who posted a funny video to her own Instagram account recounting her "endless fashion mistakes."
After starring in coming-of-old-age comedy Mack & Rita, Diane took fans on a virtual walk down memory lane on her social media account, calling out some of her own outfit choices throughout the years and the results are pretty hilarious.
The reel kicks off with a photo of Diane wearing black combat boots, pants, a gray turtle neck, a long black shirt that functions as a jacket and a sort of bucket hat - perhaps not her greatest look. The words "fashion gone wrong" appear written on the image.
The video includes a total of thirteen photos of Diane in different outfits, including a long yellow-black-and-white plaid skirt worn with a tight-fitting black leather jacket, black-and-white houndstooth pants that she paired with sneakers, odd-looking black trousers under a beige suit jacket and a oversized green-and-white dress that the actress donned with long gold chains and a white beret-like cap.
Diane actually narrates the entire video, jokingly commenting on each look and calling it "the worst by far."
The actress, who famously never got married, captioned the upload, ""HERE LIES MY ENDLESS FASHION MISTAKES… MAY THEY REST IN PEACE."
Fans and fellow celebrities quickly took to the comments section of the page to laugh at the reel - with some actually praising some of the highlighted looks.
"Everything is fabulous because you are fabulous," wrote actress Andie MacDowell.
Candace Cameron Bure echoed those sentiments when writing, "Your fashion mistakes are brilliant 💚🔥."
Sharon Stone opted for the laugh-out-loud emojis ("😂😂😂😂") and Selma Blair simply commented, "Surely you jest. Fabulous perfection. ♥️."
Even Katie Couric chimed in. "You're crazy!," the journalist wrote. "They look like Diane Keaton at her best! Because you can pull it off! ❤️"
Diane has become a social media star of sorts, able to deliver her signature comedy through an array of posts.
Just a few weeks ago, for example, she posted a video featuring a collection of cakes while singing the happy birthday song in the background... to herself.
"HAPPY BIRTHDAY TO THE LOVE OF MY LIFE... ME!," she aptly captioned the clip, which prompted plenty of stars to wish Diane a happy birthday on the social media platform, including Amy Sedaris, Nancy Meyers and Kristin Chenoweth, among others. We told you she was funny!
While drawing giggles on Instagram, Diane has also been promoting her latest film, Book Club: The Next Chapter. Set to drop in movie theaters in May, the film is a sequel to the beloved 2018 movie Book Club.
In the production, Diane reprises her role as, well, Diane, alongside Jane Fonda's Vivian, Candice Bergen's Sharon and Mary Steenburgen's Carol. The sequel centers on a girls trip that the four best friends take to Italy.
"When things go off the rails and secrets are revealed, their relaxing vacation turns into a once-in-a-lifetime cross-country adventure," reads an official synopsis of the movie, in which Andy Garcia, Don Johnson and Craig T. Nelson also reprise their original roles.
Giddy with excitement about the next iteration of Book Club? You're not alone!
Anna Rahmanan is a New York-based writer and editor who covers culture, entertainment, food, fashion and travel news. Anna's words have appeared on Time Out New York, the Huffington Post, Fortune, Forbes, Us Weekly, Bon Appetit and Brooklyn Magazine, among other outlets.