The reason why Diane Keaton never got married is powerful, as she opens up on the 'humbling experience' of becoming a mother in her 50s
Diane Keaton has spoke of the 'humbling' experience she felt adopting her children in her 50s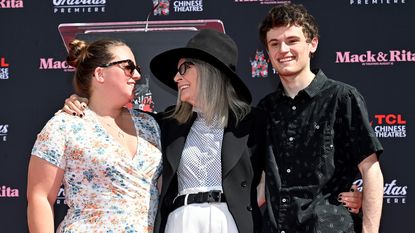 (Image credit: Axelle/Bauer-Griffin/FilmMagic)
From her signature Annie Hall fashion to her delightfully odd chat show appearances, Diane Keaton has never really stuck to conventions.
Which, let's be honest, is why she's such a beloved legend, and the pioneer behind the latest Coastal Grandmother trend.
Another significant way the Oscar winning star of iconic movies including The Godfather and Something's Gotta Give has bucked tradition over the years is never getting hitched.
Despite having dated some of Hollywood's most notable leading men, including Godfather co-star Al Pacino and Bonnie and Clyde icon Warren Beatty, Diane has never been married.
And she's perfectly fine with that. Why? It all goes back to her mom.
In a series of questions for Interview Magazine, the First Wives Club star responded to questions from her many celebrity friends, one being Friends actress Lisa Kudrow.
Lisa questioned Diane on why she never decided to tie the knot, asking, "Our society has always had an expectation for women to get married, and you've said it just hasn't felt right for you. What informed that feeling?"
Diane traced her decision back to her childhood, pin-pointing it on an unequal dynamic between her parents as a young girl.
Diane felt like her mother chose family over her dreams – a sacrifice she respects, but not one she wanted to replicate.
In the interview, Diane says, "It goes back to my mother, because, for me, most everything does. I love my dad, of course—that goes without saying—but she was always there, and he was always working. He was working hard, and he was really interesting."
"She had four kids, and I was the firstborn. I saw how much she gave up. I mentioned watching her get that crowning glory and being Mrs. Highland Park. After that, we moved down to Santa Ana, and it was over. There was no more trying things out. I feel like she chose family over her dreams. And she was just the best mother, but I think that she is the reason why I didn't get married."
In true Diane Keaton fashion, she then jokingly added, "By the way, no one has ever asked me to marry them, either, so that might be a good answer. I should've started with that and called it a day."
Despite opting to avoid the more traditional route of marriage, Diane did decide to create her own family at the age of 50.
After the death of her father, Diane decided to adopt her first of two children.
Who are Diane Keaton's children?
Diane's oldest child is daughter Dexter.
Adopted in 1996, Dexter has chosen to live a more private life, only supporting her famous mom at select appearances, like her induction into the TCL Chinese Theatre, where Diane cemented her footprints and handprints into cement.
Dexter, who recently got married to Jordan White, shares updates on her Instagram profile, @mrs.whitenoize.
Diane later adopted son Duke, in 2001.
Calling it "the most completely humbling experience that I've ever had", Diane has also described motherhood as the most "humanizing" kind of love.
In a past interview, she's said, "I spent too long worrying about whether a man loved me or not. I found that raising a child was the most humanizing of all loves. It is unconditional."
As her daughter gets married and her son is reaching adulthood, Diane shows no sign of slowing down.
She was most recently snapped in Italy, filming the sequel to Book Club with Jane Fonda, Mary Steenburgen and Candice Bergen.
Jack Slater is not the Last Action Hero, but that's what comes up first when you Google him. Preferring a much more sedentary life, Jack gets his thrills by covering news, entertainment, celebrity, film and culture for woman&home, and other digital publications.
Having written for various print and online publications—ranging from national syndicates to niche magazines—Jack has written about nearly everything there is to write about, covering LGBTQ+ news, celebrity features, TV and film scoops, reviewing the latest theatre shows lighting up London's West End and the most pressing of SEO based stories.