Can I Learn The Magic Art Of Looking Smart...But Casual?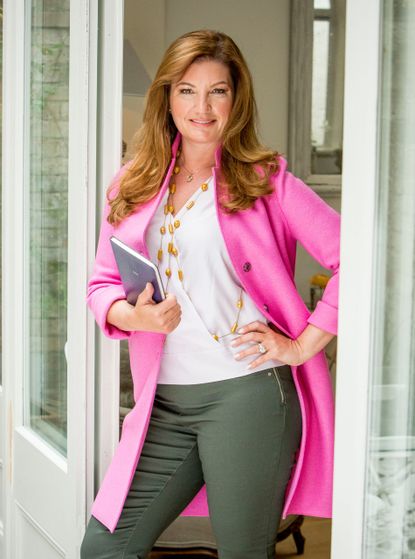 When I open up my wardrobe, a sea of navy washes over me. Navy dresses, suits, trousers, blouses, blazers and skirts. I love navy; so much smarter than black, and more sophisticated in my opinion.
If I'm attending a business meeting anywhere, from the House of Lords to West Ham, I know exactly what to wear and how to wear it. It takes me three minutes flat to get dressed in the morning to go to work. You see, I do smart very well.
What I don't do well is casual. When I say I don't do it well, I'm not exaggerating.
Words that strike fear into my heart are: "Let's go to the pub." Not because I don't like a drink, but because I never know what to wear!
The problem, you see, is that I go from smart to scruffy in a flick of a hanger. There is, I believe, a dilemma to dressing casually at a certain age, and it creeps up on you slowly. What was once casual is now scruffy, what was one smart is now not comfortable.
I would love nothing more than to be able ot throw on a pair of skinny jeans, a white t-shirt and a blazer with some ballet pumps, but when I do, the overall effect if a disaster. Too short for flats, too "bunched up" for a blazer, jeans... well don't start me on jeans. No matter how hard I try, I cannot find a pair that look even vaguely acceptable.
I have no idea what works any more. What is the magic combination to looking smart but casual?
The trick, I fear, is in letting someone else dress you. Someone who has a sense of modern style, but who also can see what will and will not work with your body shape. Someone who will press you to try things you would not look at twice in a shop.
That's exactly what the stylist did on this shoot! It's interesting that she combined khaki, pink and gold, and it looked amazing. And, more importantly, it felt comfortable!
The grey trousers and white jackey are perfect for going out for dinner. And, as for the jeans, I've not taken them off since I tried them on! Cropped, soft as hell, and flattering (now there's something I thought I would never say).
Top stylist tips I discovered at the shoot are: stretchy in everything (if you are over a size 10, like me); cropped trousers; and an interesting coat that just fits, so you leave it open and it hides the bum but narrows the shoulders, making you appear slimmer. Plus, don't be afraid to try things on, and add jewellery for that finished look.