Ashley Graham shows off her 'new tummy' three months after giving birth
In a new series of photos, Ashley Graham embraces her body three months postpartum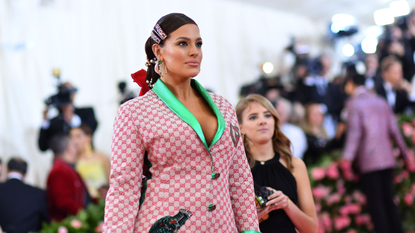 (Image credit: ANGELA WEISS / Contributor)
A mere three months after giving birth to twin boys Malachi and Roman, supermodel Ashley Graham took to Instagram to show off her "new tummy."
Ashley, who has recently joked about her postpartum hair loss, is never shy in front of the camera, constantly keeping it real for her followers.
In her latest post, consisting of a series of beautiful pictures, she poses in front of a mirror in a pair of underwear. She captioned the slideshow, "Hi, new tummy. We've been through a lot. Thank you. #3monthspostpartum."
Two of the three pictures showcase the 34-year-old model's full figure and the third one is an up-close-and-personal shot of her stretch marks and skin.
As usual, Ashley's fans praised her authenticity and her "inside out beauty" in the comments sections. "Always so refreshing to see women's bodies raw, unfiltered and in all its glory 😍😍😍 You absolute beauty," wrote one of her followers.
"Thank you for this because I'm 2 months postpartum and seeing how beautiful you look is really empowering for those of us struggling with the way we look," another user wrote. "You are stunning and I love this! ❤️"
Other celebrities also chimed in, including actress Freida Pinto. "And that tummy has the most beautiful, wholesome stories to tell❤️," she noted."
Fellow model Helena Christensen commented, "Amazing the lives you've created and carried and pushed into this world ❤️❤️❤️."
---
Ashley has always been candid about her experience carrying all three of her kids (the twins join their now 2-year-old brother Isaac), whom she shares with husband Justin Ervin. Just a month before giving birth, for example, she posted a photo of her bare tummy and captioned the image, "Justin says my stretch marks look like the tree of life."
In addition to the unfiltered posts that pepper her Instagram account and chronicle her journey, the model has also gone on the record about public breastfeeding ("I'm not going to apologize"), folks' reactions to her bluntness and more.
For what it's worth, we are in awe and certainly appreciative of Ashley's constant honesty!
Anna Rahmanan is a New York-based writer and editor who covers culture, entertainment, food, fashion and travel news. Anna's words have appeared on Time Out New York, the Huffington Post, Fortune, Forbes, Us Weekly, Bon Appetit and Brooklyn Magazine, among other outlets.