Ashley Graham on public breastfeeding—'I'm not going to apologize'
Model Ashley Graham tells the world she is not embarrassed about public breastfeeding in a new video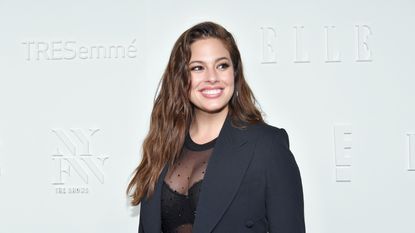 (Image credit: Dia Dipasupil / Getty Images)
In a recently uploaded TikTok video, 34-year-old model Ashley Graham discusses what plenty consider to be a taboo subject: public breastfeeding.
"I'm not going to apologize for feeding my child," Ashley, who has also gone public about her postpartum hair loss, captioned the video. "Also, my boobs hurt if I don't."
In the video, the model actually unlatches her nursing top, as if she were about to actually feed her twin boys—Roman and Malachi (her and husband Justin Ervin are also parents to two-year-old Isaac). Instead of breastfeeding on camera, though, she starts lip syncing to the joking words: "Prepare to be sick of me!"
The comments on the post make it clear that fans of the model agree with her perspective. "If everyone else can eat in public, the babies can too," someone wrote.
"There is nothing more beautiful than a mother and her nursing baby. Anyone who thinks otherwise can go to hell," another user commented.
Someone else said, "Changing the model game, now changing up the postpartum momma time and labor game!!!"
This isn't the first time that the mother-of-three and one of the most famous plus-size models in the world has taken to social media to discuss the topic.
In February of 2020, she shared a photo on Instagram from a restaurant where she was breastfeeding Isaac. A few months later, in September, she also posted a backstage video from a Fendi show, where you see her getting ready to walk down the runway while pumping.
A mere scroll through Ashley's Instagram account will actually bring fans face-to-face with a myriad of mommy moments. The model is seen changing a dirty diaper in the middle of a store, pumping in the car, breastfeeding while at home and more—all to the delight of her followers who constantly praise her decision to showcase these private moments to the public.
Other stars who have been spotted public breastfeeding throughout the years include Gwen Stefani, Gisele Bundchen, Alanis Morissette and Pink, among others.
Thank you, Ashley and fellow celebrity mothers for being so upfront, honest and candid about aspects of motherhood that not everyone feels comfortable talking about in the open.
Anna Rahmanan is a New York-based writer and editor who covers culture, entertainment, food, fashion and travel news. Anna's words have appeared on Time Out New York, the Huffington Post, Fortune, Forbes, Us Weekly, Bon Appetit and Brooklyn Magazine, among other outlets.