Anne Hathaway shuts down Devil Wears Prada fan theory as she reveals what 'Andy Sachs would be doing now'
Chatting about her iconic The Devil Wears Prada character Andy Sachs, Anne Hathaway said she believes she'd be living in Paris and working at a women's magazine today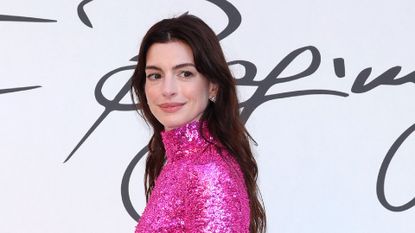 (Image credit: Getty Images)
Although it's been 16 years since Academy Award winner Anne Hathaway took on the iconic role of Andy Sachs on The Devil Wears Prada alongside Meryl Streep, it seems like fans just can't get enough of hearing the actor talk about the experience.
Just a few months after Anne dressed like her character in The Devil Wears Prada, the now 39-year-old actor went on the record again to discuss where she thinks Andy would be today.
"I think Andy is in Paris and I think that she is writing for a wonderful French women's magazine," Anne said to E! News (opens in new tab). "I think she's a staff writer and she speaks French fluently. And I don't think she's married but she might have a child or two. I think she's pretty fab."
As a reminder, in the David Frankel-directed film, Anne played recent college graduate Andy, who lands a job at the prestigious fashion magazine Runway as the assistant to the devil-like editor-in-chief Miranda Priestly, played by the always amazing Meryl.
Back when the film first premiered, many believed Miranda's character to be based entirely on current Vogue editor-in-chief Anna Wintour. Funnily enough, Anne and Anna were spotted together at New York Fashion Week and fans couldn't help but notice that Anne totally looked like her character while sitting next to Anna.
Funnily enough, despite still being associated with the role nearly two decades since the movie was released, Anne was actually not the first choice to play the aspiring journalist.
Last year, director David revealed to Entertainment Weekly (opens in new tab) that a number of other actors were in the running, starting with Rachel McAdams.
"We offered it to Rachel McAdams three times," he explained. The studio was determined to have her and she was determined not to do it."
Other potential options included Juliette Lewis, Scarlett Johansson, Kate Hudson, Natalie Portman, Claire Danes and Kirsten Dunst.
Anne, however, was determined to land the job, persistently "campaigning" for herself until the very end.
"I patiently waited until it was my turn, and I got the call. It was the easiest yes in the world," Anne recalled to Entertainment Weekly. "I remember the moment I found out I got the part, I just ran screaming through my apartment. I had a bunch of friends over at the time, I just jumped up in the living room and screamed, 'I'm going to be in The Devil Wears Prada!'"
Fast-forward a few years and the film has earned a permanent spot in the United States' (and the world's!) movie canon. Don't let all that success fool you, though: no sequel is (yet) in the works.
Asked whether she'd be on board to reprise her role, Anne said that "nobody's told" her anything about it and that she wouldn't yet be able to imagine a reboot of sorts.
"I think that it would have to be a completely different set of people like the way that they've been doing TV series based on his movies," she said. "I could see it possibly going in that direction, but I don't know that any of us would be involved in it."
Silver lining: The Devil Wears Prada musical is currently in the works, featuring music by the great Sir Elton John.
Anna Rahmanan is a New York-based writer and editor who covers culture, entertainment, food, fashion and travel news. Anna's words have appeared on Time Out New York, the Huffington Post, Fortune, Forbes, Us Weekly, Bon Appetit and Brooklyn Magazine, among other outlets.