Calling all Thelma and Louise fans—some huge news has been confirmed
The writer of Thelma and Louise is working on something big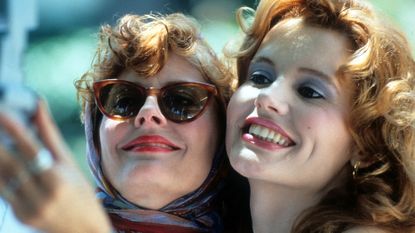 (Image credit: Photo by Metro-Goldwyn-Mayer/Getty Images)
The writer of Oscar-winning classic 90s classic Thelma and Louise has confirmed that the movie is in the "early stages" of being adapted for the stage.
Callie Khouri, who penned the original Thelma and Louise screenplay, revealed plans to create a stage musical out of the iconic girl power film but admitted that the Covid-19 pandemic has meant the process is far from being finished.
The old school cinematic favorite follows best friends Thelma and Louise (played by Greena Davis and Susan Sarandon) as a road trip spirals into an on-the-run mission.
Speaking to The Hollywood Reporter, Callie refused to give away much detail about the storyline or setting of the upcoming stage show but hinted that it'll be pretty different and ensured fans that things are looking promising.
---
---
Callie, who won the Academy Award for Best Screenplay Written Directly for the Screen for Thelma and Louise back in 1992, said, "It's a completely different animal.
"We've got a book and we've got music but because of the pandemic, we all haven't been together in a very, very long time. So, it's still in its nascent stages, but it's very promising. I don't want to say too much about it."
The news comes after Geena and Susan got together to mark the 30th anniversary of Thelma and Louise in the best way. The on-screen duo appeared for a drive-in screening of the movie and a charity Q&A to discuss the incredible impact the film has had on their lives, three decades on.
The Geena Davis Institute's Instagram account shared a series of snaps from the event, including one of Geena and Susan recreating the kiss from that legendary final scene.
A caption beside the upload read, "💋 'Let's keep goin'!'"
It continued, "Thank you to everyone who joined us yesterday for the 30th-anniversary screening of 'Thelma & Louise.'⁠ We had an incredible time rewatching the film and being inspired all over again by this story of two women who took their fates into their own hands. ⁠"