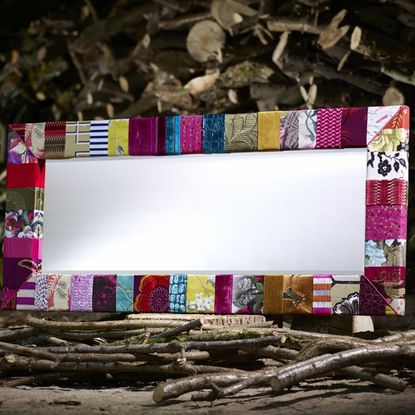 Make an impression in your home with these stunning decorative mirrors
As stunning as it is different, this bevel-edge, made-to-order mirror is framed by solid wood upholstered in a colourful patchwork of velvets, silks and cottons. £960, Suzy Newton (opens in new tab).
Asymmetrical Gold Mirror by Wesley-Barrell
The combination of asymmetrical shape and soft gilt finish makes this deeply bevelled mirror an instant focal point. £295, Wesley-Barrell (opens in new tab).
Helix Mirror by David Linley
This wall mirror by David Linley celebrates the tradition of 20th century Danish cabinet-making with a stunning, thoroughly modern design featuring a double helix motif in marquetry inlay of Indian rosewood, ebony and satinwood on a background of luxurious burnished rosewood. £2,950. Linley (opens in new tab).
The Holland House Mirror by Nicky Haslam for OKA
The dramatic shape of the highly ornate frame combines with a deliberately aged mirror glass in this stunning piece by Nicky Haslam. £1,085, OKA (opens in new tab).
Regency Overmantel Mirror by English Georgian
The understated, classical elegance of the Regency era is the inspiration behind this overmantel mirror, with its fluted columns and striking corner blocks - all beautifully gilded in 23-carate gold leaf. English Georgian (opens in new tab).
Aviator Cowling Mirror by Timothy Oulton
The historic Spitfire plane used by the Royal Air Force during the Second World War inspired designer Timothy Oulton to create an entire Aviator range, of which this stunning mirror - reminiscent of an aircraft turbine - is part. The Aviator Cowling Mirror is available in Spitfire (aluminium) or Black Spitfire. £860.
Porcupine Convex Mirror by Graham & Greene
The fabulous style of the 1950s is the inspiration behind this starburst nickel convex mirror, which recalls porcupine quills. £195, Graham & Greene (opens in new tab).
M21 Mirror by Beaumont & Fletcher
This handsome overmantle mirror is inspired by the elegant decorative style of the George III period. The mirror panels are framed by gilt wood bars that are intricately carved with beads and leaves. The wood is carved and gilded by hand and the mirror is skillfully antiqued. Available in three sizes, the M21 starts from £1,530. Beaumont & Fletcher. (opens in new tab)
Tsuba Mirror by Amy Somerville
The sinuous shape of this unusual mirror is inspired by the Tsuba sword guard of Japan's Edo period. Available in more than ten finishes (shown here is the chocolate ebonised American black walnut) with a bevelled mirror. £2,430 (plus £200 for gloss finishes), Amy Somerville (opens in new tab).
Henley Mirror by Neptune
The faded soft oak finish gives this hand carved mirror a timeless quality. Perfect for any interior. Available in four sizes from £195, Neptune (opens in new tab).
Carla Passino is a multimedia journalist with more than seventeen years' experience in national and international media.
Carla's primary areas of interest are political, economic and housing trends in global cities. Much of my time is spent writing about the world's prime property markets and the factors that affect it, covering fiscal, legal, political and financial issues linked to home ownership, and reporting on major shifts in British, European and international housing. Over the years, Carla has written about culture, education, interiors, farming, travel, food, wine and more.