Luxury lighting: 10 of the best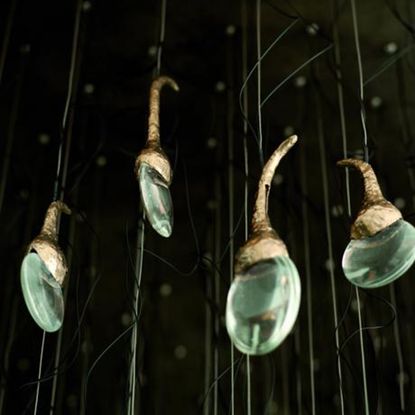 These stunning lamps and pendant lights will add instant visual focus to any room
Lighting can transform the look of a house, creating atmospheric interiors, rejuvenating entire rooms and drawing attention to a magnificent painting or a striking vase. But some lights are so glamorous they go beyond their utilitarian function. As designers draw inspiration from nature, fashion and even jewellery to create sinuous shapes and glittering forms, they create striking pieces that become increasingly akin to works of art. We have picked ten of the very best.
Seed Cloud by Ochre
Part innovative lighting, part art installation, Ochre's Seed Cloud features clusters of polished solid-cast bronze buds that are hung together at different heights to create a circular or rectangular shape. Each bud houses a tempered, jewel-like glass drop illuminated by LED lighting. Buds can be combined in different numbers and prices start from £978 (see Ochre for stockists). The round cluster pictured above has 112 buds, and new for the autumn is a round cluster with 80 buds.
Penzance Lamp by Vaughan
This splendid lamp pairs a charming column of three stacked, graduated crystal spheres with the simple but stylish 17'' Bedford Drum Pebble Silk shade. Priced at £756 (for the lamp) plus £173 (for the shade). Contact
Vaughan
for stockists.
Anders Light by Pinch
Russell Pinch and Oona Bannon, the husband and wife team behind innovative furniture and lighting brand Pinch, were inspired by the underskirt of a haute couture dress to design their striking Anders light. They called upon the expertise of a London milliner to fold banana fibres into sinuous layers, creating a charming, textured pendant light that's magical when switched on. £1,095 through Pinch.
Aperture by Claire Norwood
A humble pine cone was the inspiration behind this sculptural light by Claire Norcross. Claire was fascinated by how pine cones open and close their scales depending on whether the air is dry or moist, and set out to create a light whose user can open and close each aperture depending on whether she wants a diffused or a dazzling effect. Aperture lamps are hand made using specially selected paper from a sustainable source, and come in three sizes: small, medium, and large. Prices start at £70. For more details, visit Luminosity.
Fig Lamp by Best & LLoyd
A fig tree that grows in the garden of the Best & Lloyd designers provided the inspiration for the company's new Fig lamp. Entirely handblown, it is very tricky to make. "The glass is built up on a blowing rod until it weighs around five pounds and is then blown into a ribbed form about the size of a wine bottle, which creates the illusion of the fig's segmentation," explain the experts at Best & Lloyd. "The piece is then blown out to the appropriate size and then flattened on the underside before being pushed off centre to create a unique asymmetrical form." This exquisite table lamp comes in green, pale green and a stunning burgundy that echoes the colour of ripe figs. From £742.50, see Best & LLoyd for stockists.
Caged Butterfly by Martha Freud
A cluster of exquisite porcelain butterflies, all handmade by lighting artist Martha Freud, contrast beautifully with the clean lines of the dark birdcage in this spectacular lamp. A sculpture in its own right, the Caged Butterfly light becomes even more entrancing when lit as it casts whimsical shadows. From £2,800 through Lapaloosa.
Blue Resin Lamp by Marianna Kennedy
Marianna Kennedy's lamps bring a pop of colour to any room. Marianna's vision is to make bold, contemporary objects using traditional methods and she creates the lamp's bright-hued resin bases and book cloth shades in her Spitalfields workshop. Colours range from bright and cheerful to restful and calming (such as the blue one pictured here). £400 through Ben Pentreath.
Pewter Light by TMO Lighting
Helena Barrowcliff of TMO lighting believes interesting, unusual items make the best lamp bases. She has worked with anything from old kiln jars to oxygen cylinders, but her favourite bases are made of vintage wine bottles. Now her company has launched a twist on their classic, tapping into the skills of a specialist craftsman to give the bottles a gleaming pewter finish. Available in four sizes and in dark and light finishes, the pewter-finished bases can be paired with any of TMO lighting's hand-painted or hand-printed shades - they work especially well with the strikingly contemporary charcoal Tapa shade, a hand screen-printed design inspired by Polynesian textiles. From £156 for the base and £95 for the shade, through Lapaloosa.
Hanging Ashbee Lantern by Charles Edwards
A lantern launched Charles Edwards' career as a designer and furniture maker. He had long been selling antique furniture and lighting when American designer David Easton asked him to replicate one of his lanterns. Since then, Charles has created more than 400 designs inspired by 19th and 20th-century English, French and American interiors. His latest lantern, the Ashbee, recalls the work of Arts & Crafts designer Charles Ashbee both in its simple lines and extraordinary attention to quality. The lantern can be made in a range of metal finishes and bespoke paint colours. From £2,340, see Charles Edwards' website for stockists.
Grissini Pendant by John Cullen Lighting
Frosted glass hides a tungsten halogen light in John Cullen's stunning Grissini, creating a soft effect. Handmade in the UK, this ceiling mounted, ribbed pendant is the perfect touch to finish a stylish bathroom. £595 through John Cullen Lighting.
Carla Passino is a multimedia journalist with more than seventeen years' experience in national and international media.
Carla's primary areas of interest are political, economic and housing trends in global cities. Much of my time is spent writing about the world's prime property markets and the factors that affect it, covering fiscal, legal, political and financial issues linked to home ownership, and reporting on major shifts in British, European and international housing. Over the years, Carla has written about culture, education, interiors, farming, travel, food, wine and more.