Gillian Anderson's accent astounds fans during Golden Globes acceptance speech
The Crown actor easily moves between accents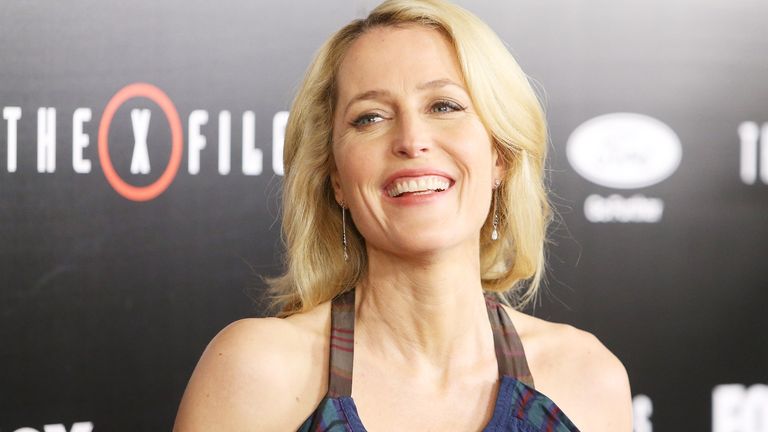 (Image credit: Photo by Michael Tran/FilmMagic via Getty)
The Crown's Gillian Anderson received huge praise for her portrayal of the late Margaret Thatcher in the Netflix hit series. And her acting talent was recognized once more on Monday as she won a Golden Globe for her portrayal. Gillian, who was perhaps previously best known for her role as Scully in The X-Files, joined the cast of The Crown season 4. 
She has previously spoken about how she got into character to play Margaret Thatcher. Gillian and The Crown co-star Emma Corrin (who played Princess Diana) have also reacted to Prince Harry's views on The Crown. The fictional show has faced criticism from some over its use of dramatic license. 
Gillian's portrayal of Margaret Thatcher was brilliantly memorable, earning her a much-deserved Golden Globe for Best Actress in a Television Supporting Role. 
However, it was Gillian Anderson's accent that really captured people's imaginations after the award ceremony aired on March 1. 
More from woman&home:
What was Gillian Anderson's accent at the Golden Globes?
Whilst Gillian's role as Scully in The X-Files remains iconic, her recent parts in The Fall and The Crown both required the acclaimed actor to speak with a British accent. Those who have only ever seen Gillian in these shows might have been even more amazed than most to hear her speech during the virtual Golden Globes.
Here Gillian's accent is unmistakably American, astounding many viewers who tuned in. Taking to Twitter, they discussed their surprise and delight.
'i'm always so surprised hearing gillian anderson's american accent', one wrote.
Another echoed this, writing: 'It's always exciting to see which accent Gillian Anderson will pull out', whilst someone commented back, 'Right? I was prepared for British Gillian and she served us up some Scully.'
'Gillian Anderson's rare natural accent making an appearance' another person declared. 
But when it comes to the all-important question - what is Gillian Anderson's natural accent? - it seems that things might not be as simple as fans imagine. 
What is Gillian Anderson's natural accent?
Talented actor Gillian has previously opened up about her 'natural' accent, revealing that her time living on both sides of the pond has influenced the way she now speaks. Born in the US, Gillian spent time in Britain as a child before moving back to America when she was 11. She has since settled in London. 
Speaking to The Telegraph in 2009, Gillian shared that she easily switches between the two accents - seemingly sometimes without intending to.
"[E]ven on the phone my accent will change," she told the publication. "Part of me wishes I could control it, but I can't. I just slip into one or the other. When I moved to the States I tried hard to cling on to my British accent because it made me different."
Following on from her Golden Globes success, who knows what accent Gillian could take on in her next part.
We can't wait to hear it!