Don't pigeon hole me! / New Directions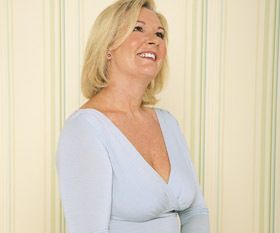 woman&home newsletter
Sign up to our free daily email for the latest royal and entertainment news, interesting opinion, expert advice on styling and beauty trends, and no-nonsense guides to the health and wellness questions you want answered.
Thank you for signing up to . You will receive a verification email shortly.
There was a problem. Please refresh the page and try again.
[PAGEBREAK]Break the mould! Age doesn't have to be a barrier to breaking the mould. Six women talk to Shona Sibary about how they've challenged other people's preconceptions
In our picture: (l to r) Margaret Wynn, Sarah Fowler, Sarah Williams Dugoid McCombie, Trudi Collister, Carole Massey and Sofia Stainton.
[PAGEBREAK]My style, my way – Sofia, 48 Sofia Stainton, 48, is an interior designer and feng shui consultant. She is divorced and lives in London's Chelsea. "I lived in Paris in my early twenties and learnt from my French friends there how to shop for something fabulous in the designer sales and then team it with high street fashion. I have a strong bohemian side and don't conform to a fashion stereotype. I love to experiment and throw different looks together. Having said that, it probably takes a lot of inner confidence to do and it's something that comes easier as you get older and more comfortable in your own skin. I look at the girls in my office who are in their twenties and for them labels are important. It takes a while to find your own style and feel good in something that's original. I'm classic and I love colour but I like to find something unique that nobody else is wearing. You've got to be so careful the older you get about the fit and cut of trousers and jackets. That's probably where I rely more on designers. Otherwise, I love H&M for its jeans, which tend to be long, and Topshop for its vintage range. I'm wearing a navy satin Prada jacket today, but I'm equally as happy with my £35 cashmere jumper from Tesco. I'll team it with jeans from Primark and a pair of one-off boots I bought in LA for $100."
My brand new attitude "I love the fact that I can afford to buy designer pieces – and I've got the confidence to know that the high street isn't just for teenagers." Tip "It doesn't matter what you're paying for clothes, but the cut is crucial. If you can't afford designer then look at Zara, because it's brilliant at doing its own versions."
Have you broken the mould and changed people's perceptions of you? Then why not e-mail Sue James?[PAGEBREAK]I'm realising my dreams – Carole, 48 Carole Massey, 48, is an executive sales manager for Virgin Vie, earning more than her husband Ian, 47, a policeman. The couple have three children, Simon, 22, Matthew, 21, and Hannah, 18, and live in Plymouth, Devon. "We decided to have our children early in our marriage and they arrived in quick succession, which meant we struggled with cash for years. I had to give up my nursing career to be a full-time mother because we couldn't afford childcare for three children under four. But I've always hated having to make our lifestyle fit the money we've got and Ian has never been madly ambitious. He's always said to me, 'If you want more money you're going to have to earn it.' I started selling Virgin Vie cosmetics nine years ago, as a way of making pin money around the children. But as time went on I could see there was a possibility of making unlimited money and I became focused and determined to do just that. I had little goals in the beginning – paying for Christmas with cash instead of credit cards – but every time one of those goals was achieved it spurred me on. My earnings overtook Ian's two years ago and it was an exciting moment. We've just bought a beautiful apartment I've wanted for ages in a 300-year-old historic building. I'm now earning around £65k a year, but more importantly this success has given me freedom and personal choices I otherwise might never have had."My brand new attitude "People are always assuming that my Mercedes CLK belongs to Ian!" Tip "Have a tangible goal to aim for. I put pictures of the flat I wanted on my desk. I also downloaded a picture of my dream Mercedes onto my computer."Have you broken the mould and changed people's perceptions of you? Then why note-mail Sue James?[PAGEBREAK]Love is a question of timing – Trudi, 49 Trudi Collister, a communications manager for designer fragrances such as Donna Karan, Missoni and Michael Kors, will be getting married on her 50th birthday this year. Her fiancée Jerry Solle, 48, works in the city. They live in London. "Even though I lived with a guy for ten years in my thirties, getting married has never been a priority in my life. I'm close to my family with a strong network of close friends and that has given me a confidence I might not have otherwise had. Three years ago I bumped into Jerry at the bar of my favourite restaurant. He struck me as someone really special. Despite being divorced with three children, I was touched by his family values. Our relationship started slowly, but I soon realised that in Jerry I'd found someone I really wanted to share the rest of my life with. People had joked in the past, asking when I was going to get married and I'd always fob them off and answer, 'On my 50th birthday,' because it seemed such a long way off. But there I was suddenly with Jerry and my 50th approaching, then Jerry proposed on Christmas Eve 2005. He handed me a gift-wrapped envelope with an invitation to our own wedding inside. I was so stunned I couldn't speak at first. Then he said, 'You haven't RSVP'd.' We're having a traditional wedding and yes, I'm wearing a full-length ivory dress. My parents are delighted and I've given my last remaining single girlfriends a glimmer of hope that there's a chance for them yet. I'm glad I haven't got married before now. I feel I know myself much better than I did in my mid-thirties. While I've had a fabulous life, I've still got lots to look forward to with Jerry."My brand new attitude "Timing is about how you feel. I still feel 30, but I'm happier than I was five, ten, even 15 years ago." Tip "Don't rule anything out, at any age – you don't know what will happen!"Have you broken the mould and changed people's perceptions of you? Then why note-mail Sue James?[PAGEBREAK]Guess my new career – Margaret, 66 Margaret Wynn, 66, has just trained to be a ski instructor. She is married to David, an IT consultant, and they live in Watford, Hertfordshire. "I had breast cancer 15 years ago and after a lumpectomy and radiotherapy I was determined to grab life by the horns and make sure I did something I enjoyed. I've loved skiing since first taking it up in my thirties. But when David was made redundant twice on the trot we had to tighten our belts. By that stage I was so bitten by the skiing bug that I even spent my first winter fuel allowance on a pair of skis. Having spent most of my working life in various admin jobs I then landed myself a job as a rep specialising in taking schoolchildren on skiing holidays – so I could go on skiing. And it was while I was helping out one day during a lesson on the slopes that one of the instructors suggested I might enjoy doing an instructor's course myself. I took a week-long Artificial Ski Slope Instructor course at an artificial ski centre– Snowdome in Milton Keynes. I completed the course in June last year, but it was physically tough and I found it challenging. I'm fairly active and I don't look my age, so nobody suspected I was past retirement. It doesn't feel like something really exceptional to me – it's just the way I want to live my life."My brand new attitude "My sister says things like, 'When you get to our age, you don't feel like doing such and such,' and she's 13 years younger than me! That attitude is totally wrong." Tip "Don't let other people's preconceptions about your age be an obstacle if there's something you really want to do."Have you broken the mould and changed people's perceptions of you? Then why note-mail Sue James?[PAGEBREAK]How I break the rules – Sarah, 58 Sarah Williams Dugoid McCombie, 58, is single and has just bought a derelict Martello tower in Kent, which she is currently renovating. "Having long hair has become such a part of my identity and who I feel I am that I have nightmares that it's being cut off and I wake up in the morning trembling with relief that it was only a dream. I honestly don't know why I feel so strongly about it, but when I tried having my hair short a couple of years ago, I literally didn't recognise myself. It was as if I'd taken on a different persona and I just didn't feel 'me.' So I grew it back, even longer, as quickly as possible – even using hairpieces to speed up the process – and I've kept it long ever since. I suppose there's this preconception that hair should get shorter the older you get. Since growing my hair, I've had friends trying to persuade me to chop it off, but I'm extremely against the idea that you've got to do something because of your age. I don't feel I'm mutton dressed up as lamb, so why should it matter? I'm just doing what is right for me. Growing my hair long in my fifties is all tied up with a deep psyche that I've got to be as true to myself as possible – despite what everybody else thinks. I feel the years from now onwards will be the best of my life – on my terms and nobody else's."My brand new attitude "I've never felt more sexy and attractive than I do now – and I've never had a man say that he doesn't like my hair." Tip "You need to look after long hair. I go to top salon Jo Hansford in London (www.johansford.com)."Have you broken the mould and changed people's perceptions of you? Then why note-mail Sue James? [PAGEBREAK]It's all about confidence – Sarah, 44 Sarah Fowler, 44, lives in Ashtead, Surrey, with her children, Josh, 16, and Ella, eight. She's just finished the second year of a sociology degree at Surrey University. "I left school in the middle of my A-levels. Looking back, I can see now that I was lacking in self-belief and it wasn't until I hit my forties that I realised I had more to offer. I'd always just gone from one unfulfilling job in sales or admin to another. I decided to do a degree to prove to myself and everybody else that I've got the application and confidence to do whatever I set my mind to. I had to do an A-level first before starting my degree and I get a grant, a student loan and help towards my childcare. It's been a truly life-changing experience for me, although the first week was very nerve-wracking. But I feel my age has given me an advantage. I'm not afraid to challenge the lecturers and I will push them to explain things further if I don't understand something. I want to get everything I can out of this degree. I wish I'd gone to university years ago because it has changed me completely. I have a much higher level of self-esteem now because my mind and eyes have been opened wide."My brand new attitude "I've got used to being mistaken for one of the lecturers – and I don't care at all." Tip "You can do a degree at any stage of life. The more experience you have, the more you'll get out of it, because it's something you'll want to do."Have you broken the mould and changed people's perceptions of you? Then why note-mail Sue James?