Discover Britain's Most Fashionable Floral Displays at Chelsea in Bloom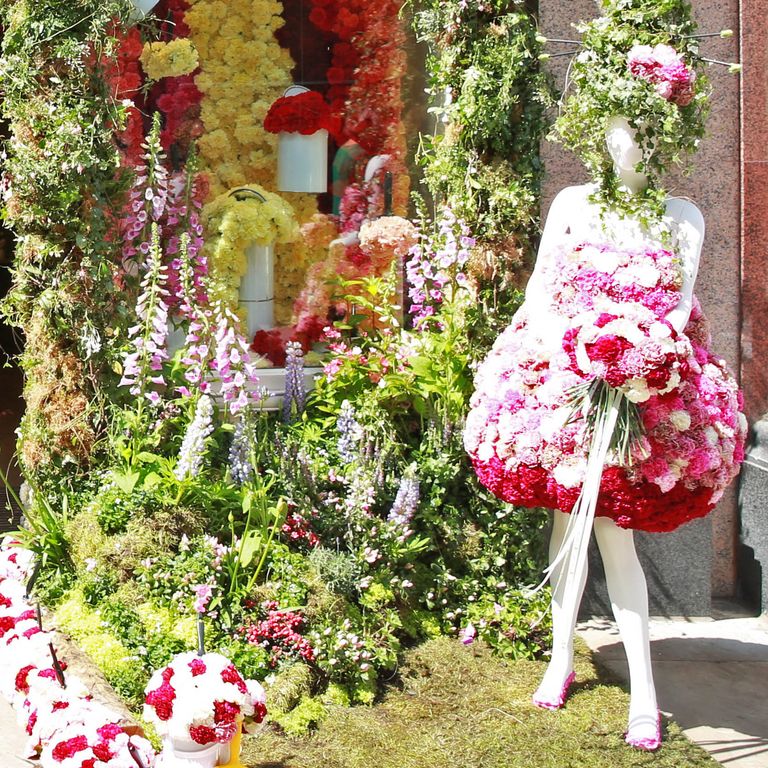 To celebrate The Chelsea Flower Show, Chelsea's chic boutiques have embellished their shop fronts with gorgeous floral displays in the nith edition of Chelsea in Bloom
The streets of Chelsea are getting a floral makeover this week. To celebrate the Chelsea Flower Show, local shops are taking part in Chelsea in Bloom, an annual competition, now on its ninth edition, that sees shop fronts decorated with dramatic floral installations. This year's theme is Creation in Colour: A Journey Through Fashion, Food And Lifestyle and the displays are suitably bold and vibrant. After taking in the magnificent flower creations, Visitors can also enjoy a glass of bubbly or an once cream from the pop-up champagne and ice cream bars that dot the streets. Floral themed activities also take place in the stores until May 24 - at Liz Earle's, for example, you'll be a able to sample the new Cleanse & Polish Hot Cloth Cleanser Orange Flower & Chamomile Limited Edition from Wednesday 21 May or create your own floral headdress on Thursday 22 May. The Chelsea in Bloom installations compete for the accolade of Best Floral Display, which is assigned by a Royal Horticultural Society judging panel, but also for a People's Choice Award, so don't forget to cast your vote at www.chelseainbloom.co.uk.
Image: a detail of the Moyses Stevens display
Liz Earle
Inspired by the Isle of Wight's beautiful beaches and gorgeous scenery, Liz Earle's fabulous display, which was created by Derek Isaac of Super Nature Flowers, features a stunning wall of chrysanthemums, sea lavender and pale blue delphinium, along with a pebble ?beach', deck chairs and an ice cream cart serving cool, refreshing drinks.
Hugo Boss
A bold, intricate arrangement of colourful plants acts as a second shop front in Hugo Boss' amazing installation, providing the perfect backdrop to showcase two chic, clean-lined outfits from the Spring collection.
Moyses Stevens
As befits one of Britain's best florists, the Moyses Stevens installation is a triumph of colours, textures and scents. Inspired by Chanel's Autumn and Winter collections, it includes a stunning, Marie-Antoinette-like dummy wearing a gown of roses under a ivy wig.
Peter Jones
Chelsea's iconic department store cleverly dresses up a dummy in a striking floral gown that's sure to turn heads.
Basia Zarzycka
Basia Zarzycka is know for its fabulously romantic designs, and the floral display echoes the shop's style, with an intricate arrangement of hanging ?beads', hearts and stars.
Kate Spade
Kate Spade captures the colours and joy of life of today's Brazil in a whimsical tropical flower display featuring an enormous toucan.
Tiffany & Co
Tiffany's sophisticated display uses pale green carnations over a metal frame to recreate the Roman numbers that feature in its Atlas jewellery collection in what the company calls a tribute to "strength, freedom, femininity and the newness of Spring."
Elliot Rhodes
Flamenco is the theme behind Elliot Rhodes' creative display, which features an amazing dancer clad in a pink and green corset cinched at the waist by leather - a nod to the company's fabulous custom belts.
Brunello Cucinelli
Echoing the colours of its latest collection and its Italian heritage, Brunello Cucinelli has opted for a sophisticated arrangement of Mediterranean plants and flowers in a purple, green and white palette.
Pandora
Pandora's display frames the shop door with a feminine garland of lilac and purple flowers adorned by pretty butterfly that echo the designs on the windows.
Links of London
The charm of giving gifts was the inspiration behind Links' display, which features an elegant bow of flowers in a soft pink palette, recalling the colours of the company's Spring and Summer collection.