15 slow burn romance books you won't be able to put down
Our selection of the best slow burn romance books includes modern literature, classic novels, cult bestsellers and everything in between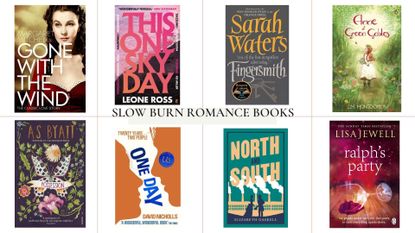 (Image credit: Publishers)
These alternative slow burn romance books chosen by w&h might not be the first ones that spring to mind when you think about the genre, but once you pick them up, you won't be able to put them down.
What makes a slow-burn romance? Do the characters start out hating one another? Are they separated by distance or society? Perhaps it's just shyness? Romantic fiction where love takes time to blossom is a favorite for many of us: we love the build-up and the eventual satisfaction when the couple finally get together.
In recent years, novelists have honed in on this and the slow burn romance has become a sub-genre of its own, with writers like Mariana Zapata and Beth O'Leary becoming bestsellers. But we know that some of the best slow burn romance books have been around for years, even centuries. They won't be labeled as such, but if you're a fan of the slow burn genre, you will find something to like here. Even if you're not a fan of the sub-genre, many of these picks are among the best romance books and the best books of all time.
The best slow burn romance books

Our picks range from modern literature to classic novels, but all of them have at least two lovers whose romance is taking some time to get started. Here they are in alphabetical order.
(opens in new tab)
1. Anne of Green Gables by LM Montgomery
The central romance in heroine Anne Shirley's life is such a slow burn that you will need to read several of the sequels to this classic children's book before you even get so much as an acknowledgment of feeling. The themes of LM Montgomery's books about the red-haired Canadian orphan age along with the central character. But the seeds of one of Anne's romances are planted here, when Gilbert Blythe, the most-admired boy in school, teases Anne about her hair. "Carrots, carrots," comes Gilbert's whisper over the desk. Anne responds by cracking her school slate over his head and refusing to speak to him for several years.
(opens in new tab)
2. A Room With A View by E.M. Forster
Miss Lucy Honeychurch is touring Italy, chaperoned by her unmarried older cousin Miss Charlotte Bartlett. Staying in the same pensione are the Emmersons, a father and son who offer to swap rooms in the hotel so that the women may have a view of the river. The sunny piazzas and violet fields tempt Lucy away from her straight-laced Edwardian morals, as does her affection for George who kisses her, only for the couple to be caught by Charlotte. Back in Britain, Lucy has accepted the proposal of another man, so what will happen when George comes back into her life?
(opens in new tab)
3. Fingersmith by Sarah Waters
A book that everyone should read once, Fingersmith is many things. It's a lively take on a historical novel, where the East End of Victorian London is populated by thieves with loose morals and more colorful language than we usually see. It's a crime thriller, with a dizzying number of twists and double-crosses. It's chillingly gothic, with the lavish creepiness of a country house and a terrifying institution as settings. But there is also the romance between Maud, a lonely rich girl, and Sue sent to work as her maid. They become friends and then lovers, but is their relationship as tender as it seems?
---
---
---
(opens in new tab)
4. Gone With The Wind by Margaret Mitchell
We all know of the film, but the novel that came before it is equally epic in scope. Margaret Mitchell wrote Gone With The Wind in 1936 and it was an immediate best seller. But the story takes place many years earlier during the American Civil War. Scarlett O'Hara is rich and spoiled and believes herself to be in love with her cousin's fiance, Ashley. But the real slow burn romance of the book is between her and Rhett Butler, the charming but scandalous war profiteer.
(opens in new tab)
5. Love In The Time Of Cholera by Gabriel Garcia Marquez
The slowest of slow burns, Love In The Time Of Cholera starts with characters who are well into old age, with a former lover, Florentino Ariza, once again courting the now-widowed heroine Fermina Daza. The story of their youth is told in flashback, where the lovers faced huge parental opposition. They exchanged letters and telegrams and even notes written on camellia petals, but eventually Fermina Daza broke off their relationship and married someone else. Florentino Ariza seals off his heart and conducts a string of relationships that prove more destructive to the women involved than to him. When Fermina's husband dies, he sees the chance to be reunited with his true love. But should she accept?
6. North and South by Elizabeth Gaskell
Writer Elizabeth Gaskell is also known for her novels Cranford and Mary Barton, all combining social commentary of Victorian England with gripping stories of relationships. In North And South the heroine, Margaret Hale, is from the prosperous south of England. Forced to move northwards and live with her parents, she is horrified by the conditions of the Industrial Revolution factories and sympathizes with the workers. John Thornton is a rich cotton mill owner who thinks of his employees with contempt. The two go through many changes in feelings and fortune, but can their ideas about the world ever meet?
---
---
---
(opens in new tab)
7. One Day by David Nicholls
Set entirely on a sequence of July 15ths over the course of several years, One Day follows Dexter and Emma from what was framed as a one-night stand at the end of their time at university. Emma is studious and serious and wants to change the world with her writing. Dexter, from a wealthier background, prefers drinking, drug taking, and chasing women. Their careers rise and fall, as does their attraction to one another. Despite this, they maintain a friendship of sorts that lasts through the decades. But what will the years bring eventually?
(opens in new tab)
8. Possession by AS Byatt
There are two sets of possible lovers here. There are the famous Victorian poets: Randolf Henry Ash, long thought of as devoted to his wife, and Christabel LaMotte, who also has a devoted companion in her friend and possibly lover Blanche. Then there are the two modern-day academics, Maud and Roland, who are racing to untangle the puzzle of the two poets and win acclaim. Possession switches between storylines and between fragments of letters, diaries and poems to create a rich and enthralling novel with the nature of love at its center.
(opens in new tab)
9. Pride and Prejudice by Jane Austen
Undoubtedly the template for many of today's slow burn romance writers, as well as many of the best period dramas the original Austen novel is always worth going back to. Elizabeth Bennett is one of many sisters. She is intelligent, headstrong and dislikes playing feminine games to win suitors. Mr Darcy, the wealthy friend of a neighboring landowner, knows marrying Elizabeth would not increase his social standing, but is drawn to her anyway. After many false starts, sharp words and chaos caused by the wider Bennett family, Elizabeth and Darcy start to understand one another.
---
---
---
(opens in new tab)
10. Ralph's Party by Lisa Jewell
City boy Smith and artist Ralph have been friends since childhood and still share a flat. Ralph is uninterested in lasting love, whereas Smith has a crush on his beautiful neighbor Cheri. When their new flatmate Jem moves in, she is initially drawn to Smith… but Ralph slowly comes to believe that Jem has chosen the wrong man. The occupants of the building's two other flats are also tangling themselves in emotional knots. Ralph's Party was the best-selling debut of 1999 and remains a thoughtful and charming book, written with real skill and a huge understanding of human feelings.
(opens in new tab)
11. The Chamomile Lawn by Mary Wesley
A group of cousins gather each summer in their aunt's house in Cornwall. The outbreak of World War II disrupts their tradition, but plunges all of them into adulthood. Truthfully, only one relationship in The Chamomile Lawn could be characterised as slow-burning (and possibly too late) - everyone else is plunging heart-first into love or falling into beds, on to sofas, or finding themselves flat on their back in the daffodil field with rapid frequency. This is a vivid and compelling story, wonderfully told, about love, sex, death and what one can get away with in polite society.
(opens in new tab)
12. The English Patient by Michael Ondaatje
You may know the 1997 film, but the original form of The English Patient is a rich and wonderful delight. The story starts in a crumbling palazzo and former hospital at the end of World War II. Only a young nurse and her anonymous, badly burned, patient remain. Later on, two more characters join them, an older man - a thief and a friend of the nurse's father - and a military engineer. The mystery is the identity of the so-called 'English Patient', and the effect of the passionate affair he had in pre-war Cairo. But the sweetness and sadness come from the slowly unfolding romance between the Canadian nurse and the Indian engineer.
---
---
---
(opens in new tab)
13. The Guernsey Literary and Potato Peel Pie Society by Mary Ann Shaffer and Annie Barrows
It is 1946 and Juliet is a writer, known for her comic columns about life in England during World War II. She is being romanced by a wealthy American, Mark. One day she receives and surprising letter from the island of Guernsey. The writer, Dawsey Adams, is in posession of a book Juliet used to own and wanted to know more about the author. As Juliet's name is written in the front of the book, he contacts her. The story unfolds through a series of letters, taking in the German occupation of the Channel Islands, a missing mother and a proposal.
(opens in new tab)
14. The Island of Missing Trees by Elif Shafak
Kostas and Defne are both Cypriot. But Kostas is from a Greek background, whereas Defne's family are Turkish and their island is on the brink of being divided along these lines. They start to meet in secret, in the back room of a taverna with a live fig tree growing inside, but their teenage love is thwarted. Later, we discover they moved to London, but Defne has died leaving Kostas with their teenage daughter Ada who is only just starting to uncover the truth about her family. How did Kostas and Defne find one another again, and what happened when they did?
(opens in new tab)
15. This One Sky Day by Leone Ross
This One Sky Day is a joyful novel, set on the fictional island of Popisho where every inhabitant has some sort of magical gift - in fact magic is so commonplace the inhabitants find it a tiny bit boring. Xavier is the island's master chef. He is traveling the island collecting ideas for an important wedding feast, but also haunted by the death of his wife. Anise is grieving her fourth miscarriage but also looking into her husband's possible affair. Xavier and Anise have history, but will their quests bring them back together? This One Sky Day sings with the joy and pain of love, but also with the pleasures of conversation, music and glorious food.
---
---
---
Contributing Lifestyle Editor
Anna is an award-winning journalist with over 20 years experience as a writer and editor. The former Associate Editor of Stylist Magazine, Anna has also written for Elle, The Guardian, British Vogue and the New Statesman.
A self-confessed bibliophile, Anna has hosted live literature events and workshops and is also the host of new author recommendations podcast @readlikeapod (opens in new tab).