This home renovation project could seriously devalue your home
Avoid this home reno plan if you don't want to lose serious money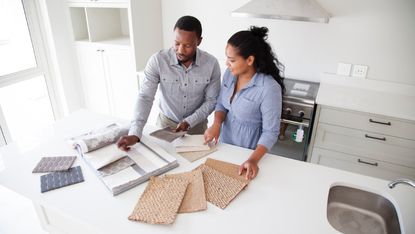 (Image credit: Resolution Productions/Getty Images)
Renovating your home can help update the space and give it a fresh look and feel. Before you start ripping out floors or adding new additions, home experts warn that certain renovations can actually devalue your home.
As tempting as it may be to update your home with a 2021 kitchen trend, splurging on things like statement tiles can do harm to the value of your house. Trends come and go and while a quirky or unique pattern may look chic today, in a few years (or even months), the pattern can easily go out of style. This can be a turn-off for potential buyers who would have to make the pricey investment to replace them.
Take it from PriceYourJob.co.uk (opens in new tab) property expert Gregory Smith, who says "quirky tiles may seem exciting and creative to you, but they might be a bit much for someone else. For new buyers, this will be incredibly expensive to remove and if done incorrectly, it could damage the drywall."
Rather than invest in a tile that is just going to be ripped up eventually, Smith suggests "if you really like the look of tiles, keep it consistent throughout the house and stick to neutral colors and simple patterns." Homeowners should also "avoid tiling living areas and bedrooms for a better aesthetic."
Simple tiles for a home renovation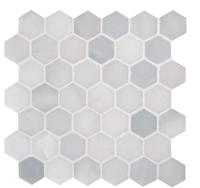 (opens in new tab)
MSI Greecian White Hexagon Marble Tile $11.19 $8.95 (opens in new tab)/sq.ft | Home Depot
This gray marble features varying shades to help provide a more polished appearance in your home.
Tiles aren't the only devaluing renovations to be wary of. Before you start cleaning your kitchen and repainting walls, Smith shares more potential devaluing updates including:
• Hobby rooms
• Textured walls and ceilings
• Bi-fold doors
• Removing the bathtub
Dreaming of installing an indoor gym into your home? Think again, says Smith. Unless you're looking to stay in your home forever, then you should consider keeping your space more "bland."
"A home gym, cinema, or zen space are all great ideas if you're looking to stay in your current home forever," he explained. "A surround sound movie theatre to you, may just want to be used as another bedroom for the next buyer. Houses that sell faster are far more bland, as people can imagine themselves living in spaces that are not too personalized."
Incorporating texture into your walls or ceiling was considered trendy for decades, but things have changed. This technique was considered a great way to hide imperfections, but now it could put off potential buyers.
"Most potential buyers now prefer smooth ceilings and walls," said Smith. "If your walls or ceiling is textured, buyers may be more wary of purchase as they may suspect damage to the property."
Bi-folding doors are an effective way to maximize natural light in your home, "however, if the bi-fold doors are poor quality or improperly fitted, they can devalue the cost of your home," Smith warns. "They can be easy to break and the replacement parts to fix bi-fold doors can be hard to track down, making them more impractical than an attractive renovation option."
It's not uncommon for homeowners to think maximizing space will be the most appealing to potential buyers. For families though, simple things like a bathtub are essential factors that can come into play when deciding whether or not to buy a home.
"Whilst it may make the space larger, a bathtub is considered essential for many families— especially those with children or pets," he explained. "You may still get the same price for the property if you do remove the bathtub, but it could take longer to sell."
Those who are okay with the longer wait may run the risk of potential buyers haggling the purchase price lower.
Selling a home requires a lot of work and effort from knowing how to clean a bathroom, to replacing carpet with hardwood flooring. If you're unsure if you want to sell your home in the future, keep in mind that pricey renovations done now could impact the future value of your home when you do decide to sell.
Rylee is a U.S. news writer who previously worked for woman&home and My Imperfect Life covering lifestyle, celebrity, and fashion news. Before joining woman&home and My Imperfect Life, Rylee studied journalism at Hofstra University where she explored her interests in world politics and magazine writing. From there, she dabbled in freelance writing covering fashion and beauty e-commerce for outlets such as the TODAY show, American Spa Magazine, First for Women, and Woman's World.