How to get your floors sparkling clean by barely lifting a finger with a robot vacuum
Make life easier by removing dirt and debris effortlessly with Roborock—so you can enjoy the home you've created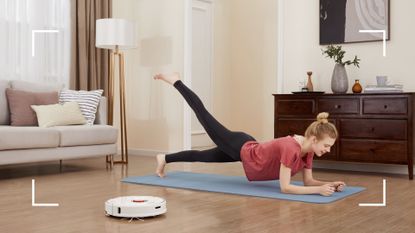 (Image credit: Roborock)
Be honest with yourself—when was the last time you were able to properly relax at home without the constant worry that you needed to vacuum or mop the floor?
Perhaps you've tried to enjoy a morning stretch on your yoga mat, but been distracted by accumulating fluff on the carpet. Or have been left irritated by the grime on the tiles as you've attempted to wind down come evening with a lavender-scented soak in the bath.
Yet, between balancing family demands and work deadlines, carving out time to maintain pristine floors can feel like an impossible task when your bulging to-do list is already whirring around your mind. Particularly after a long, tiring day when you're simply desperate to put your feet up. The answer? Let a robot vacuum—or 'robovac' for short—get your floors spic and span for you.
Now, getting to grips with yet another clever gadget may feel like the last thing that you want to do, but it's worth noting that smart technology is likely already making your life so much easier. Consider the smartwatch on your wrist that reminds you about upcoming hair appointments, and the smart speaker that turns off the hallway lights at the prompt of your voice. It should be no different when it comes to household chores—and by 2025 it is predicted that one out of every three homes will have a smart cleaning device.
If you're not sure where to start with finding a robot vacuum cleaner, then Roborock is the creator of the best value, seriously "intelligent" robovacs on the market. Their philosophy is "clean homes are happy homes", with their products devised to help you spend less time cleaning and more time living—not least with your partner. According to a recent survey they conducted, three-quarters of couples disagree on how to split chores fairly. Ensuring no love is lost by delegating one of those time-consuming tasks to a machine that combines both optimum function and stylish design seems like a no-brainer—especially since you can save your own back, or money on a housecleaner, in the process.
If you consider yourself a bit of a technophobe, then Roborock's latest flagship model, the S7 MaxV Ultra, is super easy to set up and get going using an app on your phone - after which, having mapped out your floor space, it "just knows" where to clean. The clever machine, which is actually a vacuum mop combo, can also detect when to use either feature based on your flooring. A docking station, where it can empty, wash and refill itself, means that it can collect up to eight weeks of dust and debris before you even need to manually do anything. According to Forbes, it "shines above all other robovacs".
So, it functions like a dream—but how does it look? Vacuum cleaners aren't, after all, renowned for being particularly aesthetically pleasing. But this is one device you won't want to stuff in the cupboard or behind the kitchen door. Its cool, futuristic design will be at home in even the most elegant of spaces—and, unlike traditional vacuums, it is compact and easy to store.
Just like other smart tech that helps your life run smoother, robovacs are becoming staples within the modern home—and Roborock has fused both optimum practicality and sleek appearance in one genius household product. Indeed, they have made investing in your downtime a rather easy decision.